Festive red velvet crinkle cookies with soft and fudgy interiors that perfectly capture the essence of red velvet flavor in cookie form.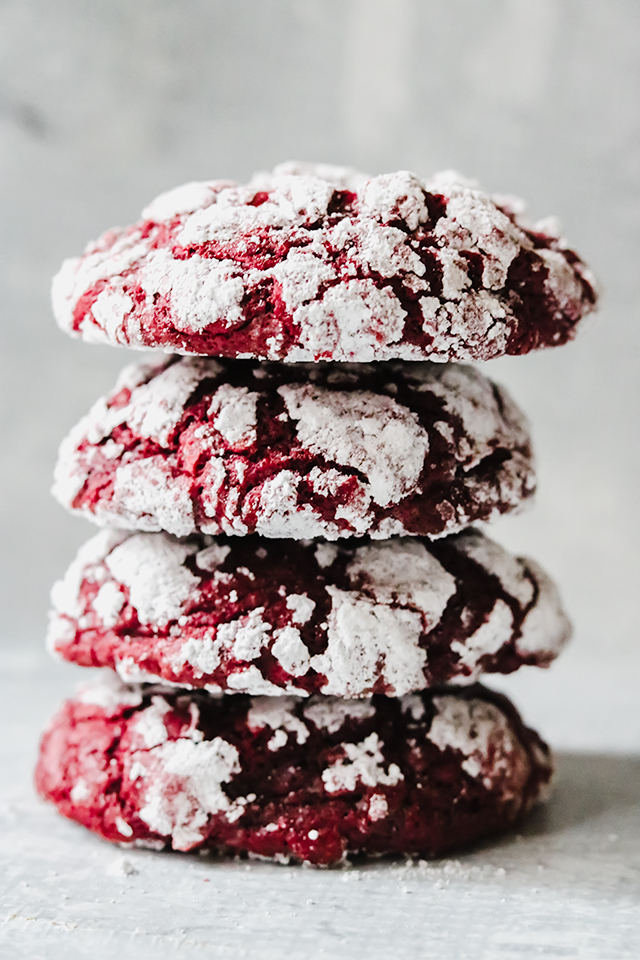 Hi hi hi hi. It's been awhile, hasn't it?
Life + babies + board exams + trying to find my first real job after more than a decade of the medical school/residency/fellowship train + probably a gazillion things I'm not even thinking of. It's just kind of been a lot and though I've been cooking, my photography and post writing mojo has been way down.
It's a cycle of life and I remember feeling this way after Remy was born as well. This time around it's nice having the hindsight to know that things will get better if I just give it enough time.
In any event, I do have a few recipes waiting in the wings that are just too good not to share with you ASAP.
Red velvet crinkle cookies, for instance. CAN YOU EVEN IMAGINE ANYTHING MORE FESTIVE?! 
I am zero percent the person making cutesy, intricate holiday cookies (our sugar cookies are typically cut out, frosted and decorated fully by Remy so they tend to have an "abstract art" feel to them). Effortless festivity is much more my speed, so these I can do.
While these babies do require some foresight, in the form of a 6 hour or overnight chill, they are super easy to make and can be whipped up by hand in under ten minutes. After a stint in the fridge, which allows the batter to firm up enough to stand up to the rolling and baking process, they are coated in a powdered/granulated sugar mix that gives them the signature snow covered look that makes them so festive. 
The resulting cookie has a perfectly fudgy and chewy center with a crisp exterior that is slightly cakey around the edges. It perfectly captures the tangy hint-of-chocolate-y flavor that red velvet confections are known for, and the deep red color will brighten up any holiday cookie platter.
Red Velvet Crinkle Cookie Ingredients
Here's a list of everything you need to make these festive holiday cookies. Scroll to the recipe card at the bottom of the page to see the exact amounts for each ingredient.
All Purpose Flour – I typically use King Arthur Flour for all of my baking needs. It is a bit of a higher protein all purpose flour and I find that it behaves really consistently across most baked goods.
Baking Powder and Baking Soda – These agents are used to leaven or to help baked goods rise. Ensure they are not expired or too old, as that will leave you with a flat dense cookie.
Granulated Sugar and Brown Sugar – This combo makes for perfectly sweet cookies with a nuance of extra flavor from the brown sugar. Note that 3 tablespoons of the granulated sugar are held back to use in the coating that the cookies are rolled in.
Eggs and Egg Yolks – The whole eggs help bind the ingredients while the egg yolks add extra richness and chewy decadence to the final cookie texture.
Canola Oil and Butter – These fats keep the cookies soft and chewy. You can use any neutral oil in place of the canola oil (ie safflower oil, sunflower oil, or grapeseed oil).
Red Velvet Bakery Emulsion – This is the one specialty ingredient that these cookies call for. I don't like to buy a lot of emulsions or flavor enhancers but this is one worth seeking out as it really ensures that any red velvet baked goods have that signature red velvet flavor. Liquid food coloring will work in its place, though the red velvet flavor will not be as pronounced.
Vanilla Extract – This can be replaced with vanilla bean paste if that is what you have on hand.
Bittersweet Chocolate and Cocoa Powder – These add a hint of chocolate and tang to the final red velvet cookie flavor.
Confectioners Sugar – The cookies are rolled in a powdered sugar/granulated sugar mix before baking to give them the snow-topped crinkly look that their name suggests.
How to Make Red Velvet Crinkle Cookies
Mix the dry ingredients. Whisk together the flour, baking powder, and baking soda in a small bowl.
Mix the wet ingredients. Whisk together the sugars, eggs and egg yolks, canola oil, vanilla, red velvet emulsion, and salt in a large bowl.
Make the chocolate-butter mixture. Melt the butter and chocolate together, either in the microwave or over a double boiler. While still warm, whisk in the cocoa powder. This will ensure the cocoa powder fully dissolves in the final batter.
Combine the ingredients. First, mix the chocolate-butter mixture into the wet ingredients. Finally, add in the dry ingredients and mix until just combined.
Chill the batter. This is a very wet cookie dough and will need to be chilled to allow the flavors to meld but also to ensure the dough is set up enough that it can be rolled in sugar and bake properly. I recommend prepping the dough the day before so that it can thoroughly chill overnight before baking.
Bake the cookies. Use a 1.5 tbsp cookie scoop to scoop the cookies and then roll in a mix of powdered and granulated sugar. Place on parchment-lined baking sheets and bake for 12-14 minutes, rotating the pans halfway through baking. 
Cool, then eat! Allow the cookies to cool to room temperature before eating. Enjoy!
Storage instructions – Store any leftover cookies in an airtight container at  room temperature for 3-4 days.
Red Velvet Crinkle Cookies
Festive red velvet crinkle cookies with soft and fudgy interiors that perfectly capture the essence of red velvet flavor.
Ingredients
1½ cups (213 g) all purpose flour
1 tsp baking powder
⅛ tsp baking soda
¾ cup + 3 tbsp (188 g) sugar, divided
½ cup (100 g) brown sugar
2 large eggs + 2 large egg yolks, room temperature
1 tbsp canola oil
1 tbsp red velvet bakery emulsion (or red food coloring)
1 tsp vanilla extract
½ tsp kosher salt
4 tbsp (57 g) unsalted butter
3 oz (85 g) bittersweet chocolate
¼ cup (25 g) cocoa powder
½ cup (60 g) confectioners sugar
Instructions
In a small bowl, whisk together the flour, baking powder, and baking soda. Set aside.
In a large bowl, whisk together ¾ cup (150 g) of the sugar, the brown sugar, eggs, egg yolks, canola oil, red velvet bakery emulsion, vanilla, and salt. Set aside.
Place the butter and and chocolate in a small microwave safe bowl. Microwave in 30 second increments, stirring in between each, until melted and completely combined. Add the cocoa powder and whisk until completely combined.
Add the chocolate-butter mixture to the egg mixture and whisk until completely combined. Add the flour mixture and mix with a rubber spatula. Once combined, cover with plastic wrap and chill for at least 6 hours or overnight.
When ready to bake, heat the oven to 350F and line three baking sheets with parchment paper.
In a small bowl, whisk together the powdered sugar and remaining 3 tbsp of granulated sugar. Scoop the dough into 1.5 tbsp portions and roll in the sugar mixture. Place on the prepared baking sheets so that there are 8 cookies per sheet. Bake one pan at a time, rotating halfway through baking for a total bake time of 12-14 minutes or until the cookies are puffed up but still soft in the center.
Allow to cool on a wire rack before serving.