Quesadillas are stuffed with zucchini and mozzarella cheese, then topped with fresh summer heirloom tomato salsa and corn crema.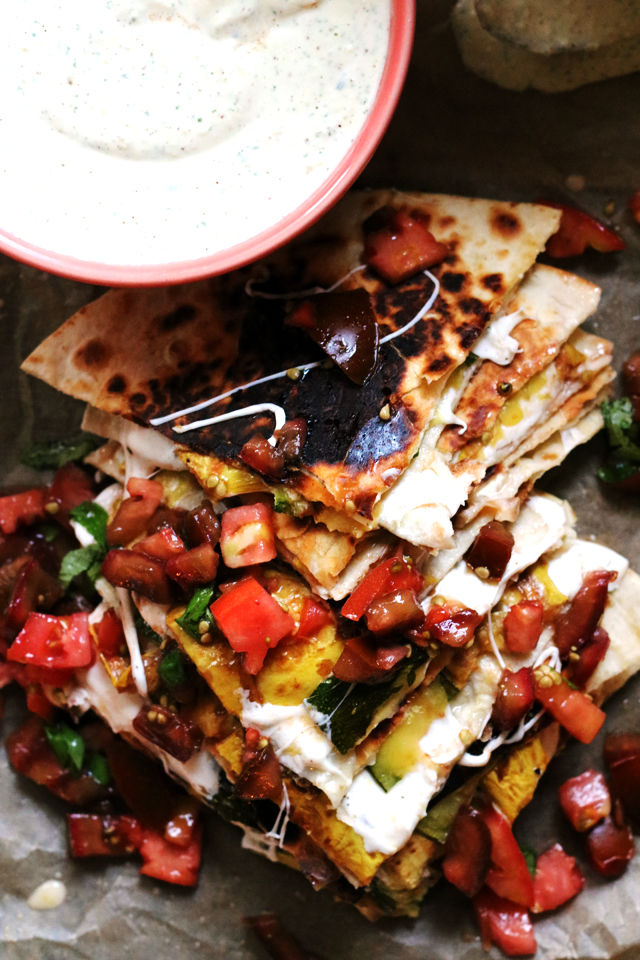 The pressure is ON.
Summer feels like it's slipping through my fingers and now I'm in a race (against myself) to see if I can post all the summery recipes in my arsenal before Starbucks starts selling pumpkin spice lattes again. So…..that gives me a week? Five days? Until tomorrow?!?
God only knows.
But let it be known that you will NOT see a pumpkin recipe around these parts until at least September. That's a promise.
I feel like as a society we're always so busy anticipating the next season or the next holiday that we can't even appreciate the one we're in!
Well I'm knee deep in heirloom tomato salsa and gooey mozzarella zucchini-stuffed quesadillas.
And I can't/won't move beyond that.
The ingredients in these are so fresh and seasonal that they can't help but be delicious.
Thinly sliced zucchinis are roasted or grilled and stuffed between tortillas along with some mozzarella cheese until they're melty ooey gooey. They're then served with a super simple super fresh heirloom tomato salsa and tart tangy corn crema.
They. Are. SUMMER!!!
Canned pumpkin can wait.
Cheesy Zucchini Quesadillas with Heirloom Tomato Salsa and Corn Crema
Quesadillas are stuffed with zucchini and mozzarella cheese, then topped with fresh summer heirloom tomato salsa and corn crema.
Ingredients
4 tbsp olive oil
2 medium zucchini, thinly sliced lengthwise
8 burrito-sized flour tortillas
3 medium heirloom tomatoes
sea salt and freshly ground black pepper
1 dash cider vinegar
3 fresh basil leaves, thinly sliced
8 oz fresh mozzarella, thinly sliced
For the corn crema
1 ear of corn, kernels removed and milked
2 cups Greek yogurt
¼ cup cotija cheese, crumbled
¼ to ½ tsp chili powder
juice of 2 limes
1 small bunch of cilantro, coarsely chopped
2 tbsp olive oil
sea salt
Instructions
Heat oven to 400F or heat a grill to cook over medium-high heat. If roasting, arrange zucchini in a single layer on one or two baking pans, as needed. Brush with 2 tbsp of the olive oil, season with salt and black pepper, and roast until tender, about 15-20 minutes. Alternatively, to grill it, brush the zucchini with 2 tbsp of olive oil and grill until lightly charred, about 2 minutes.Transfer zucchini to a platter once cooked.
Chop the tomatoes into bite size chunks. Toss with 2 tbsp of the olive oil, salt, and black pepper. Season with a dash of cider vinegar, if desired. Stir in the basil.
Top four of the tortillas with enough zucchini and mozzarella to cover them. Top with the remaining tortillas. Grill or fry on a nonstick pan until crisp on the bottom, about 3-4 minutes. Flip and cook until cheese is melted and the second side is crisp. Repeat until all quesadillas are cooked. Serve with salsa and corn crema.
For the corn crema
Combine the corn, corn milk, yogurt, cheese, chili powder, lime juice, cilantro, and olive oil in a food processor. Pulse until smooth. Season to taste with salt and pulse again. Serve at room temperature.
Notes
Adapted slightly from
Feast: Generous Vegetarian Meals for Any Eater and Every Appetite