Crispy charred broccoli is paired with creamy white beans, zesty arugula, and hearty freekeh and then dressed in a bright lemon vinaigrette.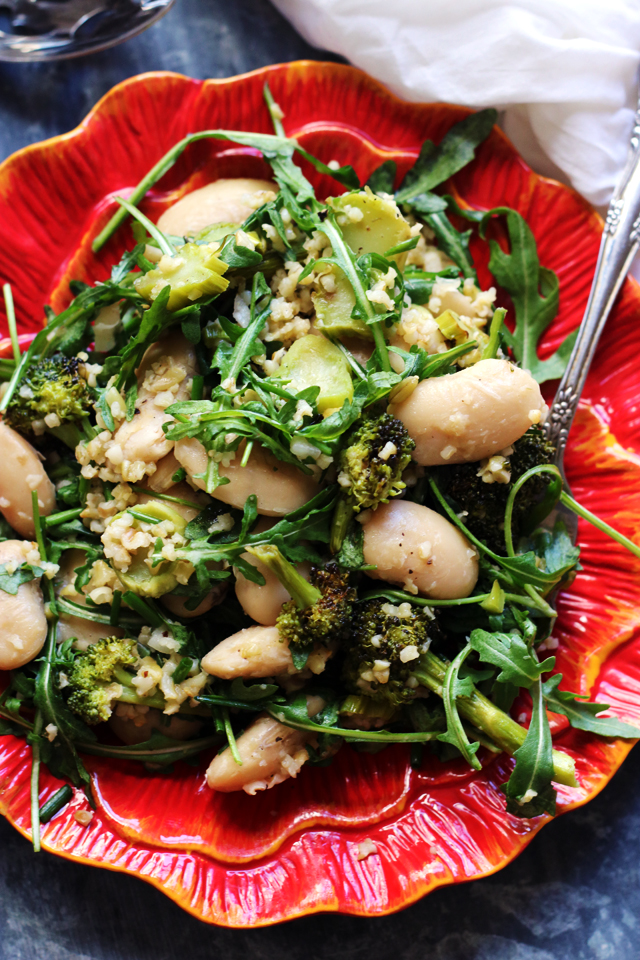 I have never felt so vindicated in my life as I have about my absolute abhorrence of (most) lettuce during this current E. coli-infested romaine situation we're in.
But also kind of terrified that the human race is going to use this as an excuse to never eat salads again??
I mean, have you seen the rates of obesity in this country?! That would be disastrous.
So, consider this my PSA of the week: YOU CAN EAT SALAD WITHOUT LETTUCE!! It sounds really intuitive, but I don't think I ever was presented with a lettuce-less salad option a day in my life growing up (potato salad, egg salad, tuna salad, and pasta salad do not count), so I feel like other people may not have been as well.
There are sooooooooooooooooooooo many other greens out there, though.
Kale, baby spinach, arugula, watercress, baby chard, mizuna, and approximately a gazillion more.
Most of these have WAY more flavor and DEFINITELY have more nutritional value than lettuce, which is basically just green fiber and water. I'm sure it has some vitamins in it as well but, notwithstanding, I'm just not that into it.
My current (non-lettuce) salad OBSESSION is with this charred broccoli salad from the Power Plates cookbook. It's a salad I probably wouldn't have made had I not been cooking my way through the cookbook (this is not sponsored, I just could not be more in love with that book!) because on the face of it, it just doesn't seem that exciting.
BUT I'm hear to tell you not to judge a recipe by it's title. Just get in your kitchen and make this.
Broccoli (both the florets AND the stems!!!) is roasted to crispy perfection and is then tossed with freekeh, white beans, and arugula. The whole gang is then dressed in a super vibrant lemon vinaigrette that makes it all just seem so light and fresh. I definitely wasn't expecting to love it as much as I did, but when you find yourself mid workday counting down the minutes until you get to eat your salad lunch, then you know that recipe is a keeper.
Charred Broccoli, White Bean, and Lemony Freekeh Salad
Crispy charred broccoli is paired with creamy white beans, zesty arugula, and hearty freekeh and then dressed in a bright lemon vinaigrette.
Ingredients
1 lb broccoli
1 tbsp grapeseed oil
salt and black pepper, to taste
½ cup freekeh
1½ cups cooked white beans
¼ cup chopped parsley
5 oz baby arugula
For the dressing
3 tbsp olive oil
2 tbsp lemon juice
½ tsp dijon mustard
1 tbsp minced shallot
¼ tsp salt
freshly ground black pepper
Instructions
Heat oven to 475F.
Trim and peel the broccoli stems. Slice the stems into ½-inch thick rounds and cut the tops into bite-sized florets. Toss both the broccoli stems and the florets together with the oil in a large bowl. Spread on a parchment-lined baking sheet and season with salt and black pepper. Bake for 30 minutes, until charred, stirring once halfway through.
Meanwhile, cook the freekeh according to package directions. Transfer to a large salad bowl. Stir in the broccoli and let cool for 10 minutes. Add in the beans, parsley, and arugula.
For the dressing, whisk together all of the ingredients in a small bowl until completely emulsified.
Pour the dressing over the salad ingredients and toss until evenly distributed. Season to taste and serve at room temperature.
Let's eat more broccoli!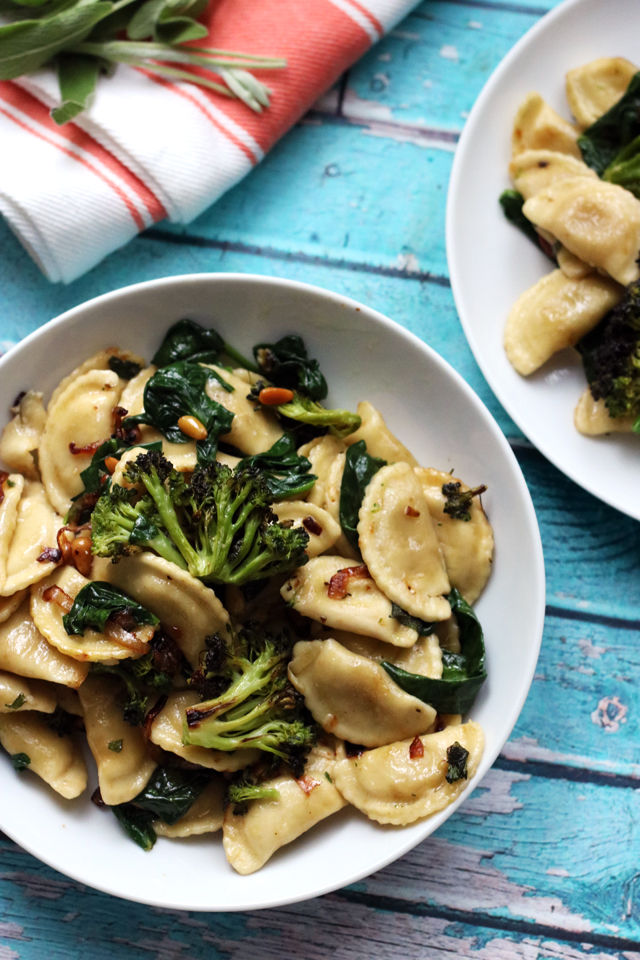 Agnolotti with Roasted Broccoli and Spinach in a Buttered Pine Nut Sauce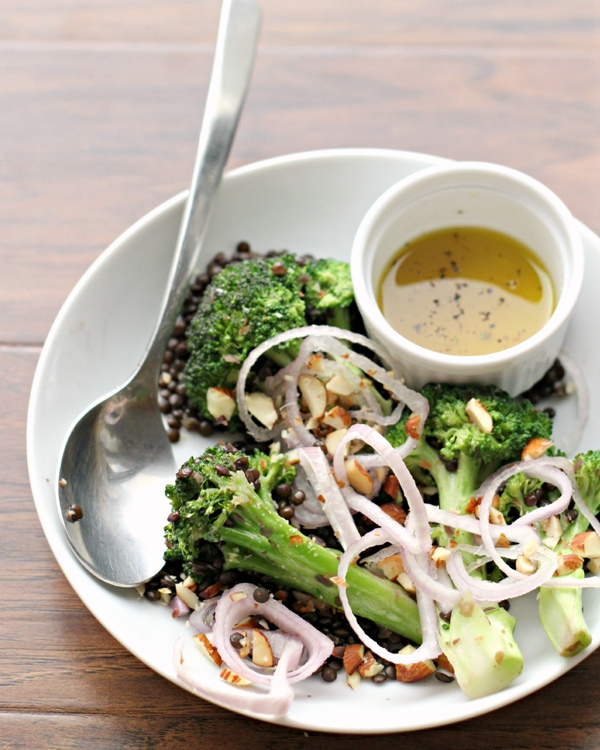 Honey Mustard Broccoli Salad with Beluga Lentils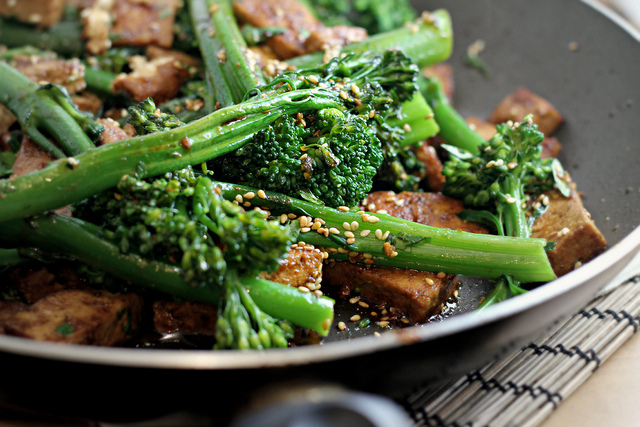 Broccolini with Tofu, Sesame, and Coriander