Dessert for breakfast?! It's possible if you're having a bowl of this creamy caramel apple pie wheat berry porridge!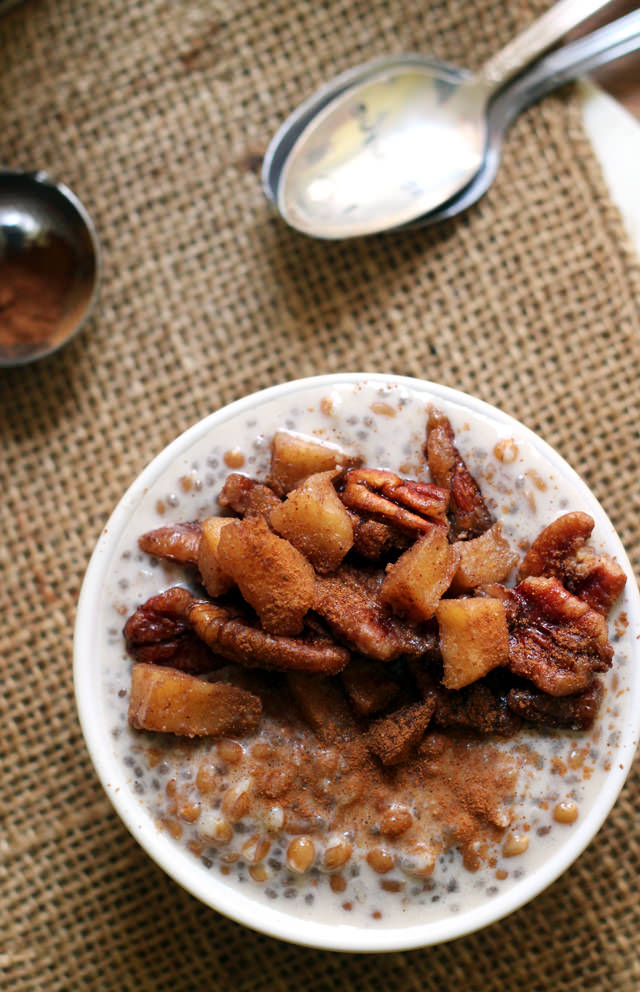 If you're wondering where our usual Friday treat is, well…
…THIS.
…IS.
…IT.
Except it's not a treat – it's breakfast.
Even better.
The thing is, that I really love rice pudding. More than oatmeal. Waaayyyy more than oatmeal.
You'll notice that I've never made rice pudding because I don't even know what I would do if I were left alone with a tray of it.
Except I do. It wouldn't be pretty.
I wish I loved oatmeal that much. I really do.
Soooooo instead of making rice pudding I made wheat berry porridge! It tastes just like rice pudding. But better for you.
Here's what makes this fabulous: wheat berries!!! They're a whole grain, so they're full of all sorts of nutritious things like fiber and protein, as well as vitamin E, magnesium, potassium, and B vitamins. Plus they're chewy and nutty and all sorts of things that oatmeal just…isn't.
Sorry. The truth hurts.
There's more! I've dumped the cream and sugar that's so typical of rice pudding and filled this instead with vanilla almond milk and International Delight's Fat Free & Sugar Free Caramel Marshmallow creamer, so you get the mouth-feel of cream with a hint of caramel deliciousness. But without the guilt. Then I topped it all off with apples and pecans that have been sauteed in a bit of butter and brown sugar. Sure, that part's a little bit indulgent, but hey – we earned it.
So now we're basically eating rice pudding and pie for breakfast.
But better.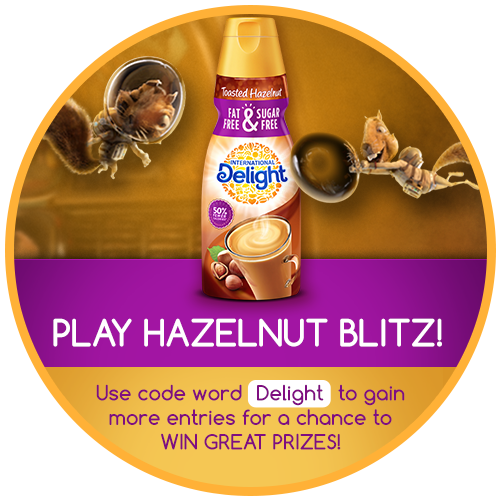 The line of International Delight's Fat Free & Sugar Free creamers is a great way to add extra flavor to your meals without adding extra calories or sugar! Stay connected with International Delight by following them on facebook and join the International Delight community to stay in the loop about coupons, exclusive member giveaways, and much more. For more recipe ideas incorporating International Delight coffee creamers, be sure to follow them on Pinterest!

Caramel Apple Pie Wheat Berry Porridge
Dessert for breakfast?! It's possible if you're having a bowl of this creamy caramel apple pie wheat berry porridge!
Ingredients
1½ cups wheat berries, soaked overnight
6 cups water
3 cups vanilla almond milk
¾ cups Fat Free & Sugar Free Caramel Marshmallow Creamer
¼ cup chia seeds
1½ tsp cinnamon, divided
2 tbsp butter
2 honeycrisp apples, peeled and cut into ½-inch cubes
¼ cup brown sugar
8 oz pecans, coarsely chopped
Instructions
in a large pot, bring the wheat berries and water to a boil along with a pinch of salt. Lower to a simmer and let cook for 45 minutes, stirring occasionally. Turn the heat off and let sit for an hour (or overnight).
Stir in the milk, creamer, chia seeds, and 1 tsp cinnamon. Bring to a simmer over medium heat. Cover and turn the heat off. Let sit for 10 minutes.
Meanwhile, make the apple pie topping. Melt the butter in a medium saucepan over medium heat. Add the apples, brown sugar, pecans, and remaining ½ tsp cinnamon to the pan. Saute for 8-10 minutes, or until apples have softened and released their juices. Let cool slightly.
Serve the porridge topped with the apples and pecans. Store leftovers in the fridge and serve either warm or cold.
More healthy breakfast options: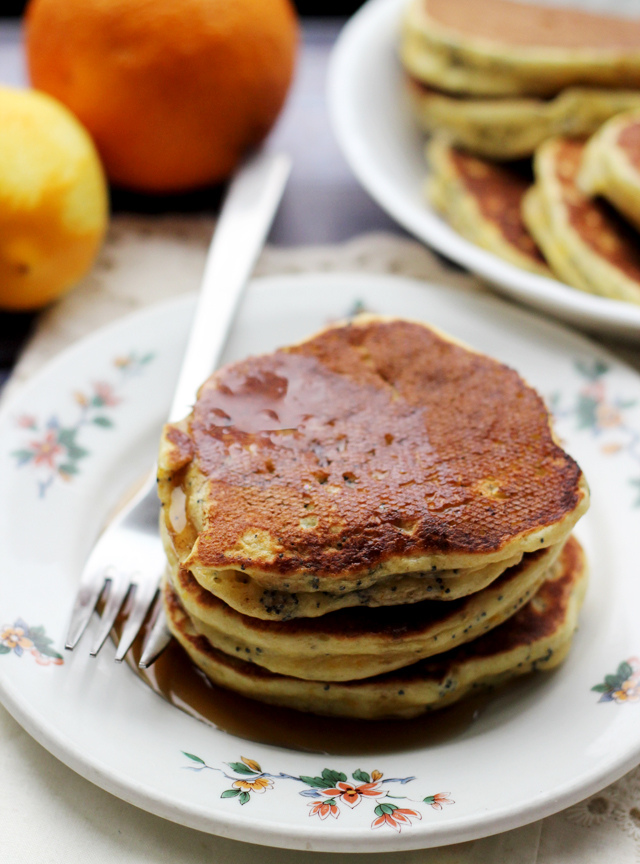 Blood Orange Greek Yogurt Poppyseed Pancakes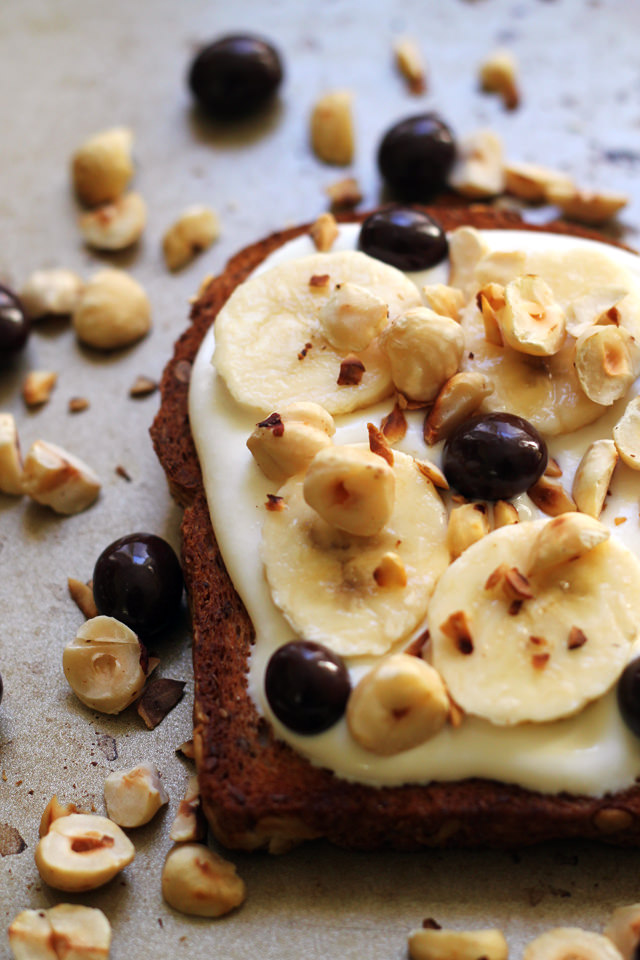 Caramel Macchiato Ricotta Toast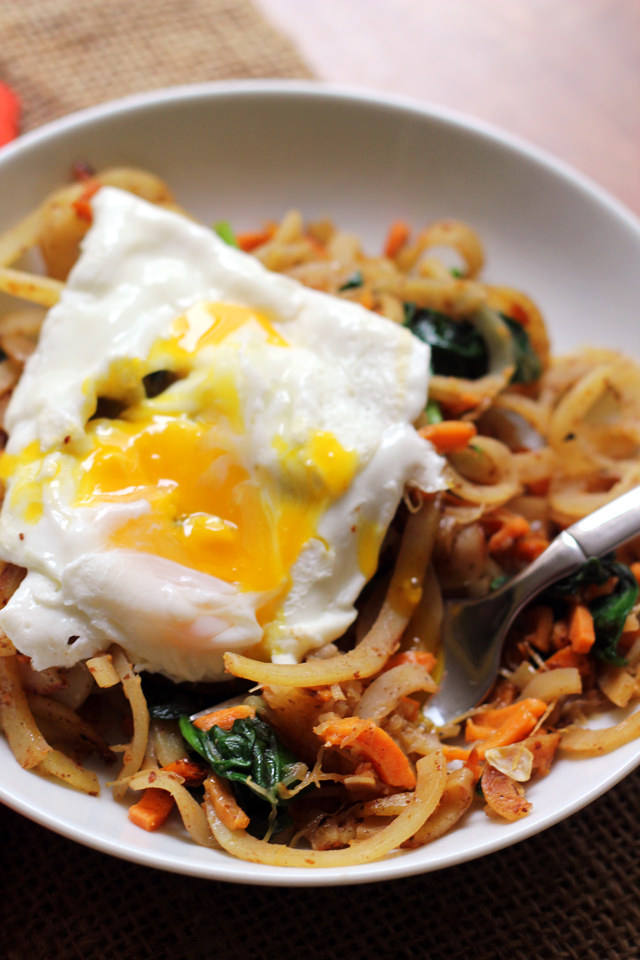 Sumac-Spiced Spagheti Squash and Two Potato Hash
From Around the Web:
Inner Goddess Raspberry Breakfast Bowls from Pinch of Yum
Blueberry Pie Overnight Oats from The Kitchn
Chocolate Peanut Butter Banana Oatmeal from The Lemon Bowl
Arugula Breakfast Salad from An Edible Mosaic
Coconut Butter Granola from How Sweet It Is
This is a sponsored conversation written by me on behalf of International Delight. The opinions and text are all mine.