A classic Italian pizzeria favorite gets a spicy twist in these harissa garlic knots.
Disclosure: This post was sponsored by Mina Harissa. As always, my thoughts and opinions are my own!!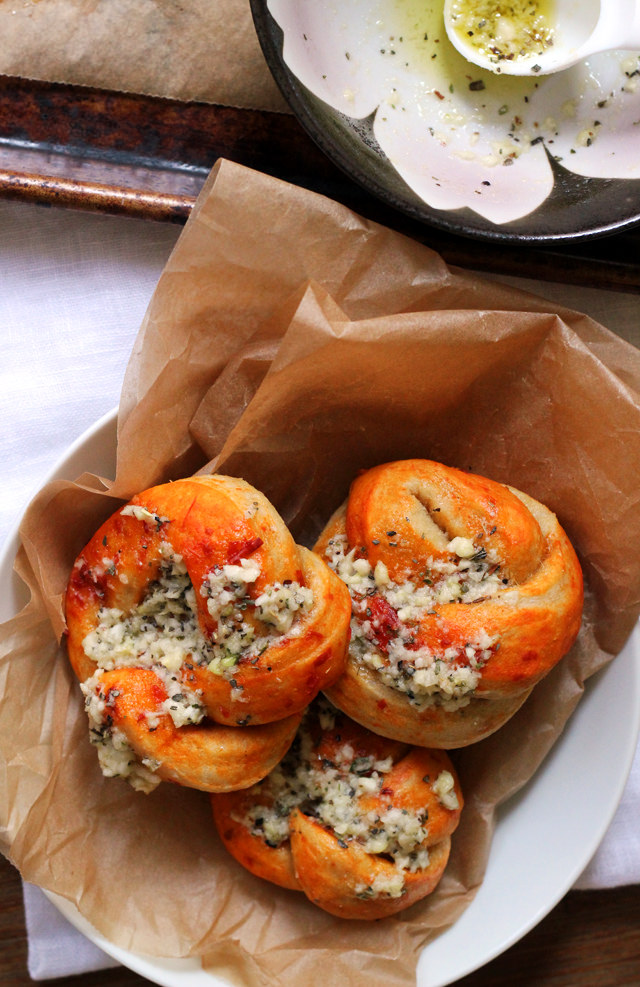 What's going on this week?
WHAT'S GOING ON THIS WEEK?!?!
Oh, only that I'm being abandoned. By my lab BESTIE.
It's emotionally draining, let me tell you.
Okay, he's one of my many lab besties. But it's still tough times.
I don't know if you've ever been in a biology lab before, but let me tell you, it is close quarters. You and your labmates share reagents, drinks, and chest colds. It's great! You also spend almost every waking minute together, so you pretty much become family in addition to being friends.
Maybe sometimes you karaoke to the Spice Girls in the middle of experiments.
Maybe you have impromptu dance parties in the lunch room on the regular.
Maybe there's a daily Gossip Session by your desk every afternoon.
Maybe you know everyone's favorite brand of toothpaste.
That close.
Anyway, the guy who is leaving is my bay-mate, which pretty much means that we've sat less than a foot away from each other for the past THREE YEARS. (It's kind of like we share a cubicle.) He's abandoning me for greener pastures and a higher-than-poverty-level salary, and though I can't say I blame him, I will miss him SO MUCH.
He has taught me everything I know about vegetarian Indian cuisine (he's from Gujarat), has made me laugh an innumerable amount of times with his dry sense of humor and his impeccable head wobble, has waaayyy more business sense than I do and is always trying to get me to let him invest my money in the stock market, and cares way too much about lab gossip (even though he pretends he's indifferent).
Oh, and he has the most adorable three year old. Ever.
I like to think that I've rubbed off on him as much as he's rubbed off on me (hence his obsession with lab gossip), and as such, I take full responsibility for his passion for pizza. For his last day on Friday we are taking him out for his favorite slice, but I thought I would start the celebration (errrr farewell party) early with these garlic knots! Because what is a pizza pie without some buttery cheesy garlicky garlic knots to wash it down with?
I can't even imagine.
Garlic knots are one of the more perfect carb entities on this earth, but I pinky swear they're even better when you douse the dough in harissa before knotting and baking. They can be a little rich on their own, but the heat from the harissa cuts that and just makes them even more addictive. If that were possible.
I've spoken about this before, but my favorite brand of harissa is Mina Harissa. In my opinion, they strike the perfect balance between spice and flavor, so that you get the heat, but in a way so that you can actually taste it. It's not blinding hot, but tasty hot, if that makes sense. And it will undoubtedly wake up your garlic knots from their hundred year slumber. That's a promise.
Harissa Garlic Knots
A classic Italian pizzeria favorite gets a spicy twist in these harissa garlic knots.
Ingredients
For the rolls
1 tbsp active dry yeast
1 cup warm water, divided
pinch of sugar
1 cup whole wheat flour
1½ cups all purpose flour
2 tbsp olive oil
1 tsp sea salt
⅓-1/2 cup harissa
For the garlic topping
6 cloves garlic, peeled and minced
2 tbsp melted butter
2 tbsp olive oil
1 tsp dried oregano
2 tbsp parmesan cheese
salt, to taste
Instructions
In a small bowl, whisk together the yeast, ¼ cup warm water, and a pinch of sugar. Let sit for 5 minutes, or until it starts to look foamy.
Meanwhile, in the bowl a stand mixer fitted with the bread hook attachment, mix together the flours. Add in the foamy yeast mixture, remaining water, olive oil, and salt. Combine on medium speed until it comes together. Raise speed to medium-high and allow it to knead to the dough for 5 minutes. The dough should be slightly sticky, but not overly so. If it is too sticky, then add in a bit more flour.
Place the dough in a large greased bowl and cover with plastic wrap. Allow to sit in a warm, draft-free place for 1 hour or until doubled in size.
When the dough has risen, roll it out on a lightly floured surface into a 10x10-inch square. Brush with the harissa so that it is completely covered. Use a pastry cutter to cut into 10 1-inch strips. Tie a knot in the center of each strip and wrap the ends around and under the knot. Place on a parchment lined baking sheet. Repeat with remaining strips.
Heat oven to 400F. Bake for 15-18 minutes, or until golden brown.
While the bread bakes, whisk together the garlic, butter, olive oil, oregano, parmesan cheese, and salt. When the rolls come out of the oven, spoon the garlic mixture over them. Let cool slightly before serving.
More adventures with yeast!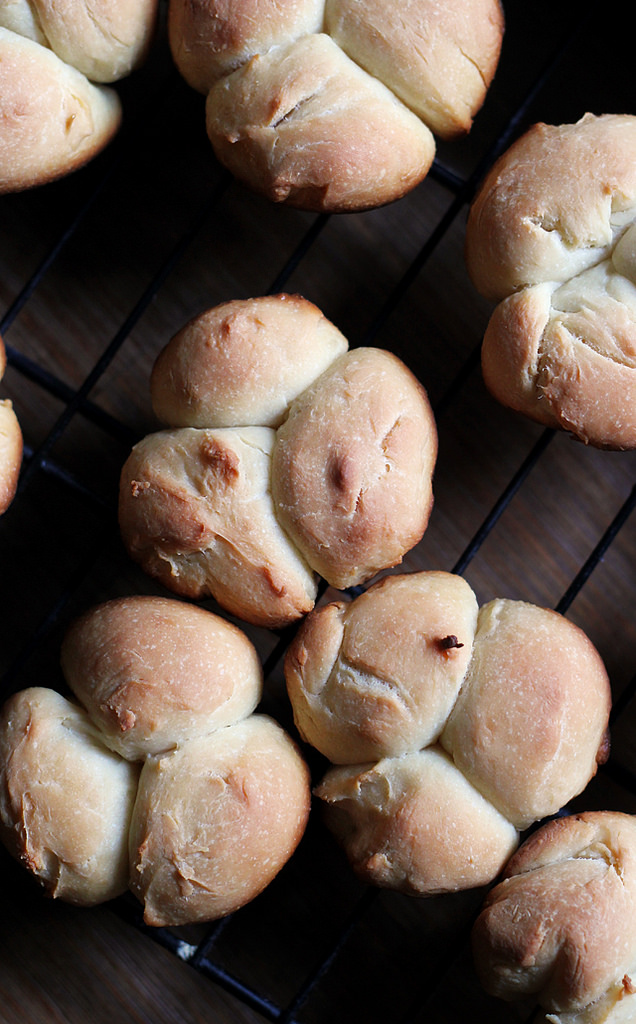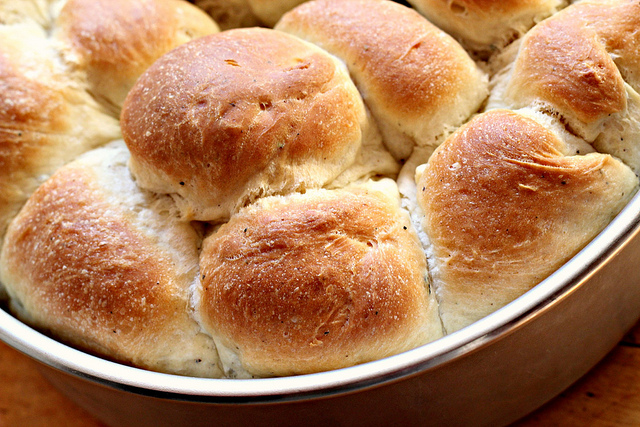 Soft Dinner Rolls with Rosemary and Black Pepper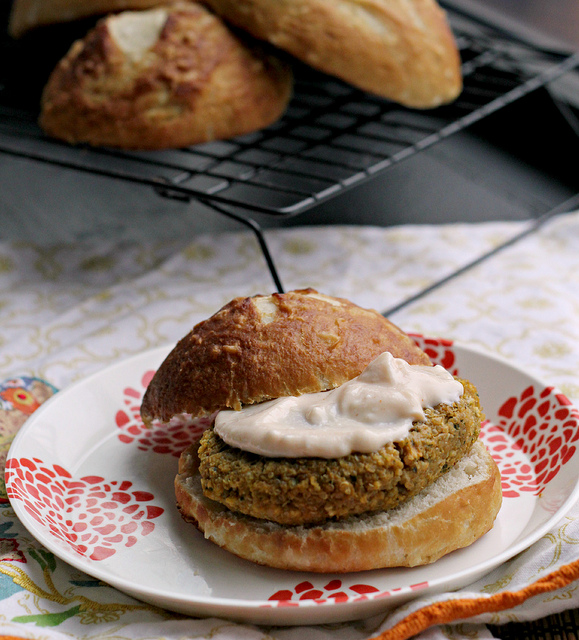 From Around the Web:
Texas Roadhouse Rolls from Stephie Cooks
Honey Butter Pull-Apart Rolls from High Heels & Grills
Garlic Cheese Bombs from Spend With Pennies
Parmesan Pesto Skillet Rolls from Girl Versus Dough
Stuffed Pretzel Rolls with Beer Cheese Sauce from Annie's Eats