I don't usually do restaurant reviews, but I think a 10 course meal warrants at least a mention, don't you think?
Here's the deal: the.boy really wanted to go to Disney World on our honeymoon. I really did not. So we compromised – he came along with me to a food blog conference in Disney, and I still get to to go to Italy and June. Win/win. Also, multi-tasking.
Anyway, since he really considered it to be our honeymoon, he did a lot of research on crazy things that we could do while there, and inevitably stumbled across Victoria & Albert's – recognized with a AAA Five Diamond rating, it is basically the Per Se or French Laundry of Disney World. That is to say, really delicious. Really expensive. Really worth it.
The photos above are us before eating. I decided against showing you what we looked like after…extreme inebriation does not look good on us.
We sat in the Queen Victoria's Room, which is a fairly intimate room that holds up to 16 people, however it was only us and another couple celebrating their 40th wedding anniversary while we were there. We were attended to by two waters throughout the evening – Jack and Sherri, a married couple, who were extremely personable and knowledgeable about everything on the menu, the wines that were served, etc. It was obvious that they were very passionate about their jobs and that enthusiasm definitely added to the eating experience.
When we called to book the reservation, we were asked fairly extensive questions about our eating preferences, likes, dislikes, any dietary restrictions, etc. so that our menus could be tailored specifically for us. As such, I had a vegetarian menu while the.boy had a carnivorous one. Each course was accompanied by a half glass of wine (though they really felt like full glasses to me) that was specifically paired to what we were being served. There were also three unlisted bread courses throughout the evening.
My first course was an amuse bouche of roasted kabocha and butternut squash soup. I mean, did they get me or what. The soup was creamy and slightly sweet, but not overly so. It was all I could do not to gulp it down in one slurp! The bread that was served with this was a very simple baguette.
Next up was a cold salad of marinated marble potatoes with ratatouille and balsamic froth. This dish felt very fresh, and I thought the fact that it was served chilled complimented the acidic flavors very well.
And because no fancy schmancy meal is complete without a little smoke and mirrors, we were served a hot salad of smoked cauliflower with Fuji apple dressing. The cauliflower arrived under a bell and when it was lifted, smoke poured out of it for dramatic effect. The cauliflower itself was tender, smoky, and sweet-tart from the dressing.
The next course seemed to be a celebration of cruciferous vegetables, as it consisted of a cabbage tart with salsify and baby brussels sprouts. This was one of my favorites throughout the night. The cabbage was couched in a flaky puff pastry while the brussels sprouts were simply roasted, just the way I like them. My only regret of the evening was not demanding more pieces of the cabbage tart!
Next up was my favorite dish of the night – poached egg ravioli with Florida corn. Basically, an egg-stuffed ravioli sits atop a creamy corn bruschetta and is topped with corn foam. As soon as you cut into the ravioli, the egg yolk runs everywhere making it that much more delicious.
Then was my favorite bread of the evening – a truffle bread that was paired with truffle infused butter. Mmmm.
For the pasta course, I was served house-made gnocchi (so fluffy!!) that were paired with a black trumpet mushroom sauce and topped with the biggest slices of black truffles that I have ever seen. I don't really love mushrooms other than truffles…but it was glorious.
The main course was a potato cannelloni. The inside was stuffed with mashed potatoes, while the outside shell was comprised of crispy fried potatoes. The juxtaposition of the two in the dish really accentuated how versatile potatoes are, while the miniature vegetables that it was served with were almost too cute to eat!
I don't think I've ever had a cheese course in a meal before (I'm not fancy like that), but the one we had was a good first experience. The cheeses were mostly mild (I wish I could remember the names, but at this point I was fairly drunk), though there was a deliciously pungent blue on the end. They were served with homemade fruit leather, nuts, and whole pieces of honeycomb.
In an attempt to sober myself up, I insisted on having coffee even though it was pretty late. Then, Jack brought out this crazy coffee making device! I thought I was seeing things, too, but no…it really does make good coffee. The basic concept is that the coffee is brewed by creating a vacuum, and while I'm sure I thought I understood the science behind it in the moment (see above about my mental status by this point in the meal), now I have no idea. But it was delicious.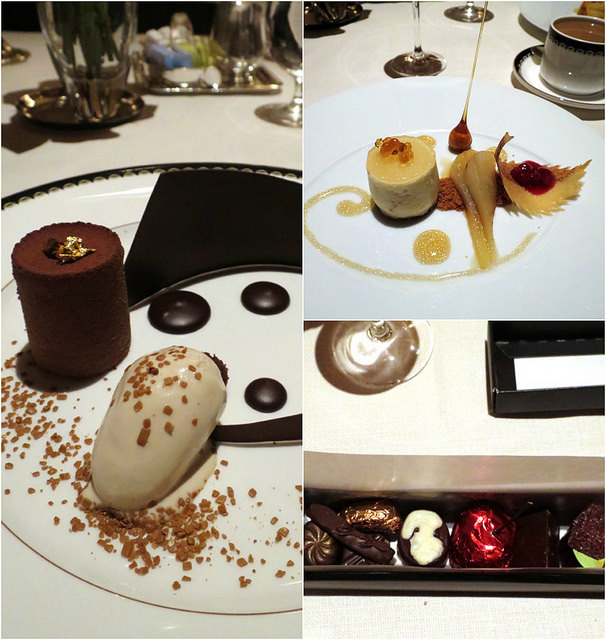 You all know I can never pass up dessert, and we were served two. By this time, I was pretty stuffed, yet I still managed to eat every last bite of the peach quark cheesecake served with spun sugar and fruit-infused caviar, and chocolate mousse timbale with roasted white chocolate gelato. No, really – EVERY BITE. And maybe even some of the.boy's. I totally needed to be rolled home.
On top of that, they then tried to feed us a chocolate course that we begged them to let us take home. It's a good thing we did because I almost projectile vomited when I tasted the bourbon one, which was basically filled with STRAIGHT ALCOHOL. Not what I was expecting.
All in all, I would definitely say our experience at Victoria & Albert's was well worth the money we spent. I went feeling hungry, and left feeling stuffed, inspired, and totally satisfied. The.Boy, who is decidedly way less of a foodie than I am, enjoyed it also and his main comment was that he never realized food could make him feel that way. Suffice it to say, he's already planning our first anniversary trip there. Not joking.
My point being that even though it's a splurge, it's a once in a lifetime opportunity worth taking. You won't regret it!
Note: I bought this meal with my own money and was not compensated for this review at all in any way. As always, my thoughts and opinions are my own!