A hearty side or lunch salad, this farro salad with honey-roasted garlic tomatoes, asparagus, and kale is a celebration of healthy eating!
This is a sponsored post written by me on behalf of Soffe. All opinions are 100% mine.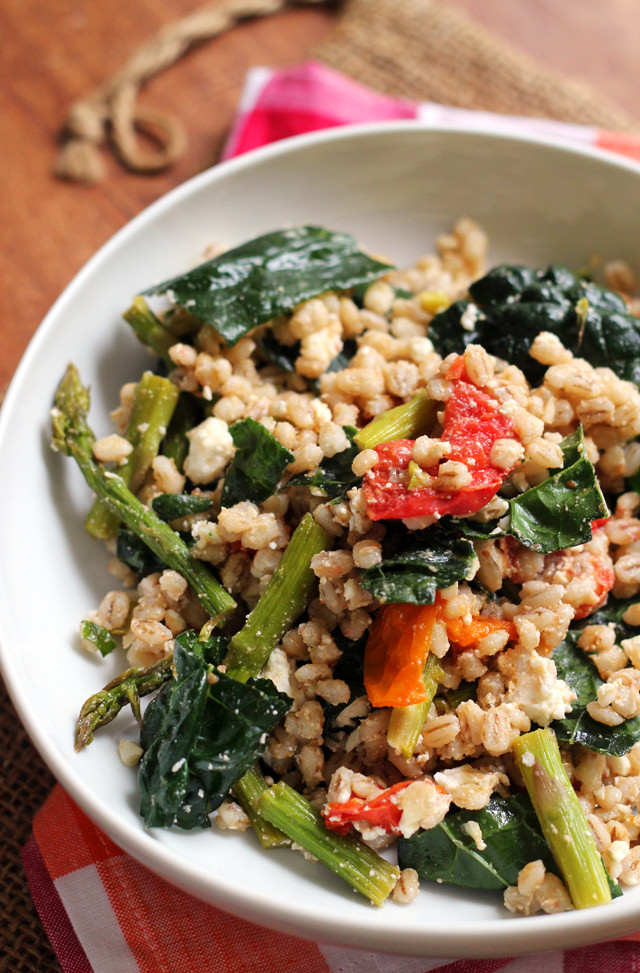 Can I tell you a grave truth?
Somewhere in-between Daylight Savings Time ending, Christmas cookie season, and the twentieth day of "feels like -15" temperatures, I stopped running. Just, stopped. Cold turkey.
It started as excuses – it was too cold or I wanted to go to Zumba instead or I had left work too late and it was too dark or if I went for a run, I wouldn't have time to cook dinner and then we would starve.
Then, after a while, I didn't even bother with excuses. I just didn't do it.
And it was so not me.
I honestly didn't realize how much of a funk not running was putting me in until this past weekend when I laced up my sneakers and hit the pavement. Sure, it was cold and it hurt, but it was also amazing and freeing and exactly what I needed. It wasn't my best time or my longest run, but it was a start – a building block – and it can only get better from there.
There are a few reasons why I chose NOW to start running, the first and foremost being "why NOT now?". I felt like the more I made excuses and the longer I went without just doing it, the less likely it would be for me to ever do it again. So I just did it.
The second is that I signed the.boy and I up for a half marathon! (Well, I signed up and then he felt guilty for not signing up…so then he signed up, too.) We'll be running the Brooklyn Half Marathon in May!!! Apparently you can't just wake up and run 13.1 miles, so training is happening.
The third reason came in the form of these pretty! new! workout clothes from Soffe! I mean, it would be a shame for all of Central Park not to see me in those awesome rainbow striped pants, don't you think?
Soffe athletic wear and I actually have quite a history. Their cloth shorts were the thing to wear to gym class when I was in high school, but only if you rolled down the waistband 2-3 times. I have no idea why this was a thing, but it was. It really was.
This connection is a funny coincidence in a way, because back then I hated exercise and gym class and anything that made me sweat. I saw my Soffe shorts as a cute accessory rather than functional athletic apparel.
Oh, how times have changed.
If I could shake my former self and tell her to take cardio kickboxing instead of yoga every semester, then I would.
But instead I just need to move forward and make up for lost time…by getting my sweat on as much and as often as possible. It's been over a decade since my high school days, but I am still wearing Soffe athletic-wear – now for different reasons. Sure, it's still cute and fashionable (which I LOVE – it always makes me feel good to put on a pair of crazy colorful workout pants), but it's also super comfortable, easy to move in, and fits perfectly. Basically, it fulfills all of my workout clothing needs, and I love that Soffe understands that being feminine and athletic shouldn't and don't have to be mutually exclusive! Being strong is sexy, and we shouldn't ever forget it!
(GIRL POWER.)
For more healthy living/workout inspiration, check out Soffe's Facebook page and Soffe's Instagram account!)
Of course, now that I'm running and in training again, I can't sit around and eat cookies all day. (Well, I could, but it would make for some pretty terrible runs.) I've learned that the better I eat, the better I perform on my runs, and the better I feel about myself…so I have recommitted to healthy eating, which is where this salad comes in.
Packed with protein-rich farro, sweet and savory roasted vegetables that have been dressed in a honey-garlic vinaigrette, and earthy kale for crunch, it is highly nutritious and absolutely delicious. I like to have it for lunch on days when I know I'm going to go running because it keeps me fueled to the end of my workout, but it would also work as a heartier side dish or light dinner!

Farro Salad with Honey-Roasted Garlic Tomatoes, Asparagus, and Kale
A hearty side or lunch salad, this farro salad with honey-roasted garlic tomatoes, asparagus, and kale is a celebration of healthy eating!
Ingredients
1½ tbsp olive oil
1 tbsp honey
3 garlic cloves, minced
1 lb asparagus, trimmed and cut into 1-inch pieces
12 oz cherry tomatoes, halved lengthwise
1½ cups farro
1 bunch kale, stems removed and leaves coarsely chopped
2 tbsp sherry vinegar
1 tsp kosher salt, plus more to taste
8 oz feta cheese, crumbled
Instructions
Heat oven to 375F.
In a large bowl, toss together the olive oil, honey, garlic, asparagus, and cherry tomatoes. Season to taste with salt and black pepper. Spread on a parchment-lined baking sheet and roast for 20-25 minutes, or until tomatoes begin to become wrinkled and soft.
Meanwhile, place the farro in a medium saucepan and cover with water, leaving 2 inches of water above the farro. Season with salt. Bring to a boil. Cover and reduce the heat to low and simmer for 15 minutes, or until chewy. Drain and then toss with the kale.
In a large bowl, toss together the farro, kale, roasted vegetables, sherry vinegar, salt, and feta cheese. Season to taste with salt and black pepper.
 More whole grain salads: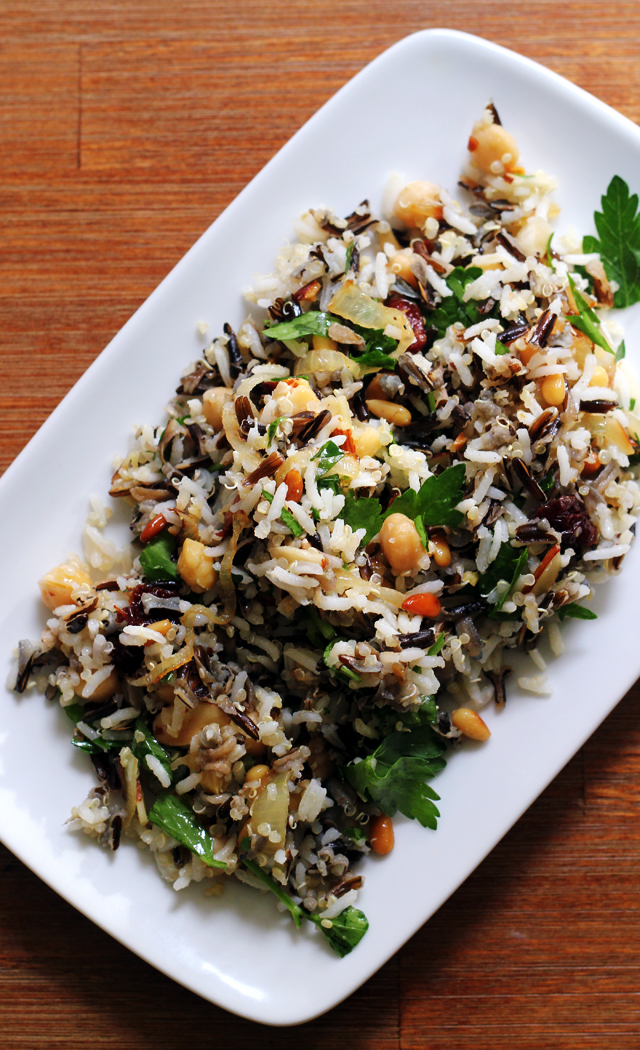 Rice Salad with Nuts, Chickpeas, and Sour Cherries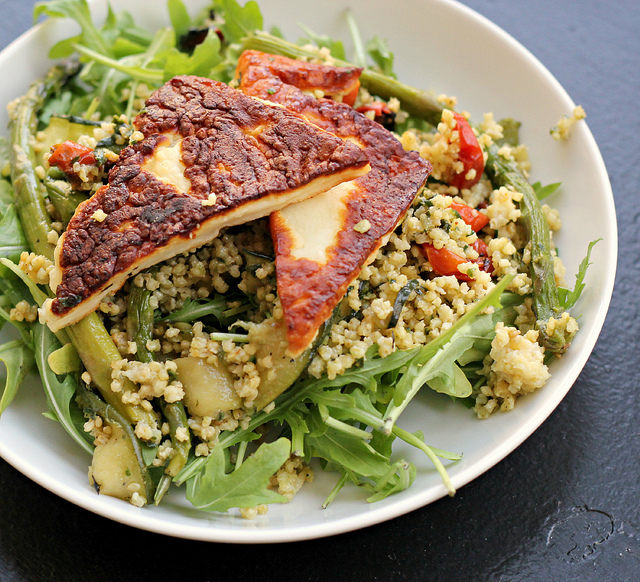 Roasted Asparagus, Zucchini, and Halloumi Salad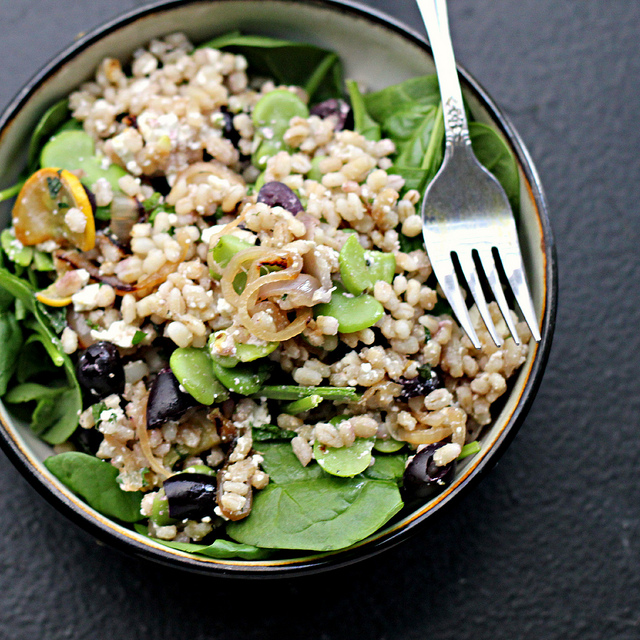 Warm Fava, Shallot, and Barley Salad
From Around the Web:
Israeli Couscous Salad with Asparagus, Artichokes and Spinach from Two Peas And Their Pod
Peach and Roasted Vegetable Salad from Love & Olive Oil
Fiery Fruit and Quinoa Salad from Oh My Veggies