Quesadillas get an Indian fusion twist with a curry-spiced veggie filling!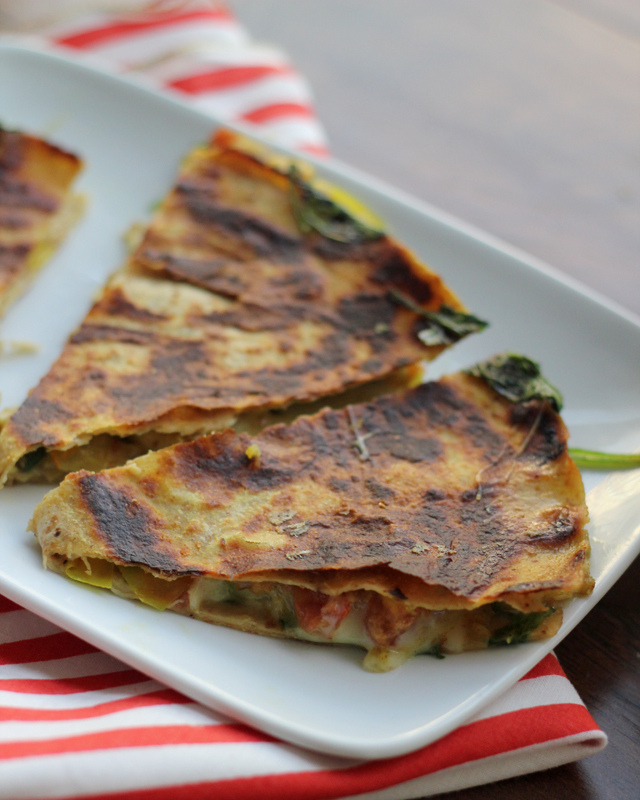 Excuse me if I'm wrong, but wasn't The Plan to make fun of Miley Cyrus for a little while, pity her, roll our eyes at her and then move on?
And not EMULATE HER by going for a run in Central Park in what can only be described as booty shorts but very very very much smaller. Plus a sports bra and a belly button ring.
Classy. NOT.
One should never be able to see anyone else's pubic hair while running. Just saying.
And if that wasn't disgruntling enough.
Six bugs were inhaled during this little exercise session of mine.
Karmic payback for making fun of the Miley-wannabe in my head for five miles?
Or just bad luck that my inhales were timed perfectly with the little arthropods' freefall towards my trachea?
I can't believe I had to use an s' in that statement. That's how many bugs I swallowed. Shivers.
When life is all topsy turvy like this and there is no sense to be made from any of it…one should put Indian flavors in their quesadillas.
Because even though it doesn't any sense at all. It totally works.
Spice, cheese, and veggies in every bite.
What could be more reasonable than that?
I also want to take a moment of silence to remember the tragic events of twelve years ago. On that fateful day, I watched the towers fall through the window of my 9th grade homeroom, mere blocks away from Ground Zero. And ran when I was told, because it was unclear what was coming next or whether we would even make it out of that day alive. It was one of the most real days of my entire life, and my whole outlook on the world was changed because of it. I will never forget. Not the sadness, not the fear, and not the outpouring of love and strength that came after it.   
One year ago…Edamame Cakes with Roasted Sweet Potatoes and Green Beans, Peach, Pluot, and Roasted Vegetable Salad
Two years ago…9/11/2001
Three years ago…Homemade Spaghetti with Heirloom Tomatoes, Capers, Anchovies and Chile
Four years ago…Tortellini Pesto Pasta Salad
Curried Spinach and Zucchini Quesadillas
Quesadillas get an Indian fusion twist with a curry-spiced veggie filling!
Ingredients
2 tbsp olive oil
2 large shallots, minced
3 cloves garlic, minced
2 tsp curry powder
2 medium zucchini, chopped
1.5 lb mixed heirloom tomatoes, chopped
4-6 (8-inch) tortillas
4 slices light Havarti cheese
2 cups baby spinach leaves
Instructions
Heat the oil in a large skillet over medium heat. Add the shallots and garlic and saute, stirring occasionally, for 3 minutes. Stir in the curry powder and cook for 30 seconds. Add in the zucchini. Cook, stirring for 4-5 minutes, or until tender. Add in the tomatoes and cook for 2 minutes. Remove from heat and season to taste with salt and pepper.
Spread a tortilla out on a work surface. Cover half of the tortilla with the zucchini-tomato filling. Top with a slice of cheese and a handful of baby spinach. Fold the tortilla over so that it covers the filling.
Brush a large nonstick skillet with olive oil. Put the quesadilla in the pan and cook, 2 minutes on each side.
Nutrition Information
Serving size:
1 quesadilla