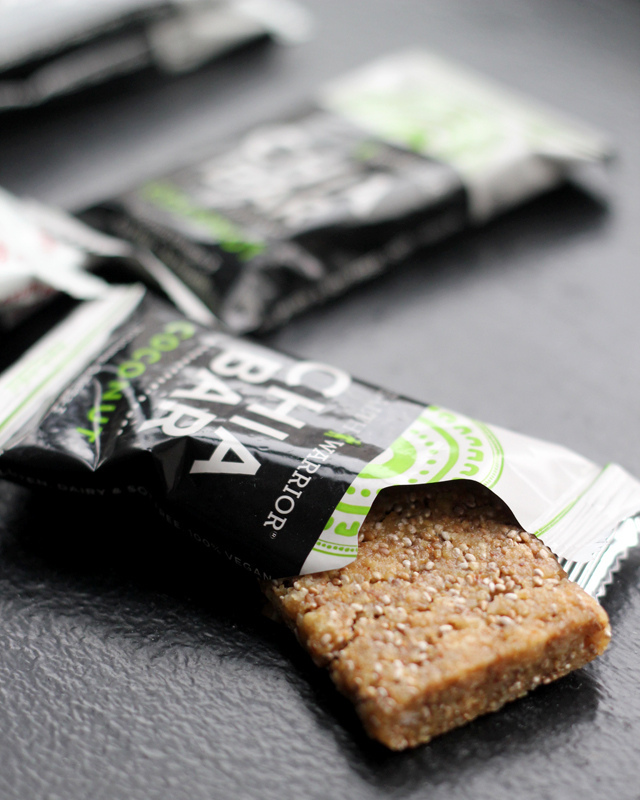 So I'm training for this marathon. My fourth marathon, to be precise.
And whereas during my past training seasons, I was totally anal retentive about eating something EXACTLY ONE HOUR AND NOT A MINUTE LATER (OR ELSE HELL WOULD BREAK LOOSE) before I was supposed to run or workout, this time around I all too often find myself scrambling for something to fuel myself with literally minutes before I should be heading out the door.
Apparently, I've gotten jaded and lazy.
And then I received a package filled with chia bars in the mail. Let's just say my pre-workout fuel habits may never be the same again.
The package from Health Warrior was filled with four fabulous chia bar flavors – acai berry, coconut, apple cinnamon, and banana nut (and FYI, they also come in coffee and chocolate peanut butter). They are kind of like chewy flavored date bars but with crunchy bits of chia in every bite. My personal favorite was the coconut, as it really had a good dose of tropical flavor, but the banana nut and apple cinnamon were pretty spot on as well. I have no idea what acai berry is supposed to taste like, but it was quite fruity and just tasted like generic berry to me.
Each Health Warrior chia bar is between 100-110 calories, and is jam-packed with 1000 mg of Omega-3's, 4 grams of fiber, AND 4 grams of protein. Not to mention that they're vegan, all-natural, low in sugar, and soy-free. #Winning.
And then…something crazy happened. These bars lifted me out of my jaded and lazy funk and gave me so much energy that I felt compelled to do something with them other than just eating them grab-and-go fashion. It was crazypants.
For example…one could cut up an apple cinnamon chia bar and toss it over a fruit of your choice and some greek yogurt. Yum.
Or you could smear an acai berry chia bar with a serious dose of peanut butter for a makeshift PB+J!
No bread = no guilt when you make your PB smear extra big. Just saying.
And then I may have totally turned ice cream into breakfast by adding a chia bar to the mix. #nojudgment #ilikethewayithink
In short, there are endless ways to incorporate chia bars into your life. And I highly recommend you do it.
For more info on chia bars, healthy living tips, and more fun ideas for getting chia into your life, be sure to follow Health Warrior on Facebook and Twitter!
Disclosure: This is a sponsored post. All thoughts and opinions are my own.