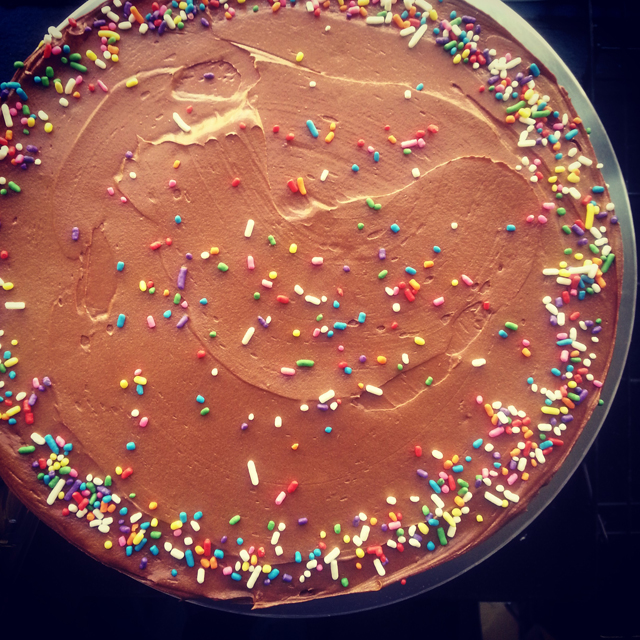 1. Remember how my New Year's resolution was to eat LESS dessert. Well, the universe disagrees. That's really the only explanation as to why every layer-cake-worthy holiday in my life takes place between February 1st and March 18th, the critical point at which resolutions either become a habit or a future ghost of resolutions past. This yellow birthday cake with chocolate ganache frosting? For my sister's birthday.
2. Either that, or the universe just really hates my skinny jeans.
3. The.Boy is watching episode after episode of "Did You Know Gaming" on YouTube as I write this. He's currently enthralled in "Pokemon Part 4". Apparently I am marrying an eleven year old circa 1998. In fact, I believe the words "you obviously didn't play as much Pokemon as I did" just came out of his mouth. Said proudly. I cry.
4. After two days of jury duty, I think I need a mental vacation from life. I have so much to say about this treasure of an experience, but – long story short – they dismissed me on the grounds that I have too much medical knowledge in my brain and refused to take their "expert medical witness's" statements as truth over what I learned in medical school.
5. And there, my friends, is the true use of a medical degree.
6. Then, when I went into lab after being released from jury duty, our -80c freezer broke. Which is basically one of the worst things that can happen. I can't even describe to you the mayhem that ensued as we tried to save all our samples. I really should have just gone straight home.
7. Are you doing real life things this weekend to celebrate St. Patrick's Day? Let me live vicariously through you!
8. As for us, we will be carb loading for The.Boy's half marathon on Sunday.
9. Yes, I said we. Don't judge.
10. But really, find me some Bailey's and Guinness infused layer cake to make. Because, New Year's resolution bizarro world.