Flavors of the Mediterranean come alive in this tomatokeftedes and cauliflower tabbouleh salad, with fried tomato balls topping a fresh and delicious tabbouleh made with cauliflower rice.
Disclosure: This post was sponsored by Tuttorosso Tomatoes! As always, my thoughts and opinions are my own.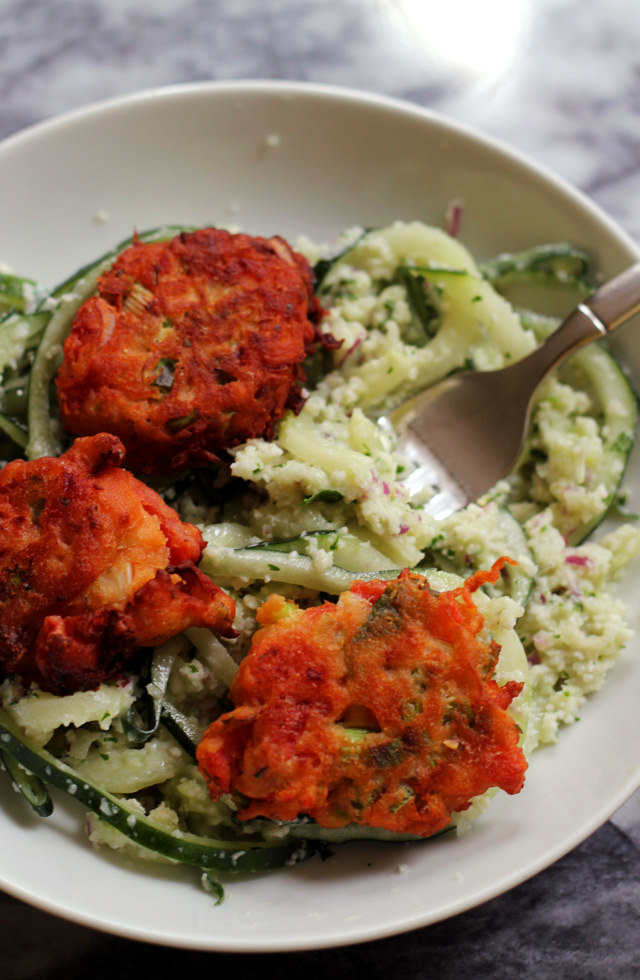 A five course dinner party with all of your favorite people and none of the hassle of actually throwing a dinner party.
You don't even have to clean your house.
Not even a once-over with the vacuum. (Which is great because who knows where we even keep the vacuum?! Not I.)
You also don't have to iron your clothes, make your bed, or put on make-up.
You're like, Joanne what have you done with the space-time continuum?!
And I'm like Virtual Dinner Party baby, YEAH!
Tuttorosso Tomatoes must have sensed the aching void growing in my heart since our last dinner party (and also my disdain for all things Domestic Goddess) when they invited me to participate in their Inspiralize the Spring campaign as part of their celebratory Virtual Dinner Party! Every day this week, a different blogger will provide a new course for this virtual fiesta. Ali kicked it off yesterday with her fabulous Italian Zucchini Pasta Spring Rolls, and I'm up next with the salad course!
The only criteria for the recipes was that they had to be spiralized, so of course I turned to my spiralizing encyclopedia, otherwise known as the Inspiralized Cookbook
! While flipping through the soups and salads chapter, I was immediately drawn to this Mediterranean-themed salad. The flavors from this part of the world are always so bright and fresh – perfect for spring. Plus, I am married to a Greek boy so it's really only appropriate that I get some Greek salads under my belt already. Sheesh.
The salad itself is made up of three components – the tomatokeftedes (tomato fritters), the cauliflower tabbouleh, and the tzatziki. Both the cauliflower tabbouleh and the tzatziki can be prepared ahead of time, and basically just require some chopping, spiralizing, and mixing. These end up being the base for the salad and are essentially a gluten-free version of tabbouleh made with cauliflower rice in place of bulgur! The tomatokeftedes, on the other hand, are like the icing on the salad cake. They are basically fritters made from juicy Tuttorosso tomatoes, chickpea flour, and a mix of Mediterranaena herbs. You could bake them or fry them, but be sure to keep in mind that  they taste best on the day they are made, as they get soggy after an extended stay in the fridge, so make sure you cook them right before you are planning to eat them.
Each bite of this salad is filled with the best mix of flavors and textures. Just make sure not to fill up on it too much, because we do still have three courses to go, and they are worth saving room for.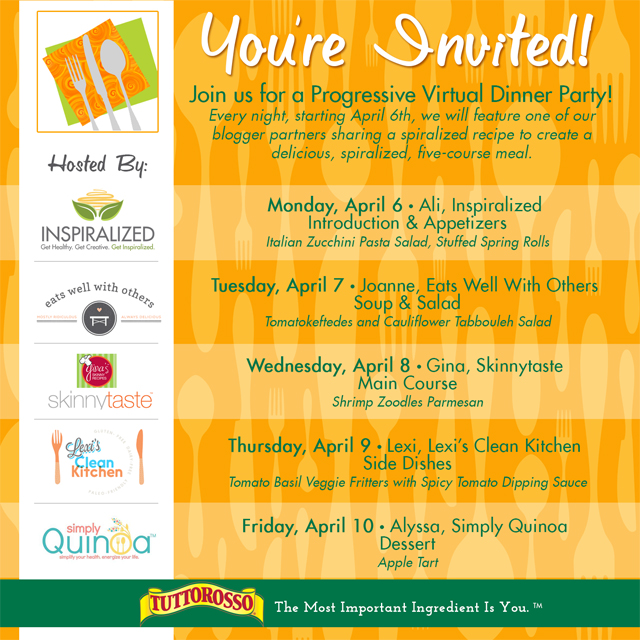 Tomatokeftedes with Cauliflower Tabbouleh Salad
Flavors of the Mediterranean come alive in this tomatokeftedes and cauliflower tabbouleh salad, with fried tomato balls topping a fresh and delicious tabbouleh made with cauliflower rice.
Ingredients
For the tomatokeftedes
1 cup of drained diced tomatoes
½ cup chopped scallions, green and white parts
1 tbsp chopped fresh mint
¼ tsp dried oregano
½ cup chickpea flour or whole wheat flour
¼ cup grated parmesan cheese
salt and black pepper, to taste
peanut oil, for frying
For the tabbouleh
1 large seedless cucumber, spiralized with Blade C
1 cup cauliflower florets
½ cup finely diced red onion
3 tbsp chopped flat parsley
1 tbsp chopped fresh mint
salt and black pepper, to taste
3 tbsp lemon juice
For the tzatziki
¼ cup plain Greek yogurt
1 garlic clove, finely minced
¼ tbsp olive oil
¼ tbsp red wine vinegar
½ tbsp chopped fresh dill
¾ tbsp lemon juice
salt and black pepper, to taste
Instructions
To make the tomatokeftedes, mix together all of the ingredients in a large bowl, stirring the mixture together until it is thick and sticky. Season to taste with salt and black pepper. If needed, add more flour. In a medium cast-iron skillet, heat about 1 inch of peanut oil over high heat. Form the tomatokeftedes about the size of a golf ball. Add them to the hot oil, making sure not to crowd the pan. Fry for about 2-3 minutes per side, or until lightly browned. Remove to a paper towel-lined plate to drain. Repeat with remaining batter. Alternatively, you can bake the tomatokeftedes at 400F for 25 minutes, flipping once halfway through.
Once the tomatokeftedes are done, make the tabbouleh. Pat dry the cucumber noodles. Pulse the cauliflower florets in a food processor until rice-like. Add the onion, parsley, mint, salt and pepper, and lemon juice to the food processor. Pulse until well combined.
Prepare the tzatziki by whisking the ingredients together in a medium bowl. Season to taste with salt and black pepper.
To assemble the meal, toss together the cucumber noodles and the tabbouleh. Divide into serving bowls and top with the tomatokeftedes. Drizzle over the tzatziki sauce and serve.
Notes
Very slightly adapted from the
Inspiralized Cookbook
Nutrition Information
Serving size:
⅓ of recipe
 More Mediterranean flavors: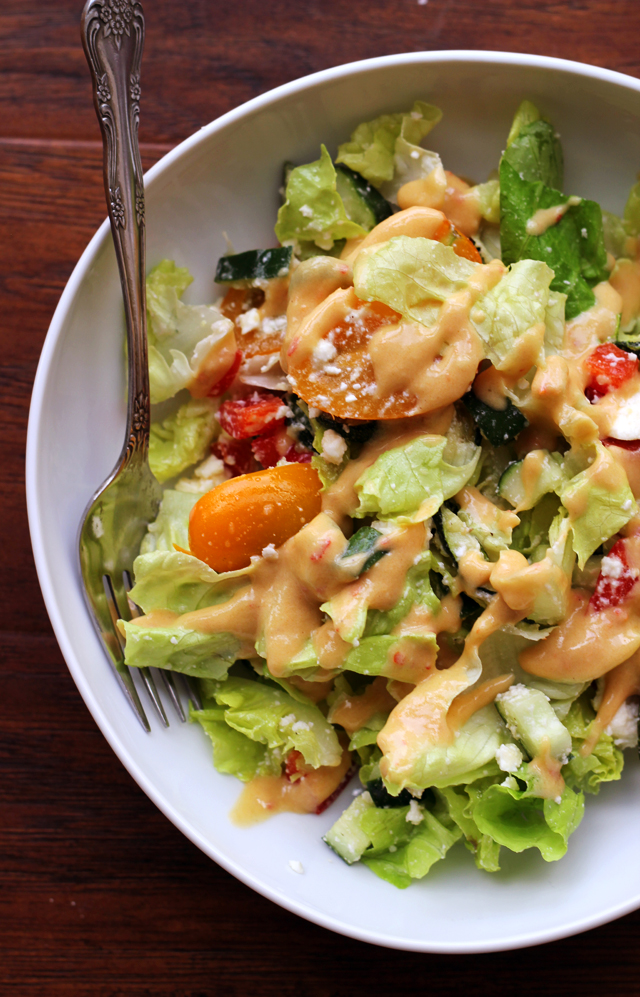 Greek Salad with Hummus Dressing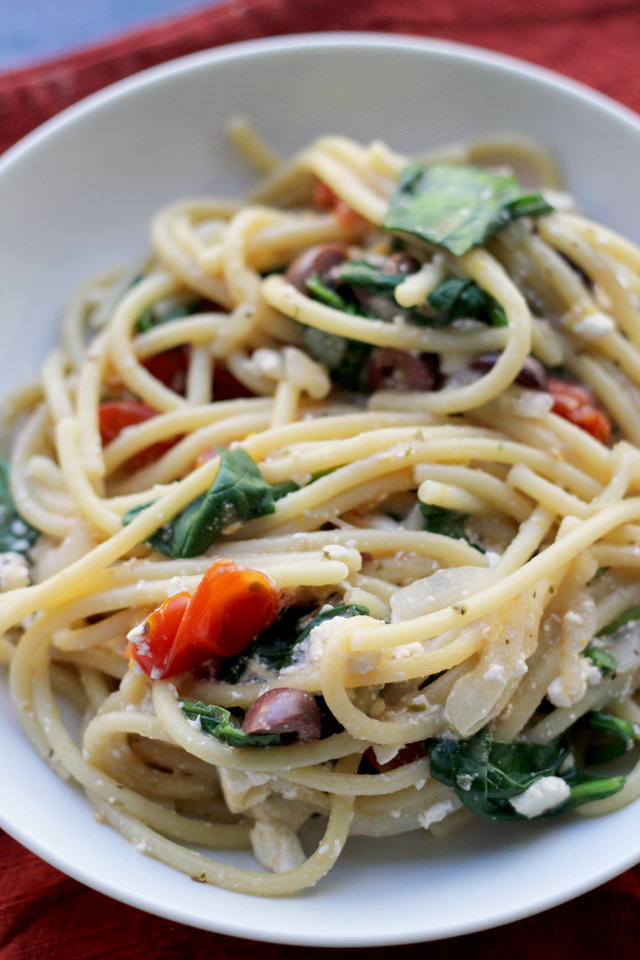 One-Pot Spaghetti with Greek Tea, Feta, and Kalamata Olives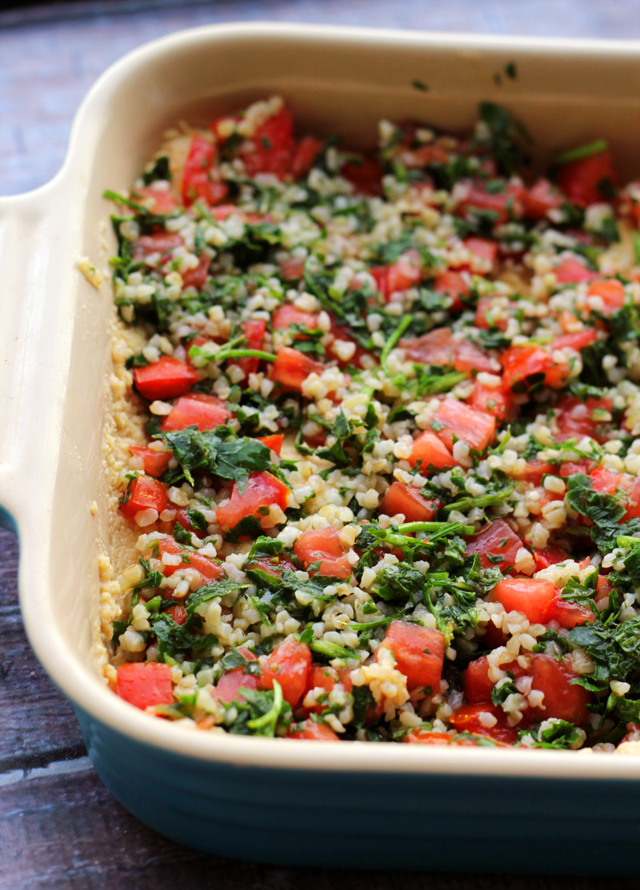 Mediterranean Tabbouleh Hummus Dip
From Around the Web:
Greek Zucchini Pie from Closet Cooking
Skinny Greek Mac and Cheese from Well Plated
Greek Pita Pizzas from Pink Parsley
Greek Chickpea Salad Sandwiches from She Likes Food
Mediterranean Dip from Lemons for Lulu