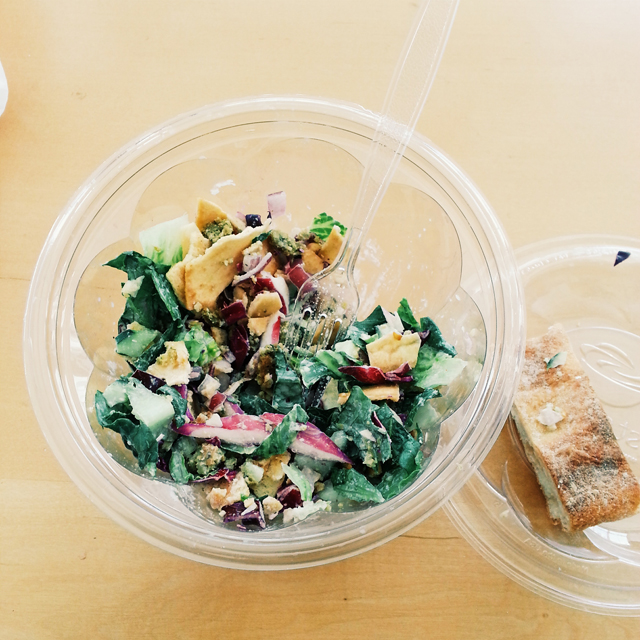 1. Anybody else on a MAJOR salad kick after this weekend's festivities? My coworkers and I rediscovered a salads-only lunch spot a few blocks from where we work, and it is AWESOME. I am so pumped to recreate some of their salad combos for the blog! My favorite so far is the falafel salad – falafel, romaine, cucumbers, tomatoes, pita chips and Moroccan tahini dressing. Can you say YUM.
2. Of course, I would remake it with kale. Obvi.
3. So yesterday I did the strangest thing ever, for me. I TOOK A NAP. It was glorious. Now, why exactly don't I do this on a regular basis?
4. MAD MEN. What did we all think of the first episode? Totally weirdo as usual? But already so much better than the whole last season?
5. I agree.
6. You may have noticed this yesterday, but I finally succumbed to Food Blogger Law #6555, which states that every food blogger MUST OWN A MARBLE SLAB. I've actually had mine since November, but it was too heavy for me to remove from the box myself and I didn't want the.boy to know that I had bought it, lest he yell at me for buying yet ANOTHER heavy thing that is going to be a major pain to move at some later point in time.
7. Well, I worked up the nerve to ask him to pull it out for me (<– that's what she said) in a desperate moment, when I really needed it to solve all my pie crust rolling problems. It did. I am never not using it again.
8. There is so much marble slab in your future. Consider yourself warned.
9. (PS – I bought it at Sur La Table ON SALE. In case you need one too.)
10. (You totally need one too, don't you. #sorrynotsorry)