A lighter of version of Italian comfort, this zucchini ribbon lasagna replaces most of the lasagna noodles with zucchini so that you get all the cheesy deliciousness with less of the guilt!
Disclosure: This is a sponsored post written by me on behalf of AllWhites Egg Whites for IZEA. All opinions are 100% mine.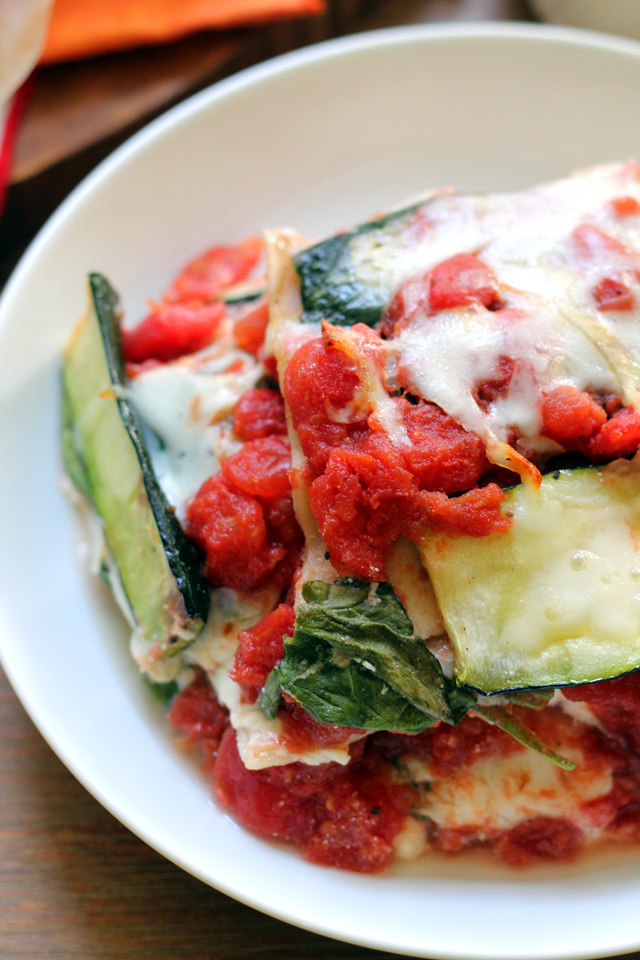 Bad news: I've got a FEEEVVVEEERRR.
Good news(?): It's SPRING FEEEEVVVEEERRR!!
Feel free not to laugh at my corny jokes. Really, it's fine.
Basically all this means is that I've switched over from all-the-comfort-food-all-the-time mode to having some carbs with my veggies instead of the other way around.
Oh, and once a month I eat a salad, swear I feel like a million bucks, proclaim on social media (so that I can be held accountable, obviously) that I'm going to eat a salad every day for the rest of eternity…and then promptly forget the next day and eat lasagna instead.
You really can't blame me, can you?
Except just last week, I made this zucchini ribbon lasagna that is actually a salad disguised as lasagna.
WHAATT?!
Win/win.
Stuffed with layers of zucchini ribbons, roasted peppers, spinach, and tomato sauce, it is heavy on the vegetables with just enough carbs and cheese to make it feel like you're eating a pan of comfort, when you're mostly eating a pan of vitamins and nutrients. Gotta love that.
Even the cheese layer gets a bit of a nutritional boost from the addition of AllWhites Egg Whites! These are really just straight up liquid egg whites that someone was kind enough pre-remove the yolks from for you. They're naturally fat-free and cholesterol-free, making them a great and easy to prepare lean protein option for when you're in a hurry or just want to bulk up a meal. You really can use AllWhites in just about anything (see here for a list of AllWhites Egg Whites Favorites!), though I am partial to this lasagna.
I mean, a meal that looks, tastes, and acts like a crazy calorific comfort food…but isn't.
Can you blame me?
Want to try AllWhites Egg Whites for yourself? I am giving away a MONTH'S SUPPLY of coupons to one lucky reader!! See the widget below for details.
Marathoner's Zucchini Ribbon Lasagna
A lighter of version of Italian comfort, this zucchini ribbon lasagna replaces most of the lasagna noodles with zucchini so that you get all the cheesy deliciousness with less of the guilt!
Ingredients
3 medium zucchini, cut lengthwise into thick slices
salt and black pepper, to taste
2-3 tbsp olive oil
15 oz part-skim ricotta cheese
⅓ cup AllWhites® egg whites
½ cup parmesan cheese
2 tsp lemon zest
2¼ cup tomato-basil sauce
1 (14 oz) can diced tomatoes
¼ tsp ground cinnamon
6 no-boil lasagna noodles
2 cups baby spinach
1 cup roasted red bell pepper strips
1½ cups grated part-skim mozzarella cheese
Instructions
Heat oven to 450F. Line a large rimmed baking sheet with parchment paper and arrange the zucchini strips on it in a single layer. Brush with olive oil and season with salt and black pepper, to taste. Bake for 15 minutes, turning once halfway through. Reduce oven temperature to 375F.
Meanwhile, mix together the ricotta, AllWhites® Egg Whites, parmesan cheese, lemon zest, and pepper in a medium bowl until well-blended. In a separate bowl, stir together the pasta sauce, tomatoes, and cinnamon. Set aside.
Spoon ½ cup of the sauce into the bottom of a 9x9-inch baking pan. Top with 4-5 zucchini strips, 2 lasagna noodles, ⅓ of the ricotta mixture, ⅓ of the spinach and roasted red pepper, about 1 cup of sauce, and ½ cup of mozzarella. Repeat twice more, ending with sauce and mozzarella.
Spray one side of a large piece of aluminum foil. Cover the lasagna, sprayed side-down. Bake for 30 minutes, or until lasagna is hot and bubbling. Uncover and bake for 10 minutes or until cheese is browned. Let stand for 10 minutes before serving.
Nutrition Information
Serving size:
¼ of recipe
Check out the AllWhites Egg Whites social media channels here – 
AllWhites Egg Whites on Pinterest
 and 
AllWhites Egg Whites on Facebook
.