An updated take on turtle bars, these feature a salty pretzel shortbread base that is topped with pecans, a layer of salted caramel, and a layer of melted chocolate.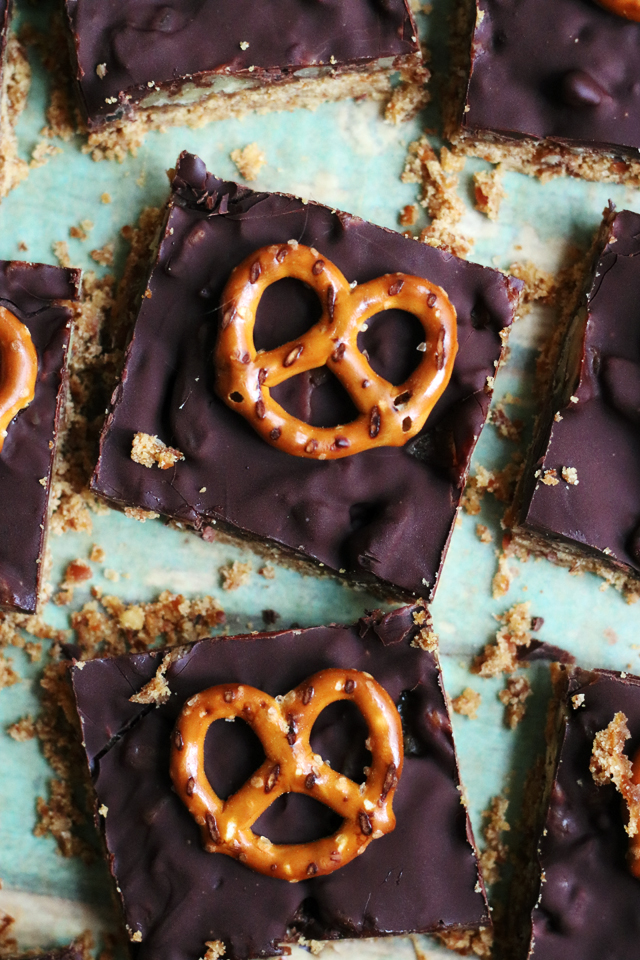 Can I tell you the terrible, horrible, no good very bad thing that happened over the weekend??
We're talking REALLY bad.
Brace yourself.
REMY. CLIMBED. OUT. OF. HER. CRIB.
And now I may never sleep another peaceful night again.
Haaaalllppppp.
How could this have happened, you ask?
Well it probably has something to do with the fact that while I've been working nights, my darling husband forgot to turn the baby monitor on and, since he has no internal clock at all whatsoever and relies on his child who wakes up at the same time every day to the minute to wake him up, overslept by TWO HOURS.
Do you know what happens when you leave your fully rested two year old to their own devices for two hours?
They learn how to climb out of their crib by themselves. THAT'S WHAT.
I'm just thankful that the door to Remy's room was securely shut, that she's not yet tall enough to open it, and that her room is pretty much the most baby-proofed room in the house. Yeah, she's a monkey and probably could have found a way to hurt herself but praise be it seems like she just played with her toys and read some books on the floor.
Soooooooooooo now we have to buy a toddler bed and probably do some sort of sleep training all over again. Fun.
AND I've become that nagging wife that calls six times to make sure the baby monitor is on, the door is locked and deadbolted, and the dishes are done every night. Look, I was pretty much already that person but now at least I have an excuse!
If you've made it through reading all of that, you can understand why I've had one thing on the brain, and that's CHOCOLATE.
Chocolate, chocolate, and chocolate with a side of more chocolate. With a pretzel on top for that sweet/salty jazz that's so dang good.
And since I've been dreaming about these bars since I saw them on the NY Times food instagram feed………………………..here we are!
Pretzel shortbread meets gooey caramel meets dark chocolate topping. It does not get any better.
These are actually incredibly easy to put together and the only thing I should mention is that I accidentally made them in a 9×13-inch pan, which is way bigger than the 9-inch square pan that the recipe calls for. Whoops!
Mom brain at its finest.
Anyway. Don't be me. Make them in an 9-inch pan. They'll be thicker and gooier and all around better that way.
Trust.

Chocolate Caramel Pretzel Shortbread Bars
An updated take on turtle bars, these feature a salty pretzel shortbread base that is topped with pecans, a layer of salted caramel, and a layer of melted chocolate.
Ingredients
For the crust
8 oz pretzels
¼ cup sugar
8 tbsp unsalted butter, melted
4 oz pecans, roughly chopped
For the caramel
10 tbsp unsalted butter
⅔ cup heavy cream
⅔ cup packed dark brown sugar
¾ tsp kosher salt
For the topping
8 oz semisweet or bittersweet chocolate, chopped
24 pretzels
Instructions
Heat oven to 350F. Line a 9-inch square baking pan with parchment paper, leaving an overhang on all sides. Set aside.
Combine the pretzels and sugar in the bowl of a food processor. Pulse until the pretzels are broken down to fine crumbs. Add in the melted butter and run the processor until the mixture is well combined. Pour into the prepared pan and press the crust down into an even layer. Bake until fragrant and the edges are starting to brown, about 17 minutes. Sprinkle with the chopped pecans and set aside to cool.
To prepare the caramel, combine the butter, cream, brown sugar, and salt in a medium saucepan. Heat until the butter melts and everything is well combined, stirring constantly. Turn the heat to medium-high and bring to a simmer. Once simmering, cook for 2 minutes. Pour the caramel over the pecans and the prepared crust. Place in the oven and bake for 13-15 minutes, or until the caramel has darkened slightly. Transfer to a baking rack to cool.
Once the bars have cooled slightly, melt the chocolate over a double boiler or in the microwave. Allow to cool for a few minutes, then pour over the caramel and spread into an even layer. Top with the pretzels and cool to room temperature. Place in the refrigerator and allow to cool completely, about 30-60 minutes. Cut into squares and serve.