Pizza Friday gets VEGGIE-FIED in this brussels sprout, lemon, and jalapeno pizza.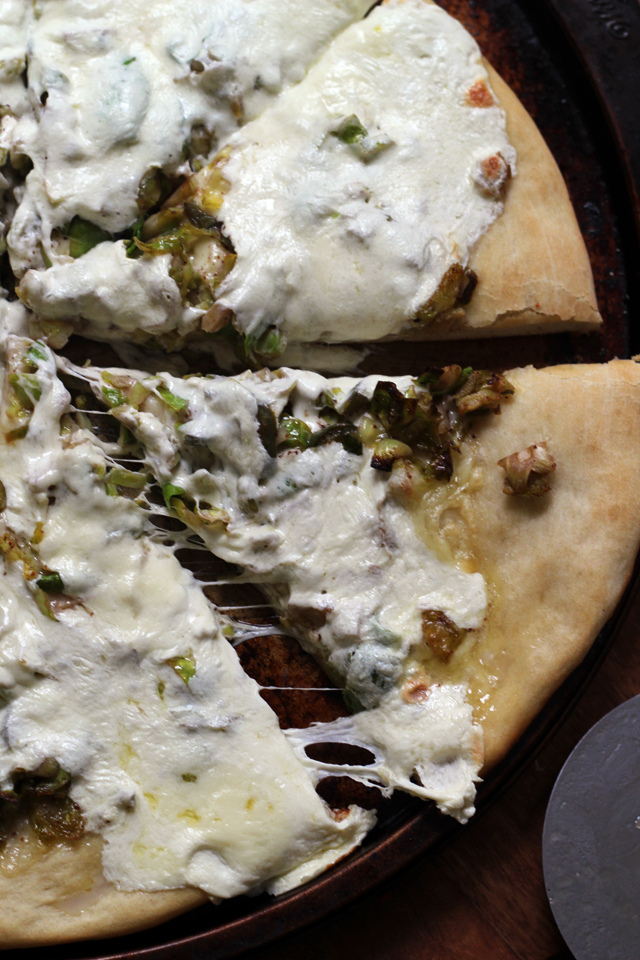 To the age-old question of "what does one EAT the Friday after New Year's when we're still trying to keep this healthy living momentum going but….FRIIIIDDAAAAYYYYY".
I say pizza.
Really.
Pizza.
On it's own, pizza is full of pretty good stuff – tomatoes, a touch of cheese for protein, maybe a sprinkling of basil if we're getting fancy.
It's really all the "extras" that we throw on that turn it into artery clogging trash.
Extra cheese. Extra grease. Extra saturated fat.
You get my drift.
That's why we're going the extra brussels sprout route instead.
Extra vitamin K, extra vitamin C, extra antioxidants.
All the good extras and we get to keep our arteries!
Win/win.
I normally only go gaga for brussels sprouts when they're roasted to the perfect amount of charred and crispy perfection, but there is something to say for a good saute in a lemon jalapeno sumac bath until they're just the right amount of tender, slightly spicy, and infused with some citrus flair.
With oodles of cheese on top.
It is still Friday, after all.
Brussels Sprout, Lemon, and Jalapeno Pizza
Pizza Friday gets VEGGIE-FIED in this brussels sprout, lemon, and jalapeno pizza.
Ingredients
For the pizza dough
1 tbsp active dry yeast
pinch of sugar
1 cup lukewarm water, divided
3 cups bread flour
2 tsp sea salt
2 tbsp olive oil
For the toppings
2 tbsp olive oil
½ lb brussels sprouts, thinly sliced
1 jalapeno, seeded, thinly sliced
1 tsp sumac
juice of ½ meyer lemon
4 oz fontina, grated
4 oz mozzarella, thinly sliced
Instructions
In a small bowl, combine the yeast with a pinch of sugar and ¼ cup lukewarm water, stirring to combine. Let sit for 5 minutes. If it becomes foamy, then the yeast is alive and raring to go! If not, then the yeast is probably dead or too old and your dough won't rise, so go buy more.
In the bowl of a stand mixer fitted with the bread hook attachment, combine the flour, yeast/water mixture, remaining ¾ cup water, olive oil, and salt. Stir on medium speed until dough comes together. Stir on medium-high speed for five minutes. Cover the bowl with plastic wrap and let rise in a warm place until doubled in size, about 2 hours.
Meanwhile, prepare the topping. In a medium skillet, heat the olive oil over medium-high heat. Add the brussels sprouts and jalapeno slices to the pan, along with a pinch of salt. Saute for 5-6 minutes, or until brussels sprouts are tender and starting to brown in spots. Stir in the sumac and meyer lemon juice, sauteing for another minute to let the flavors meld. Season to taste with salt and black pepper.
Preheat oven to 500F.
Rub a 12-inch pizza pan with olive oil. When the dough has risen, spread it out over the prepared pan.
Top the pizza dough with the fontina and the vegetables, leaving a 1-inch crust around the edges. Top with the mozzarella slices.
Bake the pizza for 10-12 minutes, or until the bottom is starting to brown. Let rest for 5 minutes before slicing.
Notes
An Eats Well With Others Original
 For more homemade pizza recipes, check out these: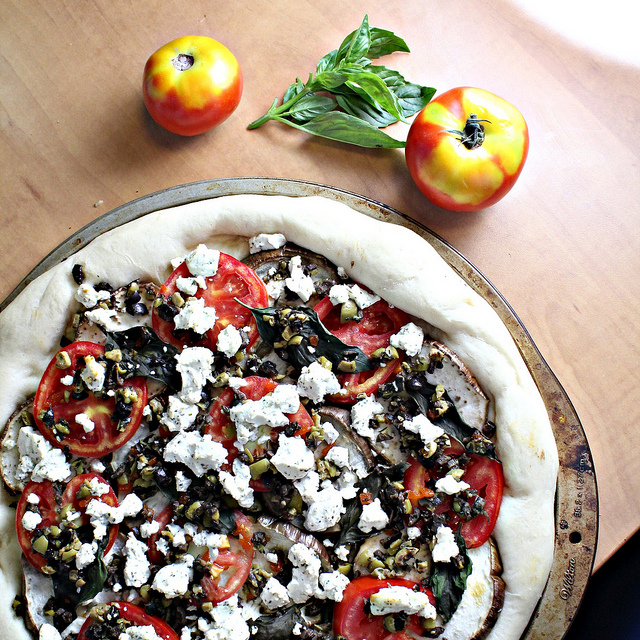 Roasted Eggplant, Tomato, and Tapenade Pizza with Goat Cheese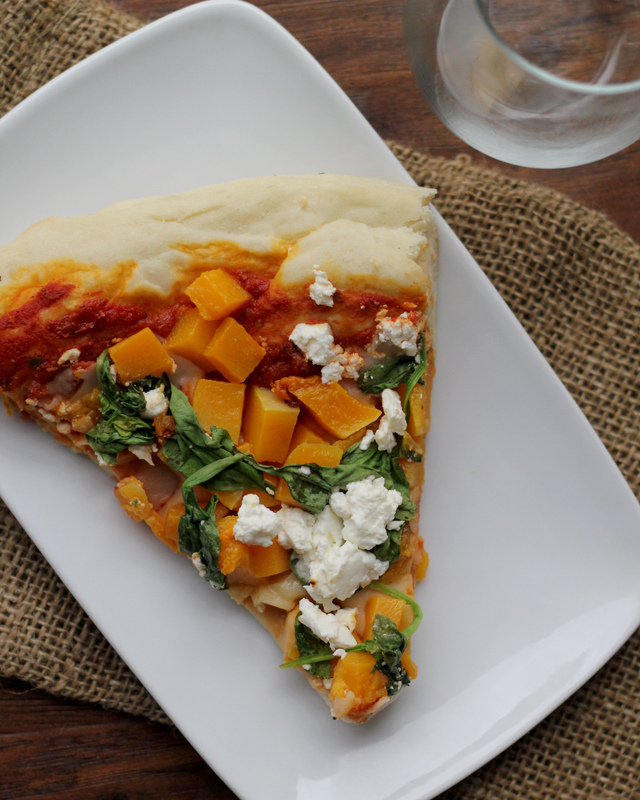 Butternut Squash, Spinach, and Feta Pizza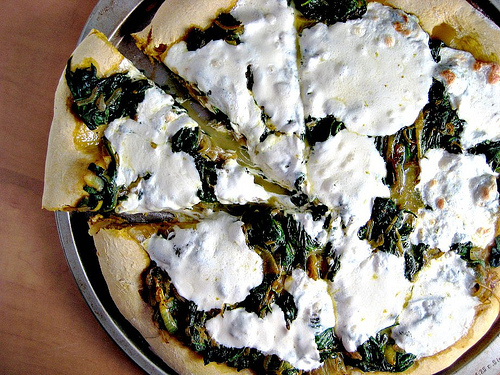 From Around the Web:
Za'atar Pizza with Dukkah Labneh and Purple Onions from My Name Is Yeh
Socca Pizza with Summer Squash and Feta from Cookie + Kate
Eggplant Parmesan Pizza with Crispy Capers from Lady and Pups
Spinoccoli Pizza from Confections of a Foodie Bride
Roasted Brussels Sprouts and Red Cabbage Pizza from Oh My Veggies