Chocolate-covered strawberries are so last year now that this chocolate mousse-covered strawberry pie is in town!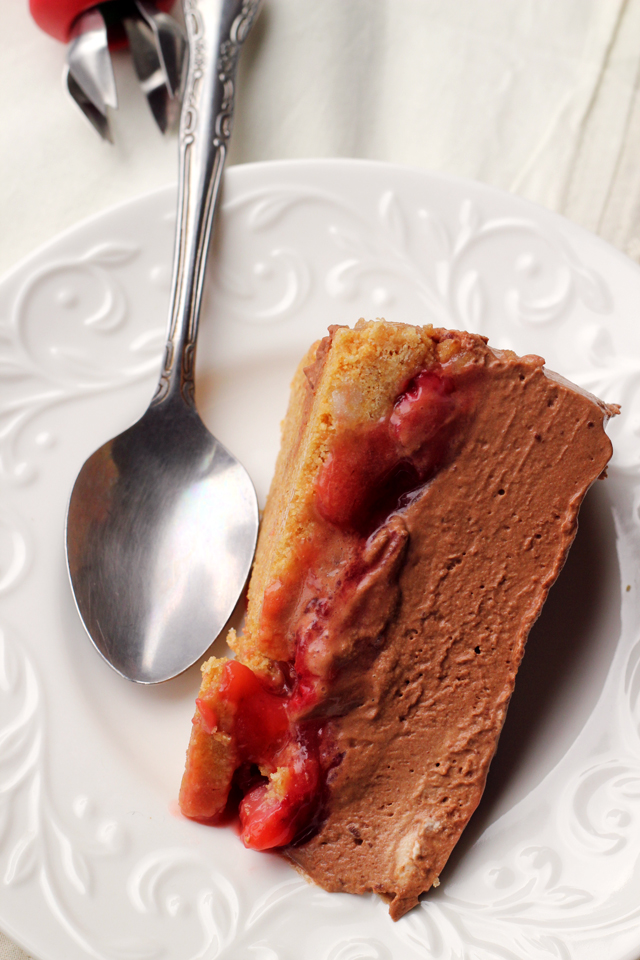 Going to Coney Island brings out the competitive eater in me.
There's just this hot dog eating contest juju in the air that makes you feel like, if given 10 minutes and the promise of a large monetary prize, you could eat anything and everything: the world is your oyster.
Then again, maybe that's just your post half marathon hunger talking.
But even after having a lot of time to contemplate/talk some reason into myself on the long (long long) subway ride home from the Brooklyn Half Marathon this weekend (and after consuming a banana and a bag of pretzels), I was still fairly convinced:
I would excel at competitive strawberry eating.
No two ways about it.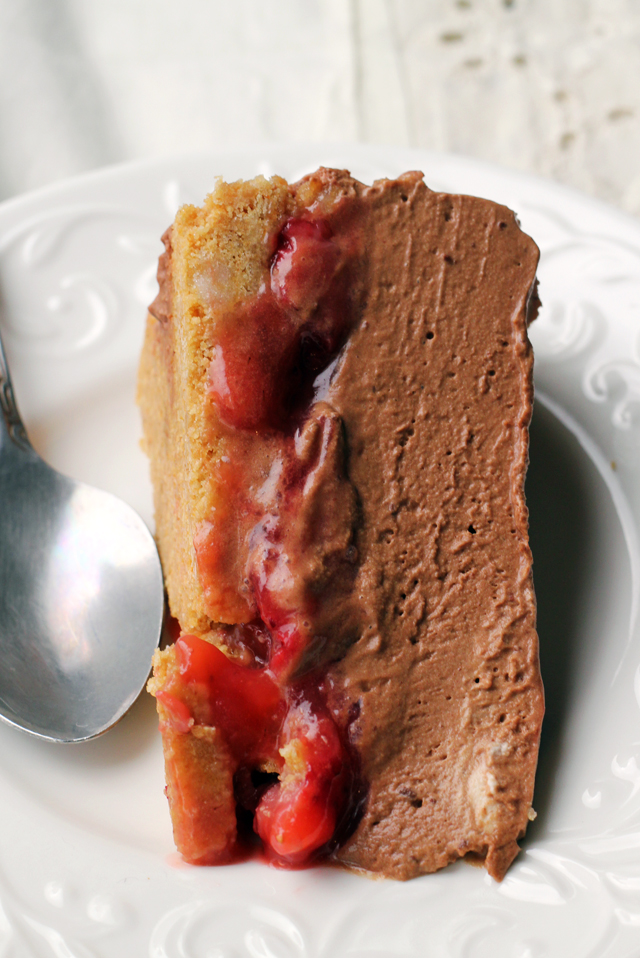 Case in point:
12 pounds of Driscoll's strawberries.
One absolutely adorable strawberry-shaped OXO huller.
Two weeks.
Done and done.
#TheIncredibleHull strikes again.
Just think of the damage I could have done in 10 minutes had I really pushed myself. <– scary stuff.
Think you can do me one better?
Here's your chance! OXO and Driscoll's are teaming up to give you the ultimate strawberry eating experience. One lucky reader will win an OXO strawberry huller, an OXO 3 piece berry bowl and colander set, a $70 gift card to OXO.com, as well as a year's worth of Driscoll's berries.
See below for details on how to enter!
So long as we're telling the truth about our berry-eating prowess, I must come clean and tell you that two of the strawberry pounds were actually consumed in chocolate mousse-covered strawberry pie form.
Layer by layer, it goes something like this: graham cracker crust + fresh strawberry pie filling + no-bake egg-free easy-peasy chocolate mousse.
I shared it with my coworkers, because such rich and delicious indulgence should not be kept to oneself.
But if you decide to eat the whole thing alone while hiding in your closet, and call it competitive eating training? I wouldn't blame you.
Chocolate Mousse-Covered Strawberry Pie
Chocolate-covered strawberries are so last year now that this chocolate mousse-covered strawberry pie is in town!
Ingredients
For the crust
1½ cups graham cracker crumbs
½ cup unsalted butter, melted and cooled slightly
¼ cup sugar
For the strawberry pie filling
5 cups hulled and quartered strawberries, divided
¾ cup sugar
¼ cup cornstarch
pinch of salt
1 tsp vanilla extract
¼ tsp almond extract
1 tbsp lemon juice
For the chocolate mousse
12 oz semisweet chocolate, chopped
1 cup lowfat milk
2 cups heavy cream
1 tsp vanilla
pinch of salt
Instructions
In a large bowl, stir together the graham cracker crumbs, butter and sugar. Press into a 9-inch springform pan. Put in the fridge to chill while you make the filling.
For the strawberry pie filling, in a large pan, combine 2 cups of the strawberries, the sugar, cornstarch, salt, vanilla, almond extract, and lemon juice. Simmer until thickened, mashing the strawberries until they are almost puree, about 3-5 minutes.
Stir the remaining 3 cups strawberries into the pan and remove from the heat. Pour into the graham cracker crust and refrigerate while you make the chocolate mousse filling.
In a microwave-safe bowl, combine the chocolate and milk. Microwave in 30 second increments until the chocolate is melted, stirring after each.
Let cool slightly.
Meanwhile, beat the heavy cream until stiff peaks form. Stir the chocolate mixture, vanilla, and salt into the heavy cream. Continue to beat until the peaks are as stiff as possible. They should almost be able to hold a stiff peak.
Pour the mousse over the strawberries and spread evenly. Let refrigerate overnight or until set.
For more chocolate-covered berry treats, check out these recipes:
Chocolate Covered Strawberry Brownies from Chocolate Moosey
Chocolate-Covered Strawberry Granola from Oh My Veggies!
Chocolate Strawberry Roll Cake from Roxana's Home Baking
Chocolate Covered Strawberry Popsicles from Chocolate & Carrots
Disclosure: While I received a crazy amount of Driscoll's berries and some crazy fun products from OXO for free, I was not compensated for this post. My thoughts and opinions, as always, are my own.