Celebrate the peak of plum season with this warmly spiced plum streusel cake with sweet and salty toffee glaze.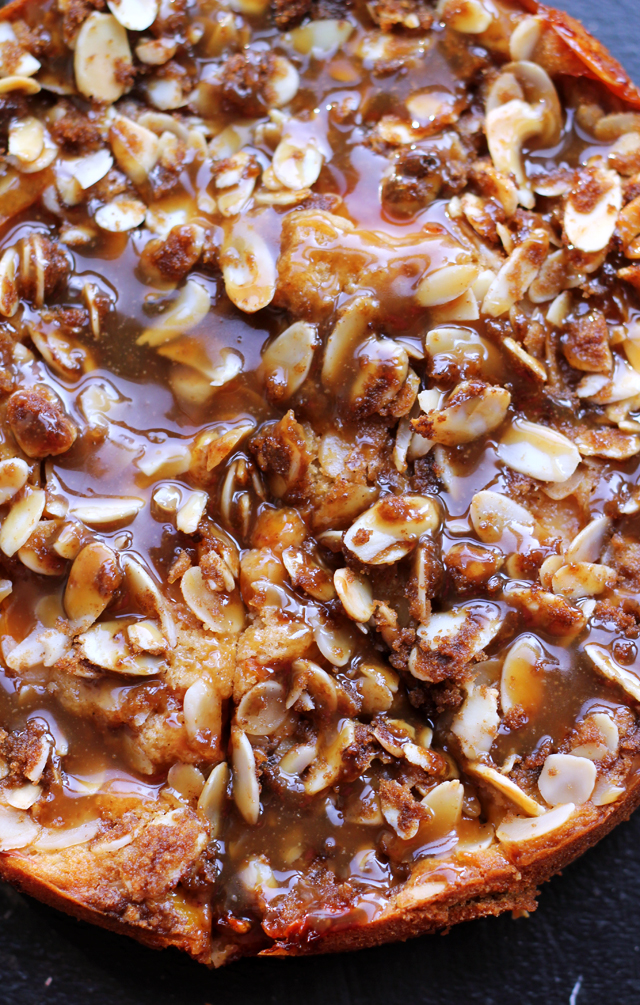 Plums and I are having a moment.
Apparently late summer is when they turn into the best versions of themselves and, coincidentally, so do I.
So I have been doing my best to keep them within arm's reach at all times. Something tells me that doing so can only lead to good things.
Happy endings.
(Though preferably not of the sensual massage variety.)
I swear at one point this summer, I had at least five different varieties on the counter at any given time.
There were sugar plums, pluots, prune plums, greengages and santa rosas, to name a few.
And all the.boy would do is walk around and say, "But WHAT ARE THESE?! And where are the NORMAL plums?!"
Normalcy is relative, my dear. You'll get used to them.
Two of my favorite seasons are colliding at this moment, and though I'm starting to feel an inkling of desire to immerse myself in all things cinnamon-spiced, I'm also not quite ready to let go of all the good stuff that is in it's most perfect form right now.
This cake is what happens when we meet halfway.
A little bit of warm autumnal spices with a good dose of summer on top.
And streusel. One must never forget the streusel.
Spiced Plum Streusel Cake with Toffee Glaze
Plums start to be their best at this time of year - so why not celebrate them! This warmly spiced plum streusel cake with sweet and salty toffee glaze does just that.
Ingredients
For the streusel
1 cup sliced almonds
2 tbsp all-purpose flour
⅓ cup packed brown sugar
½ tsp ground cinnamon
½ tsp ground cardamom
1½ tbsp unsalted butter, melted
For the cake
1½ cups all-purpose flour
½ tsp baking powder
½ tsp baking soda
1½ tsp ground cardamom
½ tsp ground cinnamon
½ tsp kosher salt
½ cup unsalted butter, room temperature
¾ cup sugar
2 large eggs, room temperature
1 tsp vanilla extract
½ cup buttermilk, room temperature
5 medium plums, pitted and sliced into eighths
For the toffee glaze
2 tbsp unsalted butter
3 tbsp brown sugar
3 tbsp heavy cream
large pinch of kosher salt
¼ tsp vanilla extract
Instructions
Heat oven to 350F. Grease the bottom and sides of a 9-inch springform pan.
For the streusel, in a medium bowl toss together the almonds, flour, brown sugar, cinnamon, cardamom and butter until all of the ingredients are moistened and well-combined. Set aside.
For the cake, in a large bowl whisk together the flour, baking powder, baking soda, cardamom, cinnamon, and salt. Set aside.
In the bowl of a stand mixer fitted with the paddle attachment, cream together the butter and sugar on medium-high speed until light and fluffy, about 3-4 minutes. Add in the eggs, one at a time, mixing until well-combined. Stir in the vanilla extract. Stir in half of the flour until just combined. Scrape down the sides of the bowl and then mix in the buttermilk. Add in the remaining flour and mix until just combined.
Pour the cake batter into the prepared pan. Arrange the plum slices in an even layer on top and gently press them in. Sprinkle the streusel over the plums.
Bake until the top is browned and a toothpick inserted comes out clean, about 55 minutes. Let cool and then remove from the springform pan.
To make the glaze, in a small skillet, melt together the butter, brown sugar, heavy cream, and salt. Bring to a boil and then lower to a simmer, cooking for 1 minute. Remove from the heat and let cool completely. Stir in the vanilla. Spoon the glaze over the cake.
Serve warm or at room temperature.
Notes
Barely adapted from
Ready for Dessert: My Best Recipes
For more fruit-filled cakes, check out these: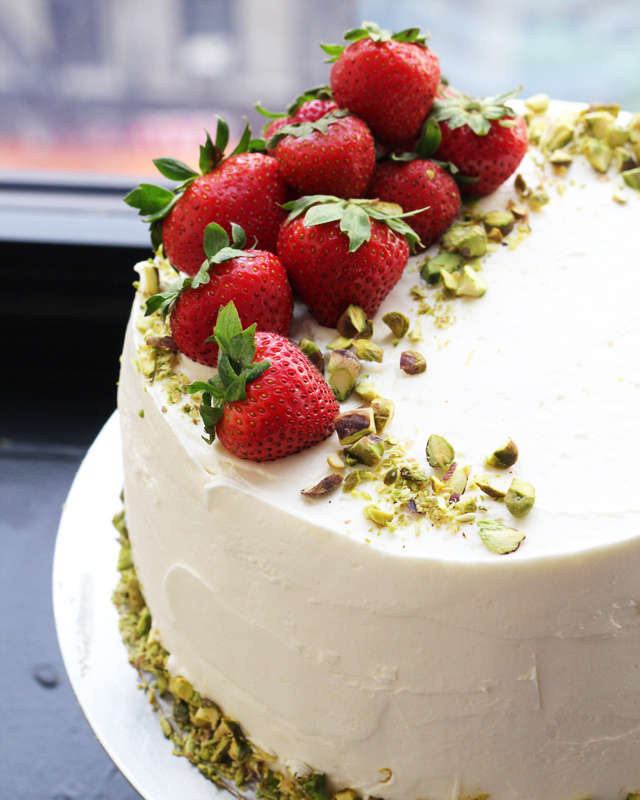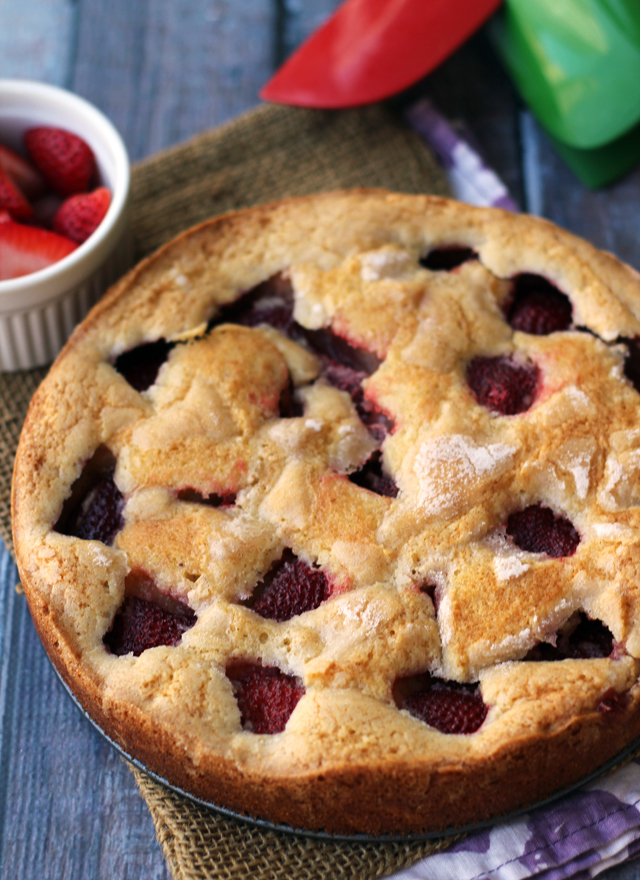 Strawberry Vanilla Bean Buttermilk Cake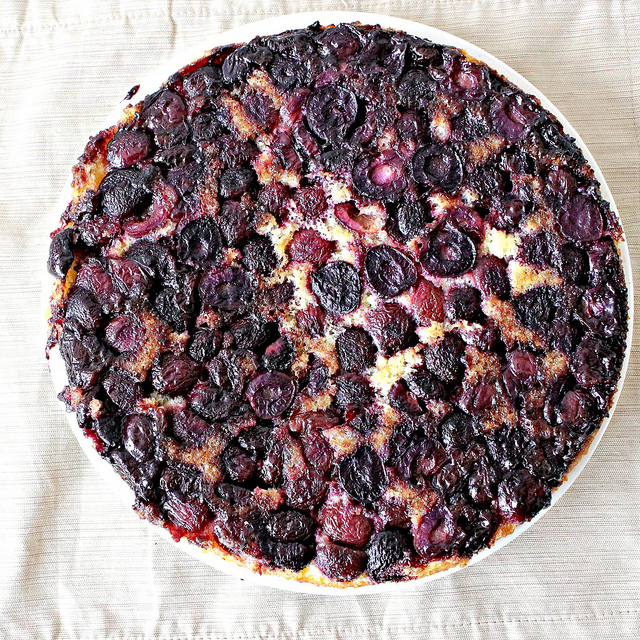 Cherry Cornmeal Upside-Down Cake
From Around the Web:
Lemon Cupcakes with Blackberry Buttercream from Baker By Nature
Vanilla Bean Bourbon Nectarine Bundt Cake from Keep It Sweet
Fresh Apple Cake with Brown Sugar Frosting from The Law Student's Wife
Peaches and Cream Cheese Coffee Cake from A Kitchen Addiction
Blueberry Coconut Banana Bread from Bakers Royale