A hearty pasta with tomato-basil cream sauce. Make the sauce ahead of time and you'll have a simple yet delicious weeknight meal.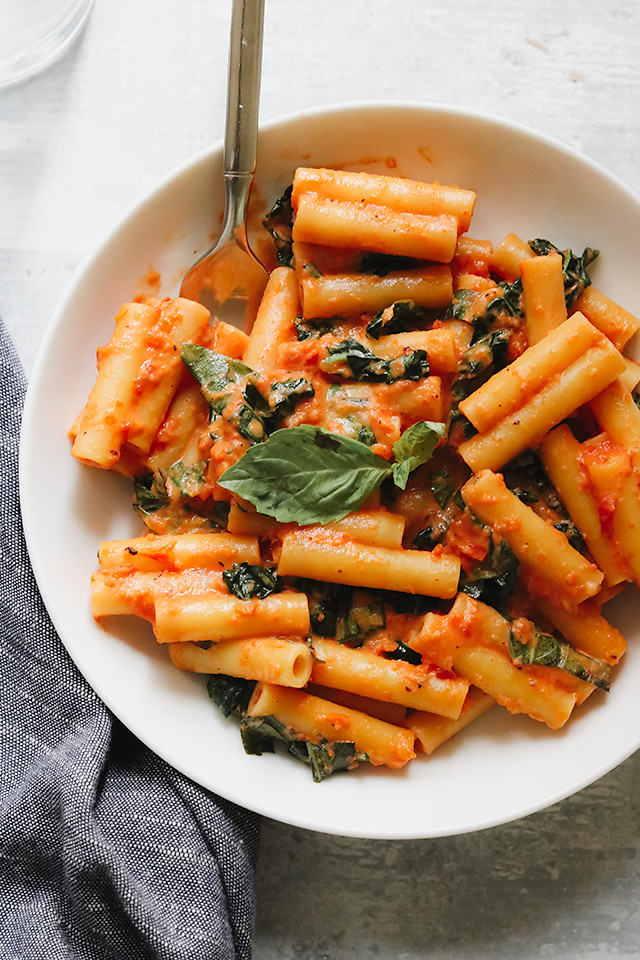 A simple, one hundred percent comfort recipe for this Monday when I'm already late to work (even though I'm working from home….HOW DOES THAT EVEN HAPPEN).
It is going to be a harsh reality check when I actually have to get up, get dressed, and out the door at a reasonable hour again. Not looking forward to that.
Thankfully, a few weeks ago I had the foresight to make a big batch of this tomato-cream sauce and now I have leftovers in the freezer that I can defrost and turn into dinner at a moment's notice.
W I N N I N G.
Good news – you can do this too!!!
The base recipe is a simple tomato-cream sauce that does require about 45 minutes of simmering time. It is 90% hands off, so you can totally start it during your work-from-home lunch break and then let it go while you work the afternoon away. Or just make a big batch on the weekend. You do you!
After simmering, the tomato-cream sauce gets dressed up with some basil and parmesan cheese just before mixing it into the pasta. And that's dinner. Easy peasy done.

Pasta with Tomato-Basil Cream Sauce
A hearty pasta with tomato-basil cream sauce. Make the sauce ahead of time and you'll have a simple yet delicious weeknight meal.
Ingredients
For the tomato-cream sauce
2 tbsp olive oil
2 tbsp unsalted butter
1 onion, chopped
3 carrots, peeled and chopped
2 (28 oz) cans whole or diced tomatoes
kosher salt, to taste
freshly ground black pepper
5 oz baby kale
¾ cup heavy cream
For the pasta
1 lb dried ziti (or other long skinny pasta)
2 cups tomato-cream sauce
10 fresh basil leaves, cut into thin strips
½ cup grated parmesan cheese
Instructions
For the tomato-cream sauce
In a large Dutch oven, melt the olive oil and butter over medium heat. Add in the onion and carrots. Saute for 15 minutes, or until softened.
Add the tomatoes to the vegetables. If they are whole then crush them with your hands as you put them into the pot. Stir in 1 tsp kosher salt and a few grinds of black pepper. Cover the pot halfway with the lid and simmer for 45 minutes, stirring occasionally. Stir in the baby kale in the last 10 minutes of cooking. Remove from the heat and let cool for 10 minutes.
Pour into a blender and puree until smooth (or use an immersion blender). Add in the cream. Season to taste with salt and black pepper.
NOTE - This will make more than you need for the pasta. The extra can be stored in the fridge for up to 3 days or in the freezer for up to 3 months. If freezing, omit the cream and add it when you reheat the sauce.
For the pasta
Bring a large pot of salted water to a boil. Add the pasta and cook until al dente. Drain and reserve 1 cup of the cooking water.
Return the pasta to the pot and spoon in the tomato sauce, tossing until well combined. Add in the basil and parmesan cheese. Toss again. Add a spoonful or two of the cooking water if necessary to loosen the sauce. Serve immediately with more cheese to garnish.