Spicy Thai curry and sweet winter squash pair together perfectly in this Thai tofu, butternut squash, and eggplant soup that will warm your belly from the inside out.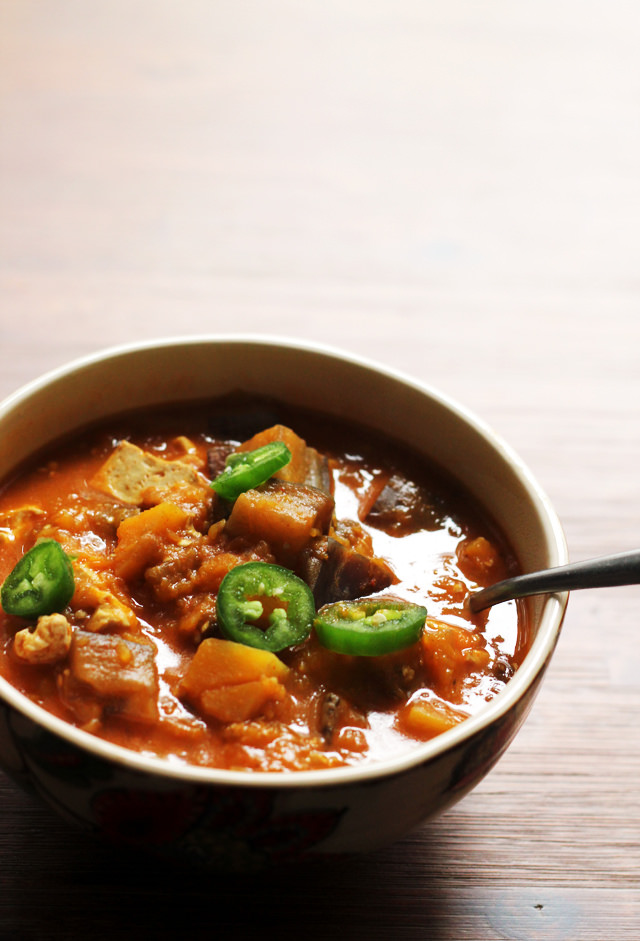 The.Boy and I have instituted a mandatory Friday date night.
Which really means that I try to push him out the door before he has a chance to change out of his work clothes, while he moans and groans the entire time about why he can't just wear his basketball shorts everywhere.
If it were up to him, we would probably eat peanut butter and jelly every night and never leave our apartment.
Except to go out and purchase more peanut butter and jelly.
And that's just really not my jam.
Especially not now that we've moved to a neighborhood that is way more happening than our old one, and contains about 50 new restaurants within a 5 block radius that get at least 4 stars on Yelp.
And I intend to eat at all of them before we move again.
In a majorly non-negotiable way.
I'm so cute when I'm stubborn, don't you think?
By far my favorite type of cuisine to eat out (and possibly just to eat. period.) is Thai food.
No matter what I do, I just can't seem to replicate those rich, sweet, spicy, savory flavors in my own kitchen, and if you can't do something right, then you should probably just let someone else do it.
Especially when they are so dang good at it.
I've tried two different Thai places since we moved in just about a month ago, and one of them is blow-your-mind good.
It's a blessing, and a curse, because now that I know it exists, I want it.
All.The.Time.
Unfortunately, as Mick Jagger once said, "you can't always get what you want".
But you can put those same flavors in a soup along with some butternut squash and eggplant, and then you're pretty much getting what you want.
Even though it's not what you want.
What?! That definitely makes sense.
To sum up: I may be totally deficient at making red curry, but I can make a mean red curry soup.
I'm not sure how or why, but it might have something to do with me dumping a whole container of Thai red curry paste into a pot along with some coconut milk, butternut squash, eggplant, and fried tofu, and walking away until it smells like some magic has happened.
Both the eggplant and tofu soak up the rich curry flavors so that every bite is just oozing with them, while the butternut squash sort of melts into the soup, serving as an au natural thickener. The resulting soup is just what you want your Thai curry to taste like – sweet, savory, spicy in every spoonful.
Thai Tofu, Butternut Squash, and Eggplant Soup
Spicy Thai curry and sweet winter squash pair together perfectly in this Thai tofu, butternut squash, and eggplant soup that will warm your belly from the inside out.
Ingredients
2 tbsp olive oil
14 oz extra firm tofu, pressed and cut into 1-inch cubes
salt and black pepper, to taste
4 oz Thai red curry paste
4 scallions, thinly sliced
1 tsp minced ginger
1 medium butternut squash, seeded, peeled and cut into 1-inch cubes
1 eggplant, cut into 1-inch cubes
1 (15 oz) can coconut milk
4 cups vegetable broth
2 tsp soy sauce, plus more to taste
1 jalapeno, thinly sliced
Instructions
In a large pot over medium heat, heat the olive oil. Add in the tofu and a pinch of salt. Cook until starting to brown, stirring frequently, about 5-6 minutes. Add the Thai red curry paste, scallions, and ginger to the pot. Saute for 1-2 minutes, stirring frequently.
Stir the butternut squash and eggplant into the pot. Add in the coconut milk and vegetable broth, scraping the bottom of the pot to release any brown bits. Bring to a boil and then lower the heat, simmering for 15-20 minutes or until squash and eggplant are cooked through. Stir in soy sauce. Season to taste with soy sauce, salt, and black pepper.
Serve garnished with jalapeno slices.
Notes
An Eats Well With Others Original
Looking for more Thai flavors? Check out these: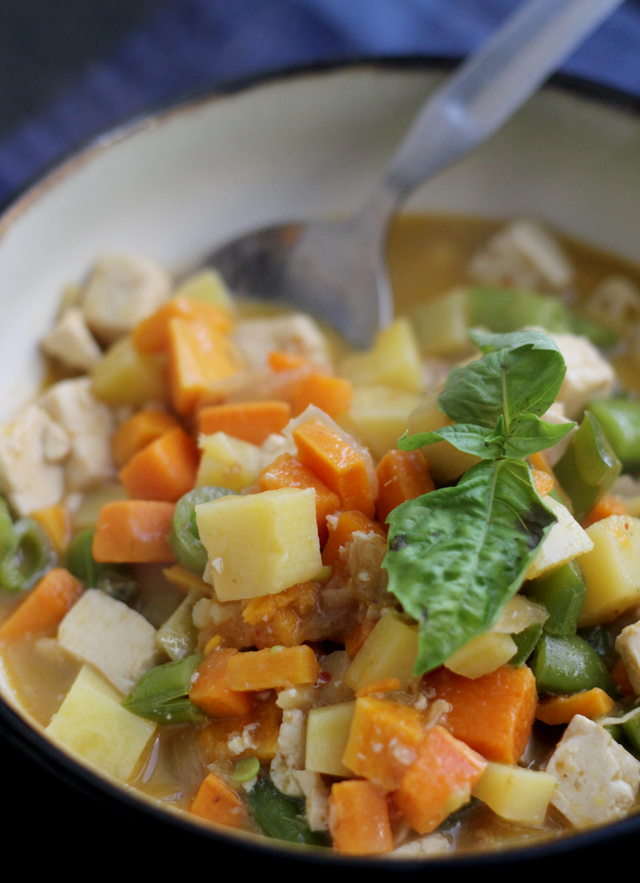 Coconut Vegetable Thai Chowder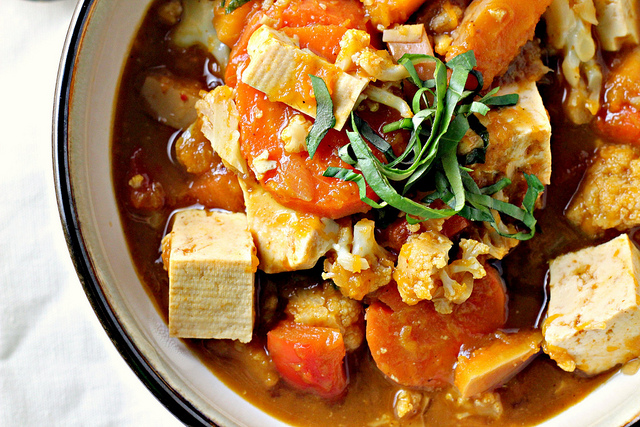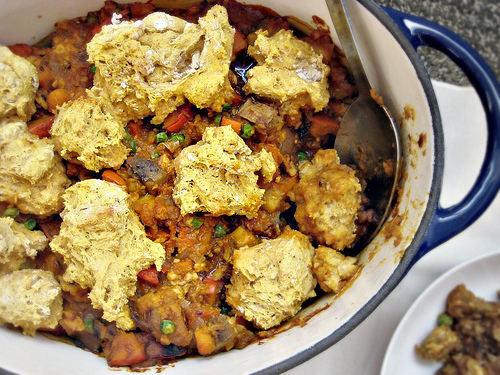 Thai Sweet Potato and Winter Squash Pot Pie
From Around the Web:
Thai Tea Ice Cream from Amandeleine
Thai Sweet Potato Nachos from Oh My Veggies
Spicy Thai Peanut Sauce over Roasted Sweet Potatoes and Rice from Cookie+Kate
Thai-Glazed Skillet Corn with Cotija Cheese from Climbing Grier Mountain
Thai Veggie Burgers with Peanut Sauce from Annie's Eats