Shawarma spiced Beyond Beef meatball pita bowls are filled with fresh Mediterranean flavors including a tomato-cucumber salsa and creamy tahini sauce.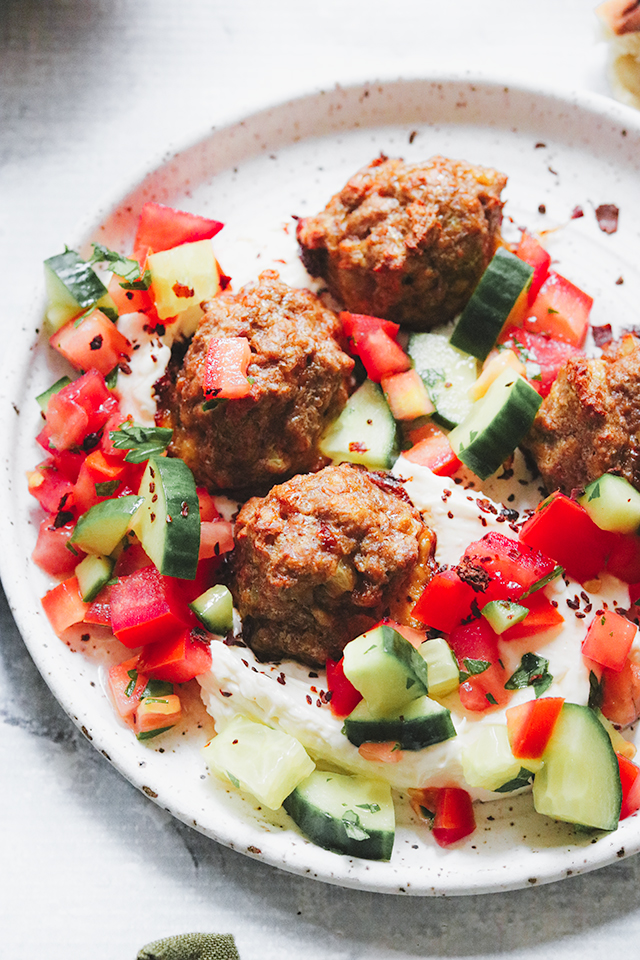 Yes, I'm as shocked as you are to find myself sharing a recipe for Beyond Beef meatballs, but here we are!
For years now, my husband has been trying to get me to make some of his favorite childhood meals using meat substitutes in place of actual meat. His dream is actually to serve them to his family without telling them to see if they'll notice the difference (he…has a weird sense of humor). So far I've resisted because (a) the flavor/texture of meat actually really grosses me out and (b) I just don't like cooking with such intensely processed ingredients.
Enter: pregnancy and a solid 24 hours where I thought I might be diagnosed with gestational diabetes (spoiler alert: I wasn't), leading me to purchase all of the high protein/low carb vegetarian options out there, which (as you may have guessed) included a package of Beyond Beef.
The rest, as they say, is history.
First things first, despite my previous encounters with Beyond meat being somewhat lackluster for the abovementioned reasons, I actually really enjoyed these. Maybe it's the pregnancy taste buds or the fact that I doctored them up with spices and garnishes, I don't know.
However, if you're an omnivore trying to eat more plant-based meals or a vegetarian who likes the taste of Beyond or Impossible meat then I have confidence that you will enjoy these. 
They got a major two thumbs up from my husband who conceded that, though he could tell they weren't actual meat, he was pretty happy to eat them.
Another selling point of this meal is that it is super easy to prepare, coming together in under 30 minutes, and full of fresh, Mediterranean flavors. The meatballs are filled with shawarma-inspired spices and paired with a super fresh tomato-cucumber salsa, an addictive creamy tahini sauce, and (of course) lots of pita for scooping all of the components up into perfect bites.
To make the shawarma Beyond Beef meatballs, we'll start by mixing a pound of Beyond Beef with onion, cumin, coriander, paprika, cinnamon, and salt in a large bowl. An egg and some panko are added into the mix to help with binding everything together. 
Next, the meatball mixture is formed into one inch meatballs and baked in a 400 degree oven for twenty minutes. The meatballs become crisp on the outside while remaining soft, tender, and (dare I say) juicy on the inside. 
While the meatballs are cooking, prepare the tomato-cucumber salsa and the creamy tahini sauce.
The salsa is super simple – just a combination of tomatoes, cucumbers, parsley, lemon juice, and salt. I used roma tomatoes for this, but cherry tomatoes are another great option especially at this time of year when tomatoes really aren't at their best (at least in my part of the world). This can also be prepped ahead of time and will only develop more in flavor the longer it sits, allowing the lemon juice to seep into and lightly pickle the cucumbers. 
Next up is the creamy tahini sauce, which is probably my favorite component of the whole meal. To make this, cream cheese, sour cream (or labne), tahini, and water are combined in a food processor and mixed until light and creamy.
As written, this will have a fairly thick consistency, almost like a dip, which is how I like it best. However, feel free to add more water to thin it out if you so desire.
To serve, top each plate with a scoop of the tahini sauce, veggie balls, spoonfuls of tomato-cucumber salsa, a dash of aleppo pepper flakes for extra spice, and warm pitas for scooping.
Enjoy!
Shawarma Beyond Beef Meatball Pita Bowls with Tomato-Cucumber Salsa and Creamy Tahini Sauce
Shawarma spiced Beyond Beef meatball pita bowls are filled with fresh Mediterranean flavors including a tomato-cucumber salsa and creamy tahini sauce.
Ingredients
For the Shawarma Meatballs
¼ cup minced onion
1 large egg
1 tsp cumin
1 tsp coriander
½ tsp paprika
½ tsp kosher salt
⅛ tsp ground cinnamon
¼ cup panko
1 lb beyond beef
For the tomato-cucumber salsa
4 roma tomatoes, diced
8 oz seedless cucumber, diced
3 tbsp parsley, minced
1-2 tbsp lemon juice
salt, to taste
For the creamy tahini sauce
4 oz cream cheese
6 tbsp sour cream or labne
2 tbsp tahini
1 tbsp water
salt and black pepper, to taste
To serve
4 pitas
aleppo pepper flakes
Instructions
For the shawarma meatballs
Heat oven to 400F. Line a sheet pan with parchment paper and set aside.
In a large bowl, whisk together the onion, egg, cumin, coriander, paprika, salt, and cinnamon. Add in the panko and beyond beef. Gently mix together with a spoon or your hands.
Form into 20 (1-inch) balls and place on the prepared baking sheet.
Bake until golden on top and cooked through, about 20 minutes.
For the tomato-cucumber salsa
In a medium bowl, stir together the tomatoes, cucumber, and parsley. Season to taste with lemon juice and salt. Set aside.
For the creamy tahini sauce
Combine the cream cheese, sour cream, tahini, and water in the bowl of a food processor. Process until completely smooth and creamy. Scoop into a bowl and season to taste with salt and black pepper.
To assemble
Put a dollop of the creamy tahini sauce on each plate. Top with 5 veggie balls and the tomato-cucumber salsa. Sprinkle with aleppo pepper flakes and serve with warm pita.
Notes
An Eats Well With Others Original