Wednesday night (or any night) dark chocolate brownies that come together in minutes and will pull you out of a midweek slump with their rich chocolate flavor.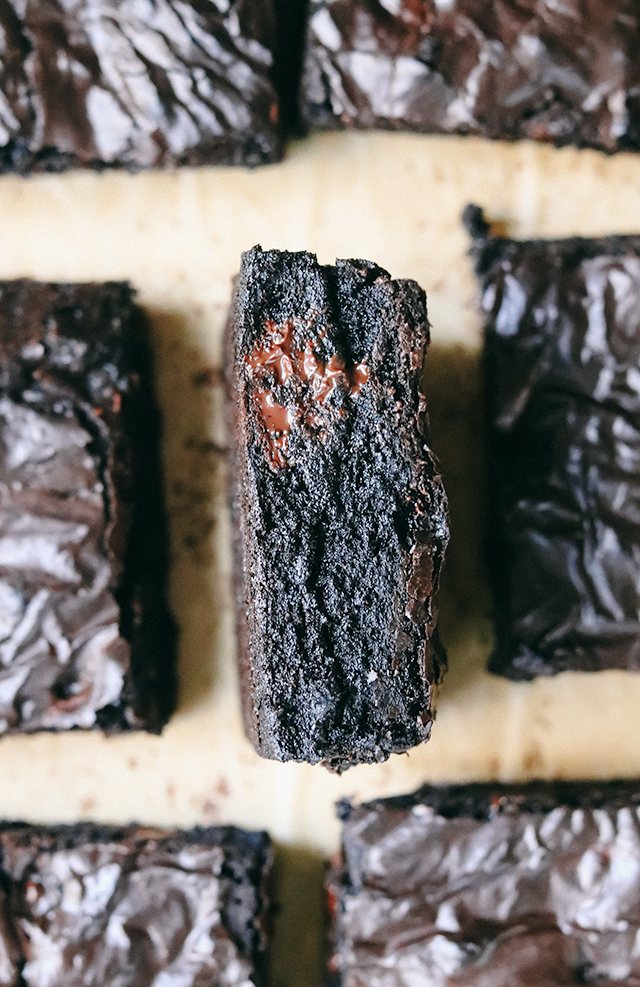 We're only two weeks in, but I can say with a hundred percent certainty that what this year calls for is BROWNIES, and lots of them.
Middle of the week, one bowl, gooey, thrown together in the time in takes your significant other to read your child a bedtime story (and best eaten after she's gone to sleep) dark chocolate brownies.
Who's in?
You all know I love my fancy layer cakes and project bakes as much as the next food blogger, but who has the bandwidth for that right now?
Like, I WANT to make laminated dough creations and macarons every weekend but then when the time comes I'm lucky if I can muster up the energy to put pants on.
If this sounds like your actual real life too, then welcome.
Let's get brownie-ing. 
As alluded to earlier, these could not be easier. All of the ingredients are mixed together in one bowl and, if you bake with any regularity, are probably things you already have stocked in your pantry, with the one exception being black cocoa powder.
This is my secret magical brownie ingredient that makes these extra dark and rich in flavor. I buy it from King Arthur Flour and keep it on hand for bakes where I really want the chocolate flavor to shine. No worries if you don't have it, you can always substitute it 1:1 with Dutch process cocoa powder and the brownies will still be fabulous, just not as dark as pictured in my photos.
After a brief stint in the oven, the brownies come out with picture-perfect crinkly tops and gooey fudgy centers. Unadulterated chocolate magic.
This recipe is from Shauna Sever's Midwest Made cookbook, which is filled with the most wonderful, down-to-earth heartland bakes. The recipes are the epitome of comfort food and pared down to be as simple, straightforward, and user-friendly as possible.
Some of my other favorite bakes from her book include Double Chocolate Zucchini Cake and Sweet and Salty Double Chocolate Chewy Cookies.
After all, there's no such thing as too much chocolate. 
Wednesday Night (or Any Night) Dark Chocolate Brownies
Wednesday night (or any night) dark chocolate brownies that come together in minutes and will pull you out of a midweek slump with their rich chocolate flavor.
Ingredients
½ cup (113 g) unsalted butter
⅔ cup (150 g) packed dark brown sugar
⅔ cup (134 g) sugar
1 tsp vanilla extract
⅓ cup (32 g) black cocoa powder
⅓ cup (32 g) unsweetened Dutch-processed cocoa powder
½ tsp baking powder
½ tsp fine sea salt
2 large eggs
⅔ cup (85 g) all purpose flour
1 cup (170 g) dark chocolate chips
Instructions
Heat oven to 350F. Grease an 8-inch square baking pan and line with parchment paper. Set aside.
In a large microwave-safe bowl, combine the butter, brown sugar, and regular sugar. Microwave for 1 minute, or until the butter is melted. Remove from the microwave and whisk until smooth.
Add the vanilla, cocoa powders, baking powder, and salt to the bowl. Whisk until smooth. Add in the eggs, one at a time, whisking just until combined. Fold in the flour until just a few streaks remain, then add in the chocolate chips and stir to combine.
Pour the batter into the prepared baking pan and smooth into an even layer. Bake for 25 minutes, or until the edges are set. Allow to cool in the pan for at least 20 minutes before serving.