This vegan chowder is infused with rich Thai curry flavor and hearty sweet potatoes, making for one healthy comfort food bowl!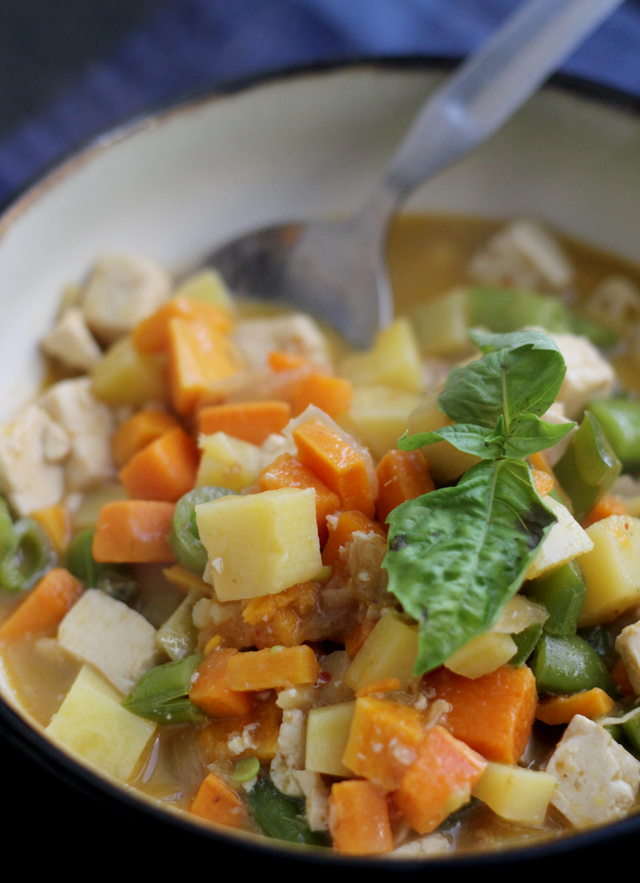 "Not pasta, again?!" is the incredulous statement The.Boy has uttered at every meal this weekend that I've put in front of him that has not consisted of pasta and/or bagels.
Which…is the majority of meals that I've put in front of him this weekend.
He's really taking this whole "carb loading" thing to heart. In the most classical sense of the phrase.
And I'm kind of a carb loading rebel. Who is into more "alternative" carbohydrate sources.
And so lately, I've been all about the potato. Mostly of the sweet variety, although I did hand him a large bowl of mashed potatoes yesterday that he was quite content with.
It helps your case when the California Sweetpotato people send you a box of approximately 20 of them. Not exaggerating.
(Okay, maybe exaggerating slightly. They probably sent 12. Still. A lot of sweet potatoes.)
It would be a crying shame to have that many tubers on hand, in this kind of chilly weather, and to not make chowder. So, being that I am occasionally one who does as she's told, I did.
And I Thai-ified it. All that rich stick to your soul red curry flavor in one big coconutty broth bowl. It was totally irresistible. And so full of healthy carbs I could hardly take it.
Except I could. Take a large bowl of it. And slurp away. Happily.
Speaking of getting things in the mail – GIVEAWAY!!
You might remember that for the past two weeks, I've been eating my way through The New Southwest: Classic Flavors with a Modern Twist
 by Meagan Micozzi of Scarletta Bakes. And loving pretty much every bite of it. Her migas made my heart skip a beat and her vegan puffy tacos got the.boy to eat ALL THE ROOT VEGGIES.
And now, because I can't possibly keep all this cookbook love to myself, I (along with a few other awesome bloggers) are giving away 14 COPIES OF HER COOKBOOK!  Here's how to enter:
1. Mandatory Entry: Leave a comment on this blog post letting me know what your favorite Southwestern dish is.
2. Check out the myriad of option entries in the rafflecopter below!
Hippocrene will be supplying 14 copies of The New Southwest by Meagan Micozzi for this giveaway, in conjunction with The New Southwest Cookbook Spotlight.  Contest is open to anybody with a shipping address in the USA.  Submissions will be accepted via the rafflecopter widget through 11:59 pm ET on Sunday, November 3, 2013.  Fourteen winners will be chosen by random draw, verified, and be notified by email (from Heather at girlichef) within 48 hours of the close of this contest.  The winner should respond within 24 hours of notification, or a new winner will be drawn in their place.  Good Luck!
One year ago…Banana Cake with Mocha Frosting and Salted Candied Peanuts
Two years ago…Chickpea Potpie with Cornbread Crust, Vegetarian Butternut Squash Carbonara
Three years ago…Thai Sweet Potato and Winter Squash Pot Pie, Pumpkin White Chocolate Chunk and Candied Ginger Blondies
Four years ago…Pumpkin Apple Pie, Warm Kabocha and Chickpea Salad with Tahini Dressing
Coconut-Vegetable Thai Chowder
This vegan chowder is infused with rich Thai curry flavor and hearty sweet potatoes, making for one healthy comfort food bowl!
Ingredients
1 tbsp olive oil
1 block extra firm tofu, cut into ½-inch cubes
1 onion, chopped
3 basil leaves
1 tbsp minced, peeled fresh ginger
1 jalapeno, chopped
1 garlic clove, minced
3 cups light coconut milk
4 cups vegetable broth
¼ cup dark brown sugar
2 tbsp soy sauce
2 tbsp Thai red curry paste
2 lb sweet potatoes, peeled and cut into ½-inch cubes
1 large carrot, cut into matchstick strips
½ lb sugar snap peas, cut into ½-inch pieces
1 red bell pepper, cut into ½-inch cubes
salt and black pepper, to taste
Instructions
Heat the oil in a heavy, large pot over medium heat.
Add in the tofu, onion, basil leaves, ginger, jalapeno, and garlic. Cover and cook until the onion begins to soften, about 4 minutes. Add the coconut milk, vegetable broth, sugar, soy sauce, and Thai red curry paste. Bring to a simmer.
Stir in the sweet potatoes and carrot pieces. Add more water or vegetable broth, if necessary, to cover the sweet potatoes. Cover and simmer until tender, about 10-15 minutes.
Add in the sugar snap peas and bell pepper. Simmer for a few minutes, or until tender.
Season to taste with soy sauce, salt and pepper.
Notes
Adapted from
Bon Appetit
Nutrition Information
Serving size:
⅙th of recipe