Turn everyone's favorite childhood sandwich into a gourmet frozen treat with these peanut butter and roasted grape jelly popsicles! (By posting this recipe I am entering a recipe contest sponsored by the California Table Grape Commission and am eligible to win prizes associated with the contest. I was not compensated for my time.)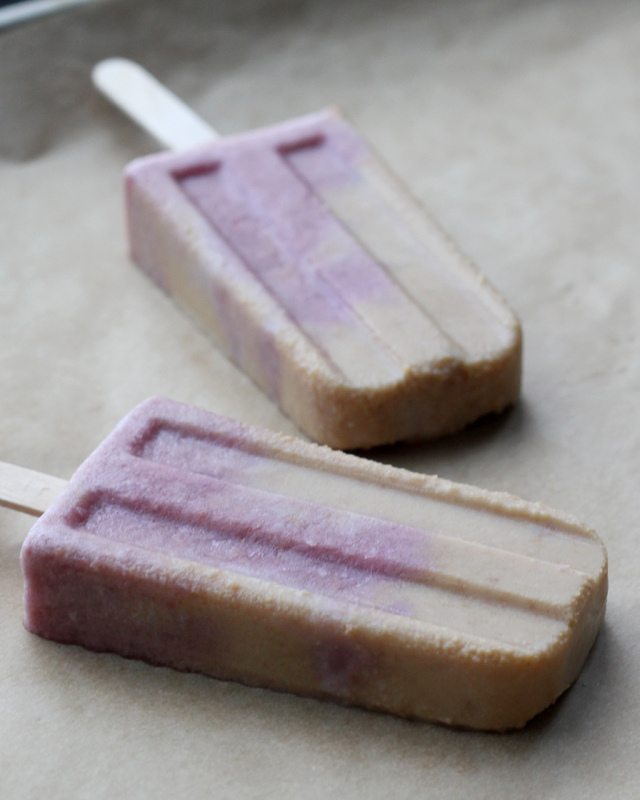 Some days, the prospect of being five years old again has a certain allure to it.
You'd get to eat Cheerios off the floor without thinking twice about where they'd been, nap time (up to 3x a day!!) would be a matter-of-course, and having puffballs where your cheeks should be would be totally en vogue.
I think about this most when I'm hit with some of the hard stuff, and yesterday was one of those days.
September is always going to be a rough month for me, but we had another death in the family yesterday and all I wanted was to be small enough to curl up in my parents' laps and be shielded from it all.
Obviously that's not possible at this point in my life.
But what I can do is stuff my face with peanut butter and jelly popsicles. Which are kind of like childhood in frozen treat form.
Although these popsicles do have a bit of a grown-up edge with some homemade roasted grape puree thrown into the mix. And the awesome thing about that is that it's not only ultra delicious but grapes of all colors are super healthy. They are a natural source of antioxidants and other polyphenols, have no fat, no cholesterol, virtually no sodium, and are rich in potassium and vitamin K. Plus a 3/4 cup serving is only 90 calories. Winning.
This is my submission for this month's Recipe Redux sponsored recipe contest with the California Table Grape Commission. To see what everyone else whipped up, check out these links! 


One year ago...Tomato Tart
Two years ago...Summer Vegetable Ragout with Exotic Curry Sauce, Soba Noodles with Eggplant and Mango
Three years ago...Cannellini Beans with Fresh Basil, Tomatoes, Capers and Zucchini over Polenta
Four years ago...Chocolate Cupcakes with Caramel Cream Cheese Frosting
Peanut Butter and Roasted Grape Jelly Popsicles
Turn everyone's favorite childhood sandwich into a gourmet frozen treat with these peanut butter and roasted grape jelly popsicles!
Ingredients
2½ cups grapes
½ cup crunchy peanut butter
2 tbsp agave nectar
½ cup milk
Instructions
Preheat oven to 400.
Spread grapes in a glass baking pan and roast for 50-60 minutes or until juicy and just starting to shrivel. Let cool.
Puree roasted grapes in a blender or food processor. Pass through a fine-meshed sieve to remove any pieces of skin.
In a separate bowl, whisk together the peanut butter, agave nectar, and milk.
Fill popsicle ½ to ¾ full with peanut butter mix. Top off with the grape jelly. Insert popsicle sticks and freeze for 3-4 hours or until solid.
Notes
An Eats Well With Others original