Warmly spiced Moroccan chickpea and butternut squash soup for those nights when you need something to cozy up to.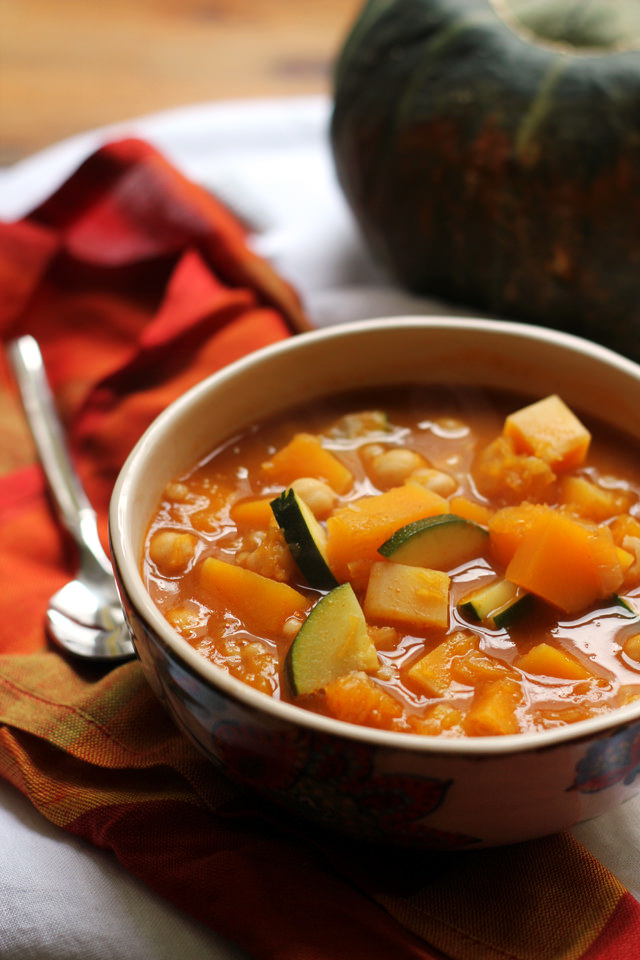 I am living in a war zone.
You might have thought the days of trench warfare ended with World War I, but au contraire, my friends. The.Boy and I have been waging an all-out black ops mission.
From our couch.
It seems that the mouse problem that we thought we were done with when we found and filled the hole three weeks ago is back and in full force.
I mean, really full force.
We have killed three mice in 24 hours. At least one more is still at large.
If the wedding hadn't already driven me to day drinking, then this would have sealed the deal.
Saturday night saw us stranded on the living room couch, watching one of the hopefully-now-dead mice running back and forth across the room, casually sniffing at the trap we laid out for him, but not actually entering it. It would have been hysterical had it not been so terrifying.
Our current working hypothesis is that they are coming from behind the radiator. We sealed off the bottom with foam sealant and then I saw one trying to jump through one of the vents. If you think I'm going into that room unattended ever again, then you are probably delusional.
Our superintendent is going to get a super fun phone call from us tomorrow. I know you wish you were him.
It's a good thing I can emotionally eat like a pro. Enter this soup, which is all sorts of warm Moroccan spice comfort with a whole lot of healthy packed into every bite. Sweet butternut, hearty chickpea soup for the soul.
Bonus points for making pounds and pounds of it last week when I still felt comfortable standing in my kitchen without a security detail. Leftovers FTW!

Moroccan Chickpea and Butternut Squash Soup
Warmly spiced Moroccan chickpea and butternut squash soup for those nights when you need something to cozy up to.
Ingredients
1 tbsp olive oil
1 medium onion, chopped
3 cups cooked chickpeas
1 tsp ground cumin
½ tsp cinnamon
¼ tsp cayenne pepper
3 cups peeled, cubed butternut squash
2 tbsp tomato paste
4 cups vegetable broth
⅓ cup Israeli couscous
¾ tsp kosher salt
1 zucchini, quartered lengthwise and then sliced
Instructions
Heat the oil in a large pot over medium heat. Add the onion to the pot and cook until translucent, about 4-5 minutes. Stir in the chickpeas, cumin, cinnamon, and cayenne pepper. Cook for 30 seconds, or until fragrant, stirring constantly.
To the pot, add the butternut squash, tomato paste, and vegetable broth. Bring to a boil. Lower the heat to a simmer and cook for 8 minutes. Stir in the couscous, salt, and zucchini. Cook for 5 minutes, or until squash is tender. Remove the pan from the heat and season to taste with salt and black pepper. Serve warm.
For more cozy soups, check out these: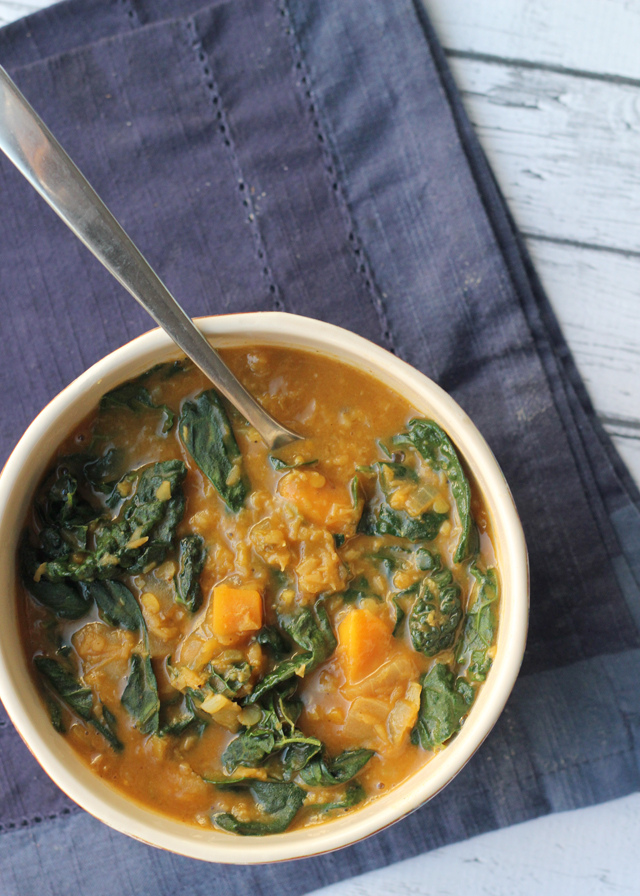 Curried Red Lentil, Kale and Sweet Potato Soup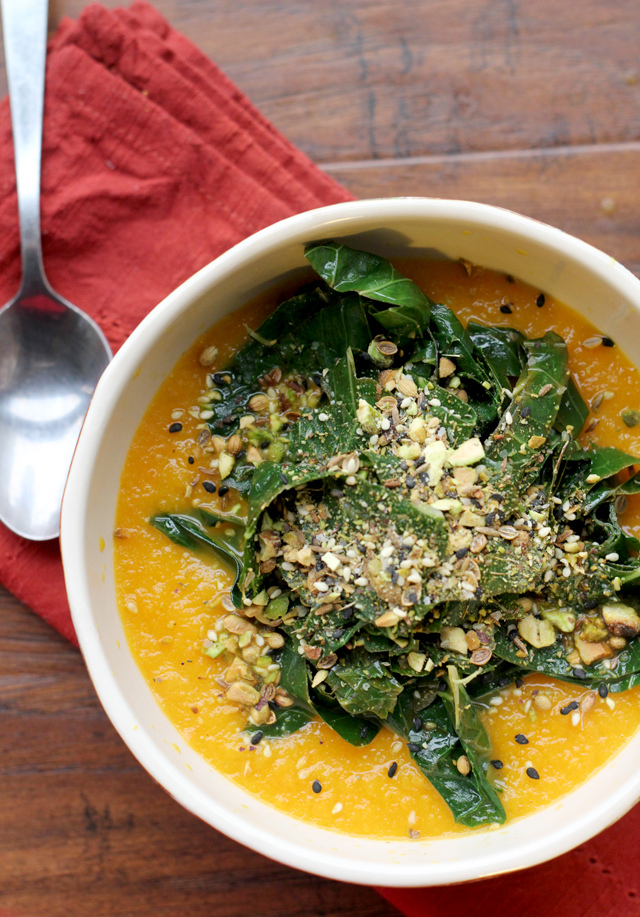 Carrot Soup with Tangled Collard Greens and Dukkah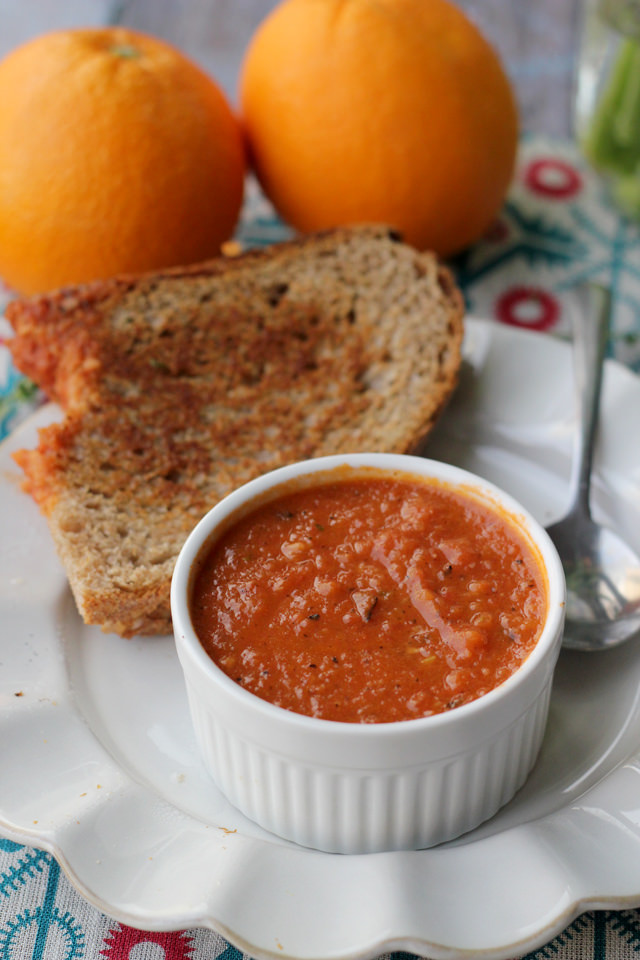 Fire-Roasted Tomato Orange Soup
From Around the Web:
Curried Carrot and Apple Soup from The Bitten Word
Tomato Soup with Broiled Cheddar from Pink Parsley
Broccoli Soup with Tahini, Lemon and Pine Nut Za'atar from My Darling Lemon Thyme
Chunky Root Vegetable Soup with Gruyere and Herb Croutons from The Clever Carrot
Green Tea and Chickpea Soup with Garlic Tortilla Triangles from Top With Cinnamon