Roasted root vegetables are tossed with Israeli couscous and a nutty sesame chili sauce in this salad that is worthy of a fall celebration.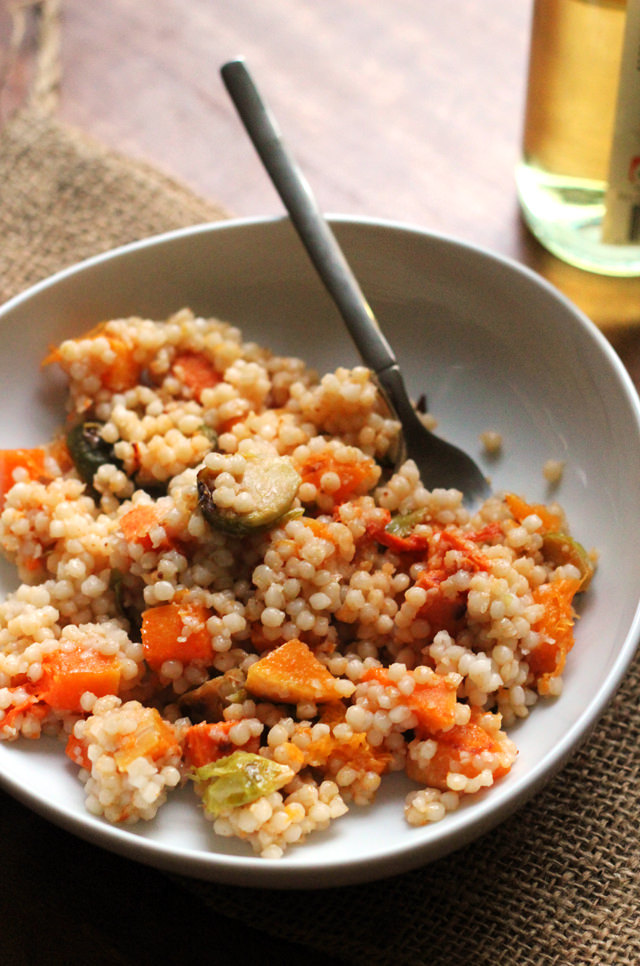 While we're on the subject of deepest darkest secrets (and when are we not, really), you should know that I have Thanksgiving takeover plans.
Of epic proportions.
How long do you suppose you have to be married to claim a holiday for yourself? I was hoping for -2 days, but then the.boy convinced me that maybe this year wasn't the year to turn all of the family traditions on their head and step on all the toes, especially seeing as how we are going to have to spend unprecedented amounts of time with both of our families in the 48 hours after turkey day.
Also, wedding nonsense.
But next year – I'm taking no prisoners.
I've spent a lot of time thinking about what could have been in terms of turkey day and what will be when I am named Thanksgiving Queen (because all holiday hostesses deserve titles and possibly a knighting ceremony, don't you think?).
Potatoes will be made from potatoes and not instant flakes with butter.
Maple syrup won't be the main ingredient in the sweet potato casserole.
Stuffing won't come from a box.
And not a single table will be complete without a big beautiful roasted vegetable harvest grain salad centerpiece.
If you're in the market for a contender – I choose this.
I tend to think that no meal is complete without a grain of some form or other to fill you up and help hit all of those comfort food notes. Today, I'm partnering with the Grain Foods Foundation to bring you this holiday salad in which Israeli couscous is paired with a spicy, nutty sesame chili sauce and tossed with a major amount of the season's best vegetables (brussels sprouts, sweet potato, and butternut squash), which are ROASTED to make them even more delicious. The sweet caramelized edges from where the veggies browned against the pan feel so right when they're smeared with the sesame chili sauce. The overall flavor profile is familiar with a hint of ethnic. Which, coincidentally, is exactly how I like my Thanksgiving table.
I may not be hosting the Big Day this year (*tear*), but I will be toting this couscous salad along with me to my in-laws. Though the piles and piles of veggies may cause them to glance a few stink eyes at this bowl, I have no doubt that the comforting pull of the couscous will reel them in. That's some good old grain magic, right there.
Roasted Vegetable Harvest Salad with Sesame Chili Sauce
Roasted root vegetables are tossed with Israeli couscous and a nutty sesame chili sauce in this salad that is worthy of a fall celebration.
Ingredients
For the dressing
3 tbsp sesame oil, divided
2 tbsp honey
3 tbsp tahini
1 tbsp gochuchang or sriracha
salt and black pepper, to taste
1 sweet potato, peeled and cut into ½-inch dice
½ medium butternut squash, peeled and cut into ½-inch dice
1 lb brussels sprouts, trimmed and halved
2 cups Israeli couscous
1 tbsp white wine vinegar
Instructions
Heat oven to 400F.
In a small bowl, whisk together 2 tbsp sesame oil, honey, tahini, gochujang, and salt and black pepper to taste. In a large bowl, toss the dressing with the sweet potato, butternut squash and brussels sprouts. Spread the vegetables on a parchment-lined baking sheet in a single layer, using two sheets if necessary. Bake at 400F for 30-45 minutes, or until vegetables are tender, stirring halfway through.
Meanwhile, cook the couscous according to package directions. Toss the couscous with the roasted vegetables, remaining sesame oil, and white wine vinegar. Season to taste with salt and black pepper.
Notes
An Eats Well With Others Original
Nutrition Information
Serving size:
⅙th of recipe
 For more holiday-worthy salads, check out these: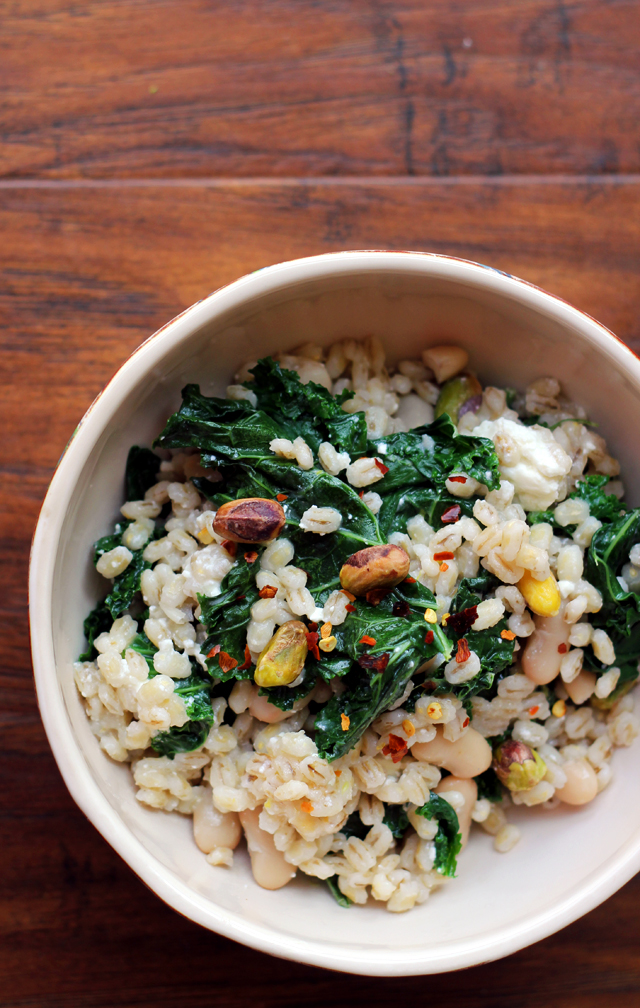 Barley Salad with Kale, Pistachios and Feta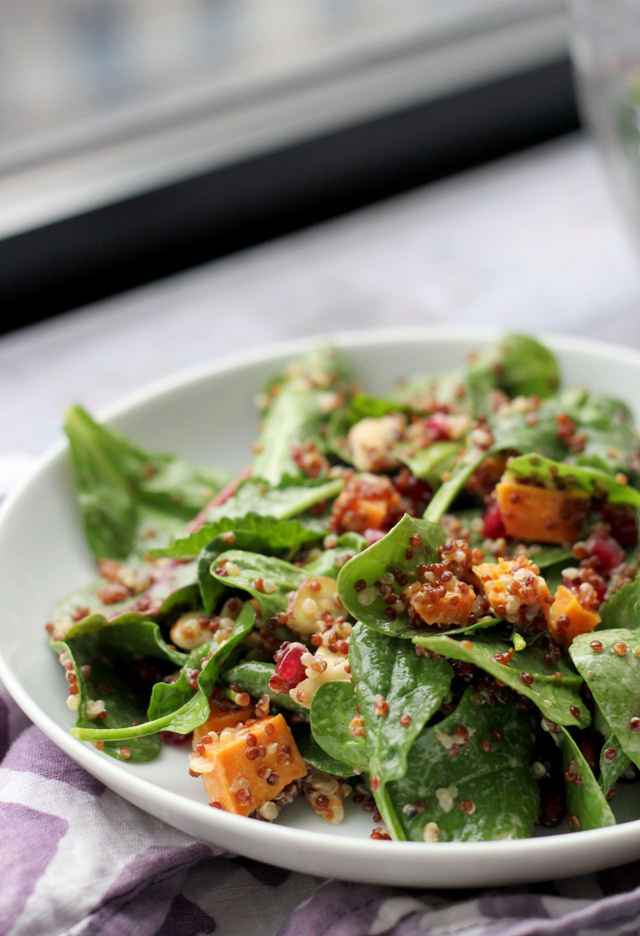 Crispy Quinoa and Power Greens Salad with Smoky Meyer Lemon Vinaigrette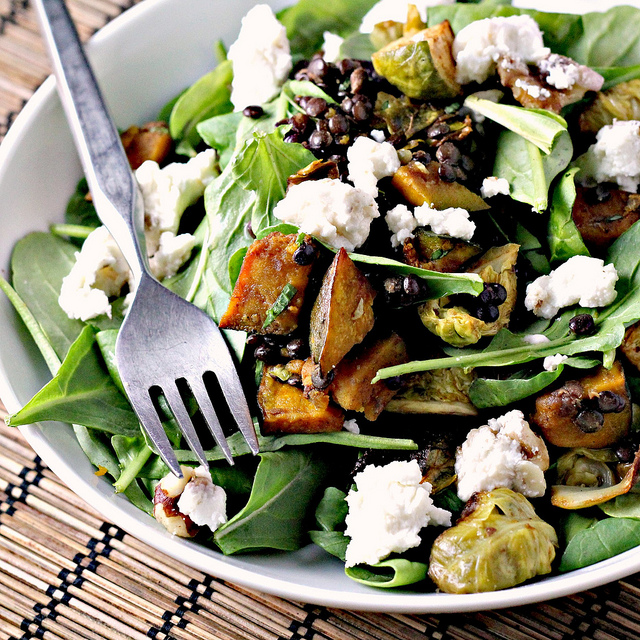 Spicy Squash Salad with Lentils, Brussels Sprouts and Goat Cheese
From Around the Web:
Roasted Beet, Pear, and Quinoa Salad from See and Savour
Squash Kale Autumn Salad from The Fauxmartha
Kale Sesame Salad with Scallion Pancake Croutons from My Name is Yeh
Fall Panzanella Salad with Maple Mustard Vinaigrette from Naturally Ella
Shaved Brussels Sprout Salad with Pan-Fried Goat Cheese and Pomegranate from Love & Olive Oil
Disclosure: This post was sponsored by the Grain Foods Foundation and Collectively. As always, my thoughts and opinions are 100% my own!