This winter fattoush salad is full of fruits, vegetables, crispy spiced pita chips, and feta cheese to brighten up these cold winter days.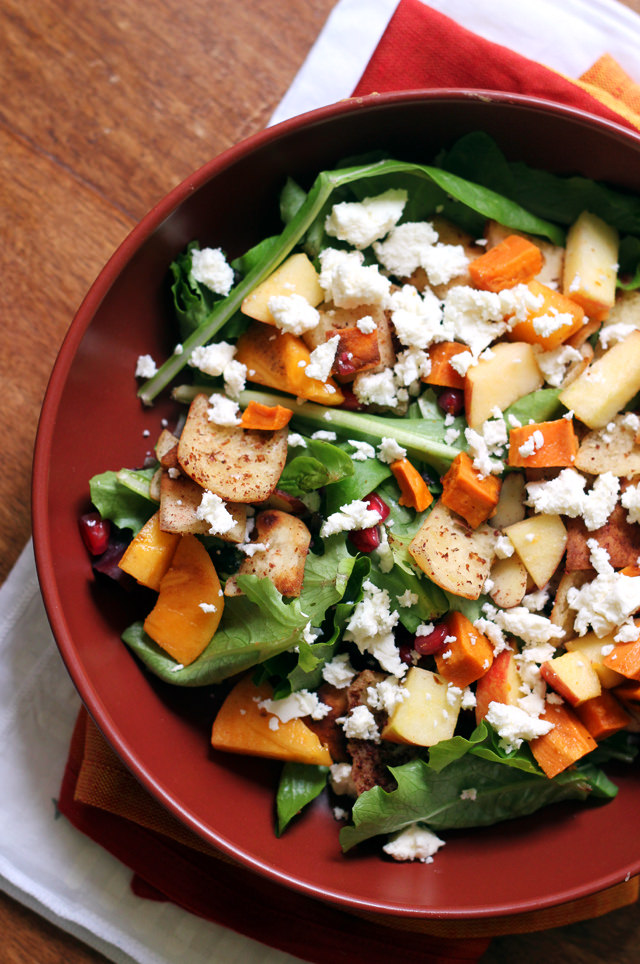 The first salad of 2015.
Maybe we should have a moment of silence or something?
When you market yourself as a mostly healthy (but often not – see yesterday's cake) food consumer, producer, and recipe developer the first salad of the year probably requires something more grandiose than a random middle-of-the-month end-of-the-week off-the-cuff post.
A press release, maybe? 20/20 special? Intimate party with 10,000 of your closest friends and family?
(As an aside, this is what watching too much Scandal does to a person. Don't be like me.)
I'll settle for a three day weekend and an extra large bowl.
Please and thank you.
I normally dread the transition from fall to winter because it feels like all that is good in the world (i.e. pumpkin! pies! sweet potato casserole!) gets traded in for all that is boring, beige, and blah. It feels like nothing is in season and as someone who likes her food to have at least fifty shades of green, eating can be pretty disheartening.
Not anymore.
Because we have fattoush!
You may be confused because fattoush is probably the summeriest of summery salads. It's all tomatoes, parsley, mint, cucumbers, lettuce – things that we probably won't see for another, oh….six months.
If we're being optimistic (<–always).
But does it have to be this way?
What if fattoush doesn't want to be just a one trick pony? What if it wants more.
A fattoush for all seasons is what I'm selling.
Smitten Kitchen already covered fall for me, but winter? Winter I've got down.
Persimmons, roasted sweet potatoes, apples, and pomegranates party with some baby greens, feta cheese, and spiced up sumac pita croutons.
A drizzle of lemon juice later and you've got yourself a salad.
With color. When it's less than 20 degrees outside.
Proof that miracles do happen. At least when it comes to fattoush.
Winter Fattoush Salad
This winter fattoush salad is full of fruits, vegetables, crispy spiced pita chips, and feta cheese to brighten up these cold winter days.
Ingredients
1 large sweet potato, peeled and cut into 1-inch dice
2 tbsp olive oil, divided
2 tbsp butter
2 pitas, cut into bite-sized pieces
½ cup sliced almonds
2 tsp sumac
½ tsp red pepper flakes
1 pomegranate
2 persimmons, peeled and cut into 1-inch dice
1 apple, cut into 1-inch dice
juice of 1 meyer lemon
5 oz spinach and romaine mix
4 oz feta cheese, crumbled
Instructions
Heat oven to 400F.
Toss sweet potato cubes with 1 tbsp olive oil and salt and black pepper, to taste. Spread in a single layer on a parchment-lined baking sheet and bake for 20-30 minutes, or until tender. Set aside to cool.
Meanwhile, heat the remaining olive oil and the butter in a medium skillet over medium heat. Add the pita and almonds to the pan and saute until crispy, about 5 minutes. Toss with the sumac and red pepper flakes and remove from the heat.
In a large bowl, toss together the sweet potato, pomegranate arils, persimmons, and apple cubes. Sprinkle with meyer lemon juice and toss to coat.
Toss the fruits and vegetables with the lettuce, feta cheese, and pita mixture. Serve at room temperature.
Notes
An Eats Well With Others Original
Nutrition Information
Serving size:
¼ of recipe
 More with winter vegetables: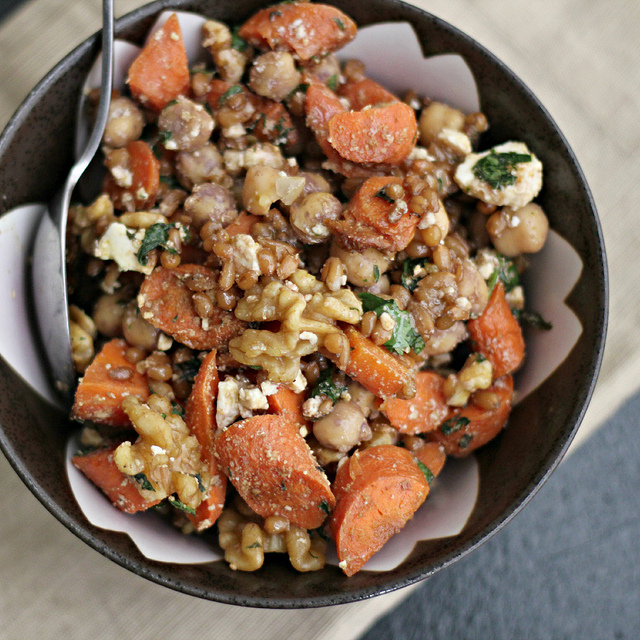 Roasted Carrot and Chickpea Wheat Berry Salad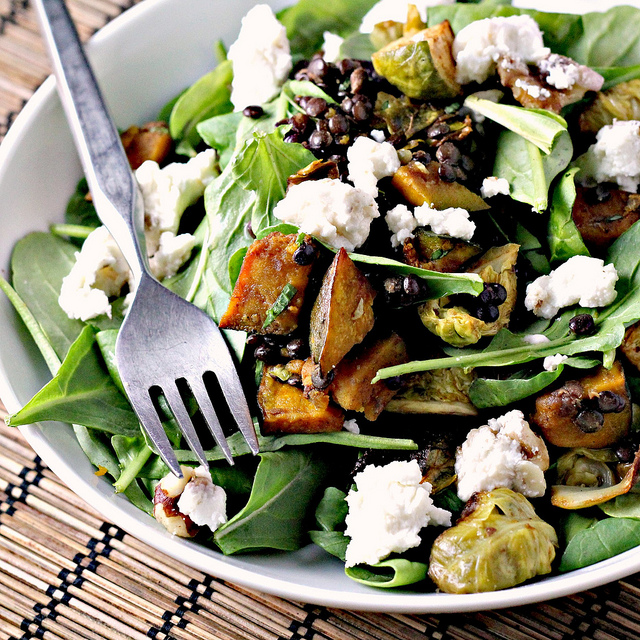 Spicy Squash Salad with Lentils, Brussels Sprouts, and Goat Cheese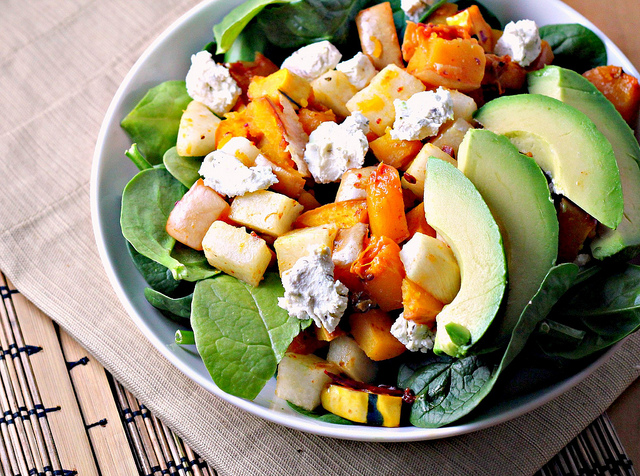 Chipotle Squash Salad with Jicama, Goat Cheese, and Avocado
From Around the Web:
Massaged Kale Salad with Parmesan, Pine Nuts, and Pomegranate from Taste Love and Nourish
Squash Salad with Lentils and Pomegranates with a Roasted Garlic Cashew Cream from What's Cooking Good Looking
Arugula Salad with Red Cabbage, Pomegranate, Orange, and Pineapple from Life Made Sweeter
Roasted Nourish Bowl with Lemon Tahini Dressing from A Couple Cooks
Winter Persimmon Salad from Naturally Ella