A roasted cauliflower and cheese pizza served atop a bed of al taglio pizza dough. It is the easiest and best dough you'll ever make from scratch!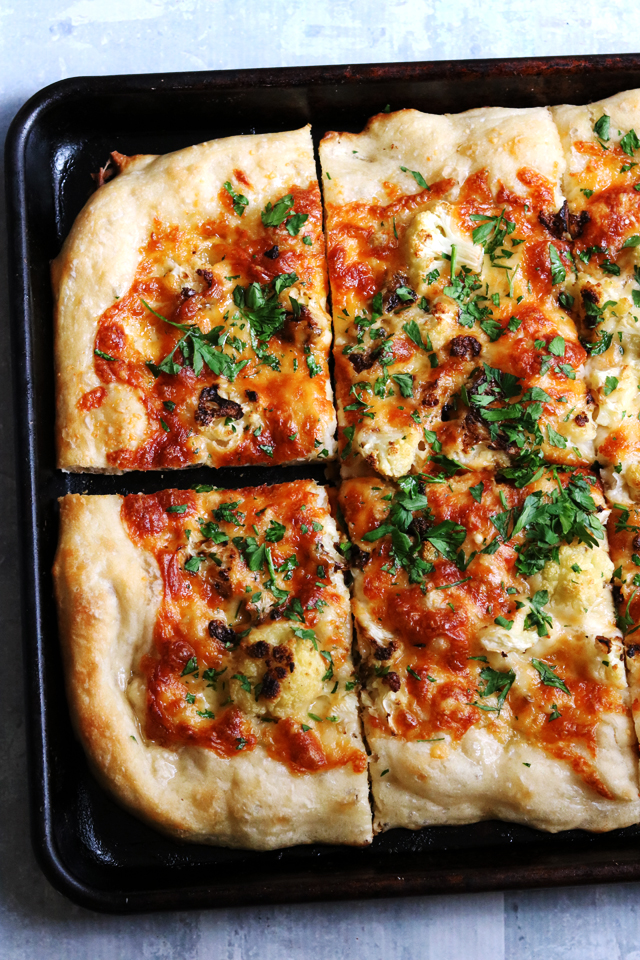 Not only am I a full-blooded New Yorker, but I also come from a long line of pizza makers, so pizza is kind of a big deal in my life.
Also it's basically the only thing my child eats, so.
Ever since moving out of our old neighborhood two and a half years ago we have yet to find really great classic New York pizza place. That sounds crazy being that we live in midtown Manhattan, but it's true. A lot of times we will find a place we think is really good but then every other pizza delivery is kind of meh. It is so disheartening!!
So basically, I've been making my own pizza a whole lot and for the most part it's been good, but not great.
Until now.
This is probably going to sound a little bit shallow, but here it goes: this pizza dough is going to change your life.
At least, it did for me!!
Maybe that's because we eat too much pizza. I'm sure that's part of it, but it's also just amazing. Perfectly crisp on the bottom but also chewy and bubbly, with great flavor due to a long ferment in the fridge.
The dough is super easy to make. Essentially you just mix together the ingredients, do a few folds over a span of 90 minutes and then pop it in the fridge at least overnight but up to 3 days to rest. The longer it sits, the better the flavor but I've also cooked it after only a 12 hour rest and it is still pretty excellent. It does require a little bit of planning ahead but it is so worth it!
This recipe is from the cookbook Mastering Pizza by Marc Vetri, which, as I've said, has revolutionized my pizza making. I'm pretty sure we really never need to order pizza takeout again.
In addition to providing me with this fabulous dough, this cookbook also convinced me to invest in a pizza steel. The steel is similar in idea to a pizza stone but is a little bit easier to maneuver and even better for getting the bottom of your pizza super crispy. Vetri goes into more detail on the science of this in his book, but basically the steel holds and transmits heat better than a stone ensuring NO SOGGY BOTTOMS. (Paul Hollywood would be proud.)
The toppings I've used here are a riff from one of the pizzas in the cookbook – roasted cauliflower, provolone cheese, parmigiano-reggiano, red pepper flakes, and parsley. SO GOOD.
I mean, I'm partial to white pizzas, but still.
And it got my veggie-hating child to eat cauliflower!! So, win/win.
roasted cauliflower and cheese pizza al taglio
A roasted cauliflower and cheese pizza served atop a bed of al taglio pizza dough. It is the easiest and best dough you'll ever make from scratch!
Ingredients
For the al taglio pizza dough
400 grams (1⅔ cups warm water)
4 grams (1¼ tsp) active dry yeast
500 grams (3⅔) cup bread flour
15 grams (2½ tsp) fine sea salt
For the cauliflower pizza
1 lb small cauliflower florets
¼ cup extra-virgin olive oil
salt and black pepper, to taste
8 oz provolone cheese, grated
¾ cup freshly grated Parmigiano-Reggiano cheese
1¾ tsp red pepper flakes
½ cup parsley, chopped
Instructions
For the dough
Mix together 350 grams (about 1.5 cups) of the warm water and the yeast in a large bowl. Let it sit for at least 5 minutes or until the yeast begins to grow and bubble, and the water becomes foamy. Add the flour to the water/yeast mixture and stir until it comes together and all of the flour has been incorporated. Cover with plastic wrap and rest at room temperature for 30-40 minutes.
Next, fold the dough. To do this, wet one of your hands and dig it under the bottom of the dough, scooping it from the side (between the dough and the bowl). Stretch and fold that piece of the dough up and over itself onto the center of the dough. Rotate the bowl a quarter turn and repeat until you have gone 360 degrees and are back where you started. Cover again with plastic wrap and rest for another 30-40 minutes.
Whisk together the salt and the remaining 50 grams (~3 tbsp) warm water. Pour this over the top of the dough. Repeat the stretch-and-fold method above, trying to incorporate as much water as possible into the dough. To do this you will likely need to go around for at least 1-2 more 360 turns and even then some of the water may still rest at the bottom of the bowl. Cover again and rest for 30-40 minutes.
Wet your hand and fold using the above method one last time, doing only one 360 degree turn, this time being more gentle so as not to deflate the bubbles that are starting to form. Cover the bowl with plastic wrap and let it rest in the refrigerator for 12-36 hours.
When you are ready to make the pizza, let the dough come to room temperature for 1 hour to come to room temperature.
For the cauliflower pizza
Heat oven to 500F with a baking steel or pizza stone in the oven, if you have one.
Toss the cauliflower with the olive oil. Season to taste with salt and black pepper. Roast on a baking sheet for 10-12 minutes, or until tender.
Meanwhile, mix together the provolone and Parmigiano.
Grease a half sheet pan with olive oil and spread the dough until it reaches the edges of the pan, nudging it with your fingers, trying as much as possible not to deflate all of the bubbles.
Scatter the roasted cauliflower and cheese mixture over the top of the dough. Season with black pepper. Bake for 10 minutes on top of the pizza steel or stone, then rotate the pan and bake for an additional 10 minutes or until puffed and golden.
Remove from the oven and scatter the red pepper flakes and parsley over the top. Let rest for 5 minutes, then cut and serve.