Roasted winter squash and grapes are topped with the most exquisite maple pomegranate sauce. It is a perfect side dish for fall!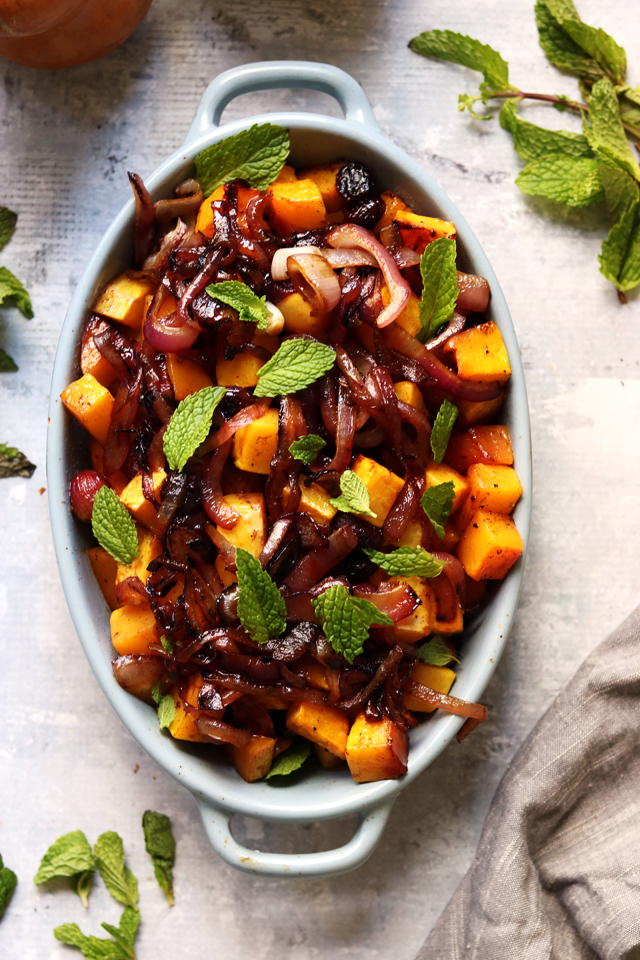 You need this side dish like a a mom needs a vat of coffee (or maybe a coffee IV infusion??) at Daylight Savings Time.
ASK ME HOW I KNOW.
Remy has been waking up at 5AM since Sunday and it is kiiiillliiinnnggg me. Shouldn't she have adapted to the time change yet?? IT'S BEEN FOUR DAYS.
On behalf of parents everywhere I really think we need to petition to do away with this nonsense. I'm just not seeing the benefit – less light, crazy kids waking up at the crack of dawn, COMPLETE AND TOTAL HAVOC.
On the bright side, this extra hour of awake time has given me ample opportunity to scour my cookbooks and the internets and ruminate on what I'm planning to make for Thanksgiving this year. Honestly, I start this process in September, initially just by making mental notes of potential recipe ideas that I see (and then promptly forgetting three minutes later because, KIDS) but things get real starting November 1 with lists on lists on lists on lists.
The only benefit there is to not hosting the big day myself is that I have a bit more leeway with just how "out there" and non-traditional I can be with the things I make since no one is really relying on me for the main squeezes.
Recently I made this candidate side dish of roasted winter squash and grapes smothered in a mouth-watering maple pomegranate sauce and it BLEW. MY. MIND.
The sauce alone (which takes exactly three minutes to make, btw) is worth trying and smothering all over ALL THE THINGS this fall. It is sweet and tart with a hit of warm spice and OMG you're just going to want to bathe in it. (I mean, it would be sticky but delicious.)
Also, ROASTED GRAPES. They're kind of the best things on earth and I honestly may never eat fresh grapes again.
The steps to making this dish are super simple – whip up the sauce, roast the fruits/veggies, caramelize an onion, and toss together. DONE.
And the best part is (in terms of turkey day planning) is that all of the components can be made ahead of time and then tossed together just before serving. It is an exhausted momma's dream meal, yes it is.
Roasted Winter Squash and Grapes with Maple Pomegranate Glaze
Roasted winter squash and grapes are topped with the most exquisite maple pomegranate sauce. It is a perfect side dish for fall!
Ingredients
12 oz red seedless grapes, removed from the stem
5 tbsp olive oil, divided
kosher salt
freshly ground black pepper
1 large butternut squash (about 2.5 lb), seeded and cut into 1-inch pieces
1 tbsp unsalted butter
⅓ cup pomegranate molasses
2 tbsp maple syrup
½ tsp ground cinnamon
¼ tsp five spice powder
1 red onion, cut into ¼-inch thick slices
fresh mint
Instructions
Heat oven to 425F. Line two large baking sheets with parchment paper.
In a large bowl, toss the grapes with 1 tbsp olive oil. Season to taste with salt and black pepper. Divide the grapes between the two baking sheets and place in the oven. Roast for 15 minutes.
Meanwhile, in the same bowl toss the squash with 3 tbsp of the olive oil. Season to taste with salt and black pepper. Set aside.
In a small saucepan, combine the butter, pomegranate molasses, maple syrup, cinnamon, and five spice powder over medium-low heat. Heat for 3 minutes or until the butter is melted and the flavors can meld together. Toss the squash with a quarter of the sauce. Reserve the remaining sauce for later.
Add the squash to the pans with the roasted grapes dividing them evenly between the two. Place the pans back in the oven and roast for another 20-25 minutes, rotating the pans halfway through.
Meanwhile, heat the remaining 1 tbsp olive oil in a medium skillet over medium-high heat. Add the onion slices to the skillet and cook, stirring frequently, until fragrant and browned, about 10 minutes. Sprinkle with salt and decrease the heat to low. Cook for another 15 minutes, or until caramelized and crispy.
Remove the squash and grapes from the oven. Transfer to a large serving dish. Drizzle with the reserved sauce. Top with the caramelized onion and mint leaves before serving.