Banana and chocolate were made for each other, and you'll see why when you try this black-bottomed banana cream pie! A piece of good old-fashioned heaven in every bite.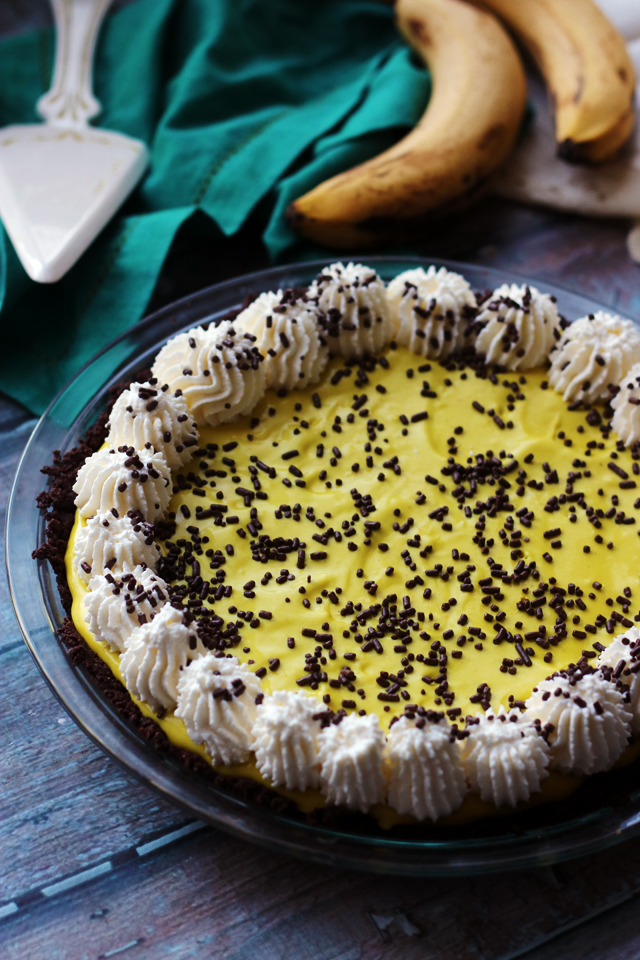 Moment of truth: Milk Bar recipes scare me.
Like, keep me up at night,
prevent me from sleeping even more so than Remy who thought it was a really good idea to wake our entire building me up at 3AM last night so that she could give me kisses for twenty minutes straight.
Not even joking.
It was sweet, but you know so would have been getting more than two hours of uninterrupted sleep.
Look, I'm almost 100% positive that baking my way through the Milk Bar cookbook would undoubtedly turn me into a better baker and uncover all sorts of inner strength and fortitude within me that I didn't even know I have.
But then I also feel like, "Do I want to end up in an insane asylum?!"
Just as an example, the original recipe I intended on making this weekend was the Milk Bar banana cake. Until I realized it is actually comprised of seven (SEVEN!!!) subrecipes (!!!),
causing me to cower in fear and quickly re-decide on this banana cream pie recipe.
It only has THREE subrecipes, so no biggie.
And here I am, five pie slices down the hatchet, coming to tell you that not only did I make this black-bottomed banana cream pie, three subrecipes and all.
But I would do it again. Gladly.
Because I do not even like banana all that much, especially not extra ripe banana, but this pie is otherworldly.
The filling is made almost entirely in the blender and gives you more banana flavor than you thought could be possible without artificial flavoring. It's pretty sweet, but that richness is cut perfectly by the intense chocolate crust that almost borders on savory. It's such a good combination and so well worth your time. All that coming from a self-proclaimed banana ambivalentist (<– totally a word). So you know I mean it.
Milk Bar's Black-Bottomed Banana Cream Pie
Banana and chocolate were made for each other, and you'll see why when you try this black-bottomed banana cream pie! A piece of good old-fashioned heaven in every bite.
Ingredients
For the banana cream
2 ripe bananas
⅓ + ¾ cup heavy cream, divided
¼ cup milk
½ cup sugar
2 tbsp cornstarch
½ tsp kosher salt
3 egg yolks
2 tbsp water
1 tsp gelatin
3 tbsp butter
½ tsp yellow food coloring
1 cup confectioner's sugar
For the chocolate crust
⅔ cup flour
1 tsp cornstarch
½ cup + 2 tsp sugar, divided
⅔ cup cocoa powder
1 tsp + ⅛ tsp kosher salt, divided
7 tbsp melted butter, divided
For the pie
1 recipe banana cream
1 recipe chocolate crust
1 ripe banana, sliced
Instructions
To make the crust, heat oven to 300.
In a medium bowl, whisk together the flour, cornstarch, ½ cup sugar, cocoa powder, and 1 tsp salt. Make a well in the center and pour in 6 tbsp of the melted better. Using your hands, mix together just until it starts to come together in small clusters.
Spread the clusters on a parchment-lined baking sheet and bake for 20 minutes. Allow to cool completely.
Once cool, pulse the chocolate crumbs in a food processor until they are sandy and totally broken down. Transfer to a bowl and, with your hands, mix in the remaining 2 tsp sugar and ⅛ tsp salt. Add the remaining tbsp of melted butter and knead it into the sand until it comes together into a ball.
Transfer to a 9-inch pie plate. Press the crust into the tin, making sure it is evenly spread. Set aside.
To make the banana cream, combine the bananas, ⅓ cup of heavy cream, and milk in the bowl of a blender. Puree until smooth.
Add in the sugar, cornstarch, salt, and egg yolks. Blend until smooth again. Pour into a medium saucepan and clean the blender.
In a small shallow bowl, pour 2 tbsp cold water. Sprinkle the gelatin evenly over the top of the water to bloom. Let rest for 3-5 minutes.
Meanwhile, heat the saucepan with the banana batter over medium-low heat. Bring to a boil and continue to whisk vigorously for 2 minutes. It will be very thick.
Return the contents of the pan to the blender. Add the bloomed gelatin, the butter, and the food coloring. Blend until pureed. Transfer to a heat-safe container and put in the fridge to set for 60 minutes.
Once banana custard is done, whisk together the remaining ¾ cup of heavy cream with the confectioner's sugar until stiff peaks form. Add in the cold banana custard and whisk on low until homogeneous.
Pour half of the banana cream into the chocolate crust. Top with the cut banana slices and then pour the remaining batter over the top, smoothing it with an offset spatula. Serve chilled.
Notes
Recipe from
Momofuku Milk Bar