Grilled cheese sandwiches stuffed with homemade basil pesto and cheddar cheese are served with a creamy tomato soup in this comfort food classic.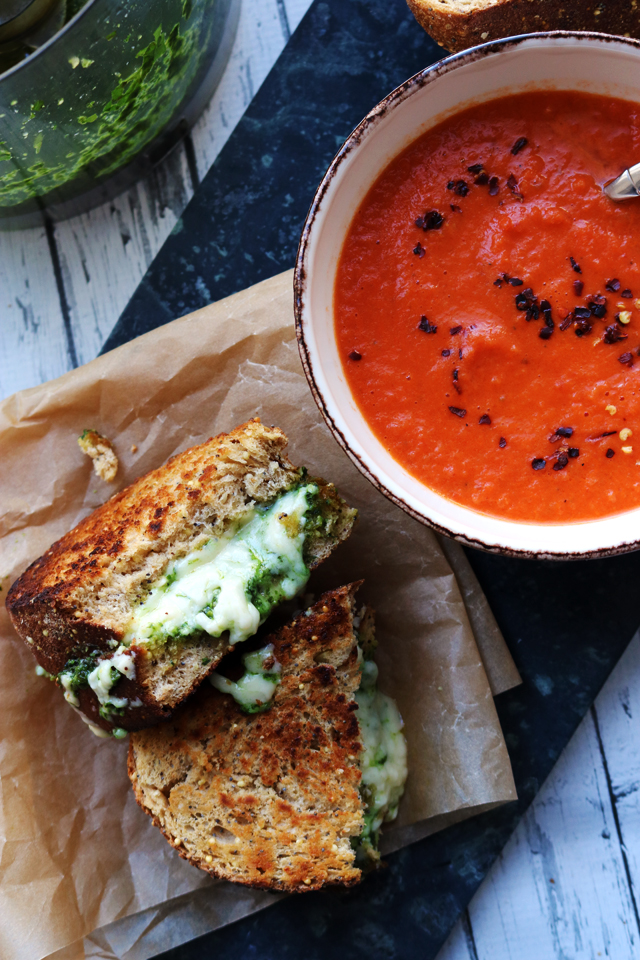 I realize the blizzard was two days ago, but today still feels like the calm before the storm.
Because tomorrow at EXACTLY 12 NOON I find out where I matched for residency!!!!!!
So, basically, the rest of my life in one envelope.
No biggie.
I know, you're probably thinking, "JOANNE! HOW ARE YOU EVEN THINKING OF RECIPES AT A TIME LIKE THIS?!"
Ha, I feel you. But the secret is:
THIS ISN'T EVEN A RECIPE.
I mean, it's grilled cheese. I'm pretty sure we could all make grilled cheese in our sleep.
And pesto, but honestly I rarely even use a real recipe for pesto, I just throw everything in a food processor and hope for the best.
And tomato soup, well…okay, that's a recipe. But it's an easy one!
I promise.
If I can do it in this time of mental chaos, then you can do it when you probably have all of your faculties with you.
And you SHOULD, especially if you have anything even remotely stressful going on in your life because GRILLED CHEESE AND TOMATO SOUP?!
That's like, the classic-est of all the comfort foods.
If comfort foods had a grandma, THIS WOULD BE IT.
It's creamy, it's cheesy, and it's just down right feel-good food.
Completely necessary at times like these. Or at any time.
Wish me luck!

Homemade Basil Pesto and Cheddar Grilled Cheese with Creamy Classic Tomato Soup
Grilled cheese sandwiches stuffed with homemade basil pesto and cheddar cheese are served with a creamy tomato soup in this comfort food classic.
Ingredients
For the tomato soup
1 tbsp unsalted butter
1 tbsp olive oil
1 onion, thinly sliced
3 garlic cloves, smashed
2 (28 oz) cans whole peeled tomatoes
1 cup water
⅔ cup heavy cream
2 tsp kosher salt, plus more to taste
¼ tsp freshly ground black pepper
⅛ tsp red pepper flakes
¼ tsp dried oregano
1 tbsp sugar
For the grilled cheese
3 cups loosely packed fresh basil leaves
2 tbsp pine nuts
1 garlic clove
1 tsp lemon juice
5 tbsp extra virgin olive oil
3 tbsp grated Parmesan cheese
½ tsp kosher salt, plus more to taste
8 slices rustic bread, cut about ½-inch thick
8 oz cheddar cheese, grated
butter, for greasing the pan
Instructions
For the soup
Heat the butter and olive oil in a large heavy-bottomed pot over medium heat. Once the butter is melted, add the onion and garlic to the pan. Saute until the onion is tender and translucent, about 5 minutes. Add the tomatoes, water, cream, salt, red pepper flakes, oregano, and sugar. Bring to a boil and then lower the heat to simmer for 15 minutes.
Remove the pot from the heat and puree with either an immersion blender or in the bowl of a tabletop blender. Season to taste with salt and black pepper. Serve warm.
For the grilled cheese
To make the pesto, combine the basil, pine nuts, garlic, and lemon juice together in the bowl of a food processor. Pulse until smooth. Slowly pour in the olive oil while the processor is still running. Add in the parmesan cheese and pulse again to combine. Season to taste with salt.
Place the bread slices on a work surface. Spread the prepared pesto over the top of half of the slices. Divide the cheese among the pesto-topped slices and then top with the remaining 4 slices of bread.
Heat a grill pan or skillet over medium heat. Grease with butter. Add the sandwiches to the skillet and cook until the bottom side is brown, about 3 minutes. Flip and brown the other side, another 3 minutes. When both sides are brown and the cheese is melted, remove from the skillet and serve warm with the tomato soup.
Notes
Recipe from
The Dahlia Bakery Cookbook: Sweetness in Seattle