Roasted sweet potato and crispy chickpea tacos topped with a spicy sriracha hoisin mayo drizzle – an easy, flavorful weeknight meal!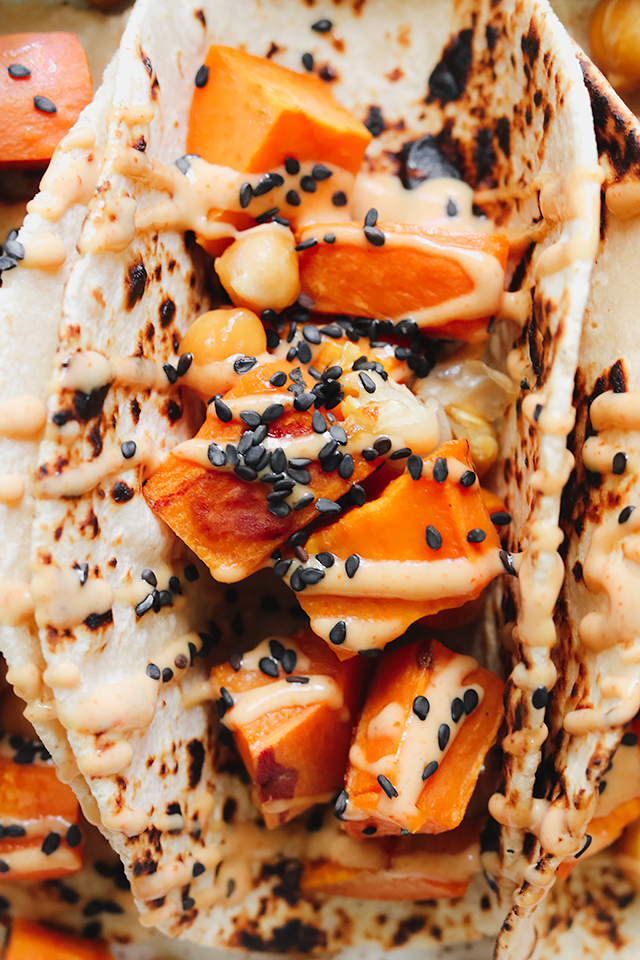 Pretty immediately after school started I realized that my usual dinner strategy of casually spending an hour plus cooking was not going to cut it.
Not only was I exhausted from having to make two round trip walks back and forth to school each day (talk about the easiest way to get 10K steps in EVER), but so was Remy.
She was basically coming home ravenous (and this is despite eating a snack on the walk home), so my options were either to let her fill up on snacks while dinner cooks or just pivot to easier, low-effort dinner recipes that I can cook in the time it takes her to take a bath.
No brainer – I chose the latter. And this is how these AMAZING sweet potato and chickpea tacos were born.
On a wing and a prayer and a need to create a meal out of pantry ingredients in under 30 minutes.
And let me just say – what a happy surprise these were. I made them with absolutely no intention to share with you guys, but then they were so tasty I found myself craving them the next week. And then the next.
And here we are. 
The "meat" of these tacos is a simple mix of roasted sweet potatoes and chickpeas. 
In the oven, the sweet potatoes turn into candy-like cubes and the chickpeas become the best little crunchy bites.
It's really simple with no extra seasoning or flavors (other than salt) but somehow the two just work together.
The REAL reason these bebes are so addictive, though, is the sauce.
Ohhhhh the sauce. It is everything and truly makes these tacos as magical and crave-worthy as they are.
The star players here are: mayonnaise, hoisin sauce, and sriracha. I will say that I used kewpie mayonnaise (my absolute favorite mayo) and I do think that it makes a flavor difference here. Kewpie is made with only egg yolks (not whole eggs) so it's super rich, and a hint of vinegar just to add some sweetness and tang. I find it to be so much more flavorful than other mayos and highly recommend you seek it out if you haven't tried it.
Paired with the hoisin sauce and sriracha, this homemade mayo blend is the perfect mix of sweet, spicy, and savory.
Annnnnnnnddddd now I'm craving these tacos for dinner again.
TACO THURSDAY HERE WE COME.
Roasted Sweet Potato and Chickpea Tacos with Spicy Sriracha Hoisin Mayo
Roasted sweet potato and crispy chickpea tacos topped with a spicy sriracha hoisin mayo drizzle - an easy, flavorful weeknight meal!
Ingredients
2 tbsp olive oil
3 medium sweet potatoes, peeled and cut into ½-inch cubes
1 (15 oz) can chickpeas, drained and patted dry
salt, to taste
4 tbsp kewpie mayonnaise
2 tbsp hoisin sauce
2 tbsp sriracha
12 corn tortillas, warmed
toasted sesame seeds, to garnish
Instructions
Heat oven to 400F.
In a large bowl, toss the olive oil, sweet potatoes, and chickpeas together. Spread on a parchment-lined baking sheet and season to taste with salt. Roast for 25 minutes.
Meanwhile, in a small bowl whisk together the mayonnaise, hoisin sauce, and sriracha. Set aside.
Once the sweet potatoes and chickpeas are cooked, divide them among the tortillas. Drizzle with the sriracha hoisin mayo and top with sesame seeds to garnish. Serve immediately.
Notes
An Eats Well With Others Original