Tomatoes are, apparently, very controversial things.
Joanne. Psst. You are supposed to be writing about strawberries.
Yeah, I know. Give me a second.
Imagine 17 of my closest friends at dinner. For my birthday. (I'm a little bit late with this story, I know. I'm backlogged on interesting things from my life to tell you about. Or boring things from my life that I'm making interesting by exaggerating to the point of ridiculousness. You be the judge.)
Imagine that some of these people had pregamed for dinner. (Yes. In med school, we pregame things like eating French food. I use the term "we" loosely. I pregame for nothing. I also use the term "nothing" loosely.)
And do you know what happens when you pregame for dinner? You find tomatoes to be absolutely intriguing. Enigmatic. Incomprehensible.
"But is it a fruit or a vegetable?"
Fruit. Easy. It has seeds. We've known this since…second grade or so.
"But what about cucumbers. Or avocadoes. Or (and here's the point at which I started really listening) pumpkins."
This is where things started to get interesting. Smart phone use spread like wildfire up and down the table. (Really. You can't take them anywhere.)
Finally. Someone. I think it was Adam. Found an answer.
A fruit, according to Wikipedia, is the ripened ovary (seeds included!) of a flowering plant. (Talk about timing. Do you want to guess which part of the anatomy we are studying right now in class? And for the record, 23-year-old boys giggle at the word genitalia just as must as 7-year-olds do. They also think the word "sphincter" is hilarious. And let me tell you. There are a lot of sphincters in biology. Talk about disruptive.)
Cucumber? Fruit.
Pumpkin? Fruit.
Green beans? Fruit.
Bell peppers? Fruit.

And our little friend, the strawberry? What does it have to do with all of this? How did it get mixed up in all of this reproductive system confusion?
Well. I hate to tell you this.
But the strawberry is neither a fruit nor a vegetable.
You see. It's seeds are on the outside. And so, botanically speaking, it is not derived from the plant's ovaries but from the receptacle that holds the ovaries (the peritoneal cavity of the plant world).
Making it an accessory fruit.
A tragic case of identity crisis if ever I've seen one. It's a good thing we didn't actually come across this little tidbit of information at dinner. I don't think the pregamers could have handled it.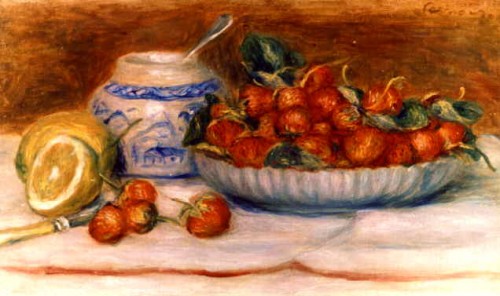 A few weeks ago, Megan of Feasting On Art (one of the most innovative blogs out there) announced that for her one year blogiversary she was going to hold a recipe contest. Megan's posts combine food and art by featuring paintings and the food creations that they have inspired. Her first post was centered around a still life by Renoir and so she decided that for her blogiversary it would be fun to feature another of his still life's, this time the above painting which is entitled Strawberries. Not only that, but she challenged all of her readers to come up with dishes that were inspired by this as well!
When Megan told me about this challenge, I immediately knew I wanted to do a savory dish. Sure, strawberries are traditionally served as dessert, but as we learned above, convention is really just a figment of the imagination. I recalled from the recesses of my memory seeing a post by Natashya months and months ago about a strawberry pesto pasta salad that she had made. With this idea in hand, I decided to combine the pesto with an orzotto (kind of like a risotto but with orzo. The dish would work with arborio rice as well. Orzo just happens to be cheaper and I really like the texture.) As I was making the pesto, I decided to add in some cinnamon and balsamic vinegar to bring out the acidity and sweetness of the strawberries. All in all, a really tasty dish and one that will be perfect in the coming months when fresh and delicious strawberries will abound.

Strawberry Balsamic Pesto Orzotto
Serves 4
1/2 package of frozen strawberries (or about 2 cups of fresh strawberries…should you be lucky enough for them to be in season)
1/3 cup almonds
1/3 cup parmesan cheese
basil, to taste (I think I used about 1 cup)
2 1/2 tbsp balsamic vinegar (or to taste)
1 pinch of cinnamon
salt, to taste
1 tbsp olive oil
1 cup white wine
4 cups chicken broth
1 lb orzo
1. Puree all of the ingredients up to (and not including) the chicken broth.
2. Heat the chicken broth until it is simmering.
3. Heat olive oil in a pan. Add the orzo and saute for 2 minutes, stirring continuously. Add the white wine to the pan. Stir. When it is almost all evaporated, add in 1/2 cup(-ish) of the chicken broth. Stir. When this has almost evaporated, add in another half cup. Rinse. Repeat.
4. When the orzo is cooked through, shut the heat and stir in the pesto. Salt to taste.
I am also submitting this to Presto Pasta Nights which is being hosted this week by the Savoury Specialist over at Our Taste of Life.
I would also like to thank Ruth, the creator of Presto Pasta Nights and author of the blog Once Upon A Feast for bestowing upon me the Happy 101 Award. Ruth's was one of the first blogs that I ever read (even before I had one myself) and so to have her even mention my blog on her site is kind of like having a celebrity chef (Tyler Florence perhaps) tell you that your food tastes good. So thanks a bunch Ruth!

You are reading this post on Eats Well With Others at https://joanne-eatswellwithothers.com. Excerpts and links may be used, provided that full and clear credit is given to the author and or owner of Eats Well With Others. All rights reserved by Joanne Bruno.