Cranberries are good for more than just sauce! This cranberry pecan upside down cake proves that with it's sweet tart flavor that is perfect for Thanksgiving!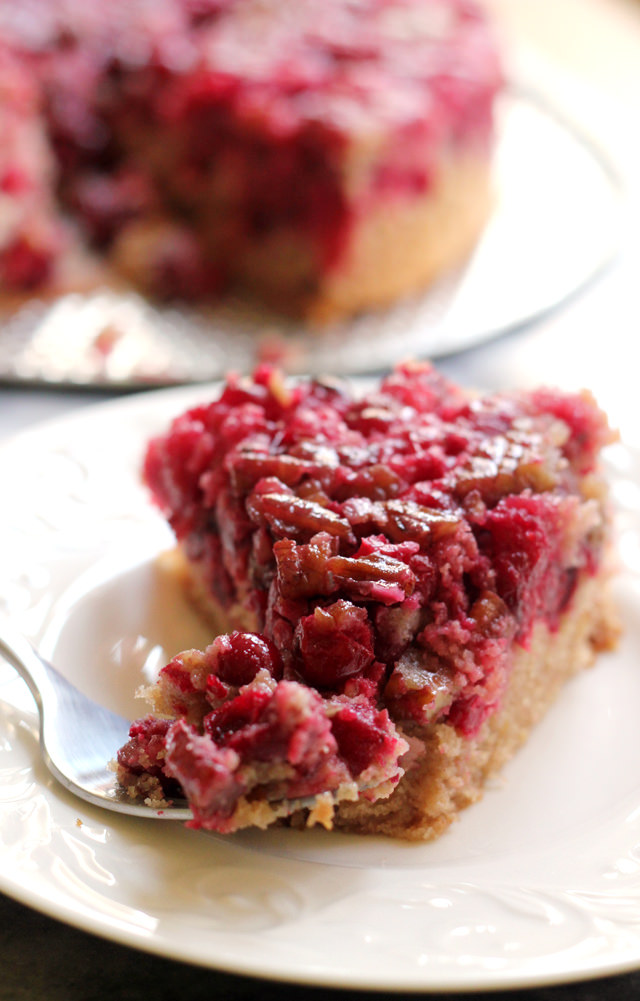 So apparently being pregnant really is like having an alien take over your body, but MOSTLY your taste buds.
I know this because I have not craved a single sweet thing…in FIFTEEN PLUS WEEKS. That's a record you guys. Up from my past sweet craving interval record of 15 SECONDS.
Should I be alarmed?
Apparently sweet-tart is okay though, because this cranberry pecan upside down cake hit the spot this past weekend. Like, bull's eye, on the dot.
Sure, the cake base is sweet and cinnamony and tastes a heck of a lot like a snickerdoodle (be still, my heart!!) thanks to International Delight's Frosted Sugar Cookie Creamer, but it is offset by a lovely tart melted cranberry-pecan topping that will convince you that using cranberries for any other recipe (I'm looking at you, sauce) instead of this is just a crying shame.
It's also a really great not-pie recipe that still embodies all of the flavors of fall and Thanksgiving for those of us who just don't feel like messing with pie crust in the next week. I was able to whip together the batter and get it into a pan within 15-20 minutes, which is probably a world record for me, and which is definitely a plus when you're also tasked with making six billion other things for The Big T-Day.
Cranberry Pecan Upside Down Cake
Cranberries are good for more than just sauce! This cranberry pecan upside down cake proves that with it's sweet tart flavor that is perfect for Thanksgiving!
Ingredients
1 cup all purpose flour
1 tsp baking powder
1 tsp ground cinnamon
¼ tsp salt
1¾ sticks (14 tablespoons) unsalted butter, at room temperature, divided
1 cup minus 2 tablespoons sugar
¼ cup chopped pecans
2 cups of cranberries, fresh or frozen (if frozen, do not thaw)
2 large eggs
1 tsp vanilla extract
⅓ cup International Delight Frosted Sugar Cookie Creamer
Instructions
Heat oven to 350F. Grease an 8-inch cake pan. Set aside.
In a a medium bowl, whisk together the flour, baking powder, cinnamon, and salt. Set aside.
In a medium saucepan, melt 6 tbsp of the butter over medium heat. Stir in 6 tbsp of the sugar and bring to a boil, stirring, allowing the sugar to dissolve. Pour the butter mixture into the prepared cake pan. Sprinkle the pecans and the cranberries evenly over the butter in the pan. Set aside.
In the bowl of a stand mixer fitted with the paddle attachment, cream together the remaining butter with the remaining sugar until fluffy, about 3-4 minutes on medium-high speed. Add the eggs, one at a time, mixing well after each addition. Mix in the vanilla extract. Add half of the flour mixture to the batter and mix until just combined. Add in the creamer or milk, mixing until the batter just comes together. Scrape down the sides of the bowl and mix in the remaining flour mixture until just combined. Pour the cake batter over the cranberries and pecans in the prepared pan, spreading it evenly with an offset spatula.
Bake for 40-45 minutes or until the cake is golden and a toothpick inserted in the center comes out clean. Remove from the oven and run a blunt knife around the sides of the pan to release the cake. Turn the cake out onto a serving platter, scooping any berries that remain stuck to the cake pan back onto the cake. Allow to cool completely before serving.
Notes
Adapted from
Baking: From My Home to Yours
This post was sponsored by International Delight®. As always, my thoughts and opinions are my own. For more International Delight inspiration, follow them on Twitter, Pinterest, Facebook, and Instagram! And make sure to sign up for the International Delight Newsletter to keep up with new products, offers, and recipes!
This conversation is sponsored by International Delight. The opinions and text are all mine.