This crispy roasted tofu and curried peanut soup takes fall's best veggies and combines them with rich Thai spice to make a big pot of comfort.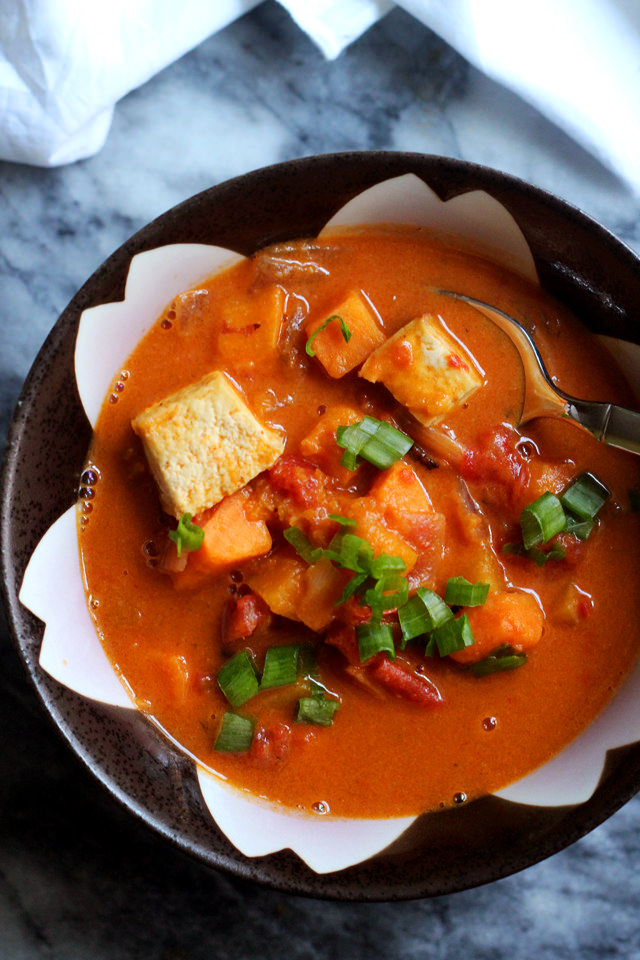 When you haven't seen the sunlight in a week and walk around your apartment like a sleep-deprived zombie during the few (specifically, two) hours you are home and not somewhere in-between REM cycles….this soup.
It will save you.
It should come as no surprise to anyone who has ever gone through an OB/GYN rotation that those six weeks of your life are just not compatible either with (a) making dinner every night or (b) remembering to eat your veggies. It's sort of more of a "shove whatever edible substance you can find into your mouth when you can" situation. Sometimes that means we eat potato chips and peanut butter and jelly sandwiches for dinner…but sometimes I find the energy to make a big pot of soup on the weekend so that we actually ingest some nutrients for once.
I am endlessly obsessed with all things Thai flavored and this soup is rich in spicy flavor with a creamy peanut buttery backdrop. It has lots of orange veggies and roasted tofu as well, and makes enough to feed a veritable starving med student army. Cook once, eat six times? I like the sound of that.
To get the recipe, check out my post on the Nasoya website!