Sweet and tart is just what I want for Valentine's Day so I'm making myself a big batch of Tartine's decadent blueberry lemon chiffon tartlets! So perfect for any special occasion.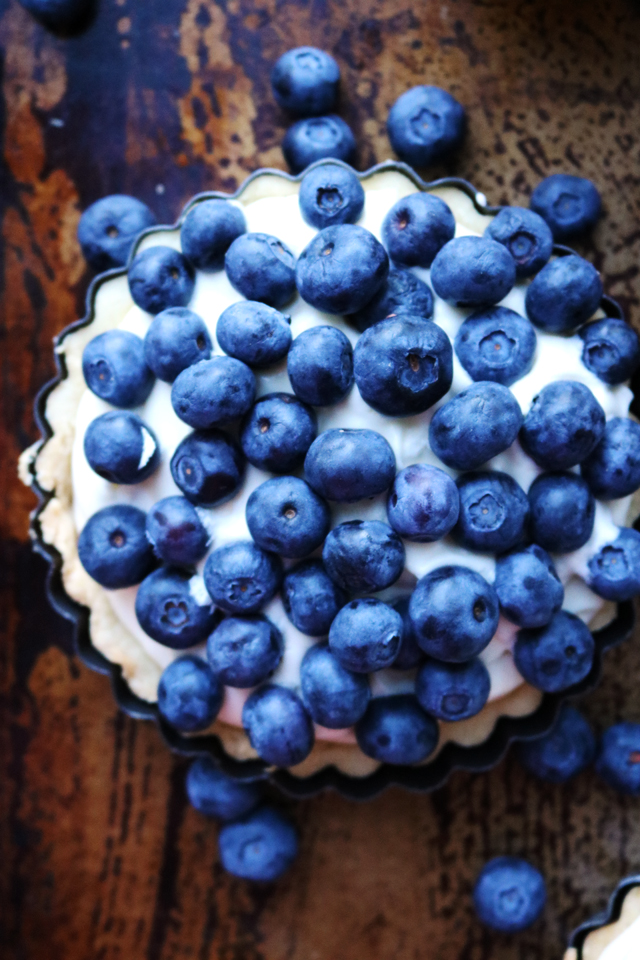 There's a pink cutesy jar of Valentine's Day sprinkles on my countertop that I went extra special out of my way to buy annnnnddddddddd………
……HERE I AM MAKING LEMON BLUEBERRY TARTLETS.
Not pink.
Not cutesy.
Not even remotely Valentine's Day themed.
But dang dang good.
Truth be told, I'd probably take lemon over almost any other dessert flavor any day. There's something about the sweet tartness that just gets me every time.
Also, truth be told, I have no idea what day of the week it is let alone what date of the month.
Or what month we're in.
Or what year we're in, apparently (<– check out yesterday's post where I was really sure it was still 2016 #wishfulthinking #letsgoback).
These beauties are surrounded by what tastes like a sugar cookie crust and filled with a cross between a mousse and a cream (i.e. a chiffon). It's light and thick and decadent all at once, which keeps you going after it for bite after bite as you keep trying to pin down what makes it so alluring.
Spoiler alert: it's all of the above. With blueberries on top for an extra bit of freshness.
I made these in 4-inch tartlet size portions so that I would have a chance in hell at portion control, but if you don't have tartlet shells, the recipe makes enough for one 9-inch tart.
So, honestly, if you were going to make me something special for February 14th,
it would not be pink.
it should not be cutesy.
and it could totally be as many of these lemon blueberry chiffon tartlets as I could stuff in my mouth. (So, a lot.)
You could even top them with my stash of pink cutesy V-Day sprinkles. I wouldn't be offended.
Blueberry Lemon Chiffon Tartlets
Sweet and tart is just what I want for Valentine's Day so I'm making myself a big batch of Tartine's decadent blueberry lemon chiffon tartlets! So perfect for any special occasion.
Ingredients
For the sweet tart dough
1 cup + 2 tbsp unsalted butter, at room temperature
1 cup sugar
¼ tsp salt
2 large eggs, room temperature
3½ cups all purpose flour
For the lemon cream
½ cup + 2 tbsp meyer lemon juice
3 large eggs
1 large egg yolk
¾ cup sugar
pinch of salt
1 cup unsalted butter, cool
For the pie
¼ recipe for sweet tart dough (recipe below)
1 cup of lemon cream (recipe below)
¾ cup cold heavy cream
1 pint of blueberries
Instructions
To make the tart dough, combine the butter, sugar, and salt in the bowl of a stand mixer fitted with the paddle attachment. Cream together on medium speed until smooth. Add the eggs, one at a time, and mix until smooth. Scrape down the sides of the bowl. Add the flour and mix until just incorporated, on low speed.
Divide the dough into four equal balls and shape each into a disk that is about ½-inch thick. Wrap in plastic wrap and chill for at least 2 hours or overnight.
Take one of the disks and, on a lightly floured surface, roll it out until it is about ⅛-inch thick. Cut out three circles that are about 6 inches in diameter. Transfer each circle to its own tartlet pan and ease it gently into the pan, pressing down the bottom and sides until it fits into place. Trim the top and chill for at least 15 minutes, or until firm. Freeze remaining dough for future use or roll out and use it to bake sugar cookies.
Heat oven to 325F.
Prick the bottoms of the tarts with a fork. Bake for 10-12 minutes, or until golden brown. Remove from the oven and let cool completely.
To make the lemon cream, pour about 2-inches of water into a small saucepan. Place over medium heat and bring to a simmer. Meanwhile, combine the lemon juice, eggs, egg yolk, sugar, and salt in a heatproof bowl that will sit in the rim of the saucepan without touching the water. Whisk to combine. Place the bowl over the saucepan, whisking continuously until the mixture reaches 180F. Remove from the heat and let cool to 140F.
Meanwhile, cut the butter into 1 tablespoon-sized pieces. When the cream has cooled, add in the butter one tablespoon at a time, mixing with an immersion blender after each addition. Set aside.
To make the pie, whip the heavy cream until it holds medium peaks. Fold together the whipped cream with 1 cup of the lemon cream. Scoop the filling into each tartlet shell, dividing it evenly among them. Top with the blueberries and chill until filling is firm, about 2 hours. Serve cool.
Notes
Recipe from
Tartine