This super healthy Thai tofu zoodle soup is filled with a rainbow of veggies and spicy red curry flavor. It's the perfect way to hit refresh on your week!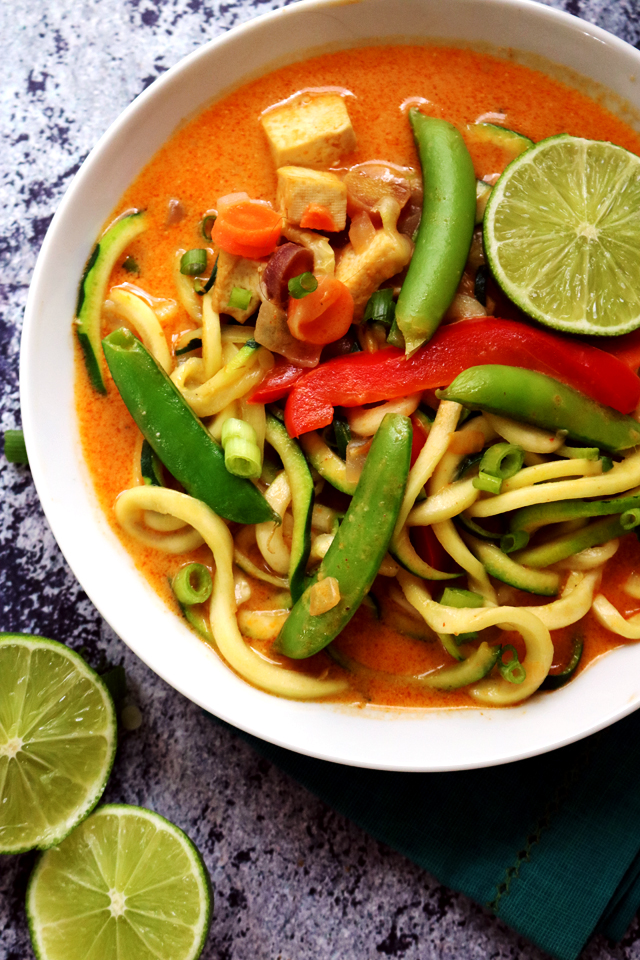 Can I tell you what's hilarious?
Listening to my mother and my mother-in-law trade weight loss tips. They both came over this past weekend to see Remy before we whisk her away for a week on vacation and it was entertainment.
My mom is all about watching trendy pop science-y stuff on the news and then relaying it to everyone she sees as if it is actually evidence-based fact and not just hyped up garbage, so she was spouting the benefits of "slow burn" exercises, which from what I could tell translates to pilates but with very very small, barely discernible pulsing movements.
My mother-in-law, on the other hand, is much more back to basics about it so she was demonstrating planks on my living room floor and teaching my mother how to make cauliflower rice.
Then after discussing their low/no carb diets at length, they had tortellini for dinner and chocolate chip cookies for dessert.
Go figure.
I'm pretty sure the true secret to weight management is to ascribe to some sort of dietary plan that you can actually maintain in the long term. And making sure the calories in are less than the calories out. It's just simple math!
To that end, I'm all about moderation and sometimes that means swapping out your complex carbs for zucchini noodles. In most instances, I honestly don't usually find that an acceptable substitution (when I want carbs, I want CARBS) but in the case of this Thai zoodle soup, it totally works. The soup is just so full of flavor from the curry paste and the panoply of veggies that the zucchini noodles are actually pleasantly subdued, really letting the other components shine. It's a great healthier option for your weeknight meals,whether you're on the low/no carb train or not.

Thai Tofu Zoodle Soup
This super healthy Thai tofu zoodle soup is filled with a rainbow of veggies and spicy red curry flavor. It's the perfect way to hit refresh on your week!
Ingredients
2 tbsp coconut oil, divided
1 lb super firm tofu, drained and cut into 1-inch cubes
1 sweet onion, diced
3 garlic cloves, minced
1 red bell pepper, thinly sliced
½ cup thinly sliced baby carrots
½ tsp minced fresh ginger
2 tbsp thai red curry paste
1½ cups vegetable broth
14 oz full fat coconut milk
8 oz sugar snap peas, trimmed
2 zucchini, spiralized
salt and black pepper, to taste
juice of 1 lime, to taste
Instructions
Melt 1 tbsp of the coconut oil in a large nonstick wok over high heat. Add the tofu to the pan and fry until browned on all sides, flipping the cubes after a few minutes. Remove to a paper towel-lined plate to drain and set aside.
In the same wok, heat the remaining coconut oil over medium-low heat. Add in the onions, garlic, peppers, carrots, and ginger. Season with a pinch of salt and black pepper. Cook until the veggies are slightly softened, about 5 minutes. Stir in the curry paste and cook for an additional 5 minutes.
Pour the veggie broth and coconut milk in to the pan along with the snap peas and fried tofu. Bring to a boil, then lower the heat and simmer for 5 minutes. Season to taste with salt, black pepper, and lime juice.
Just before serving, stir in the zucchini noodles allowing them to soften slightly. Serve warm.
More curry-infused soups!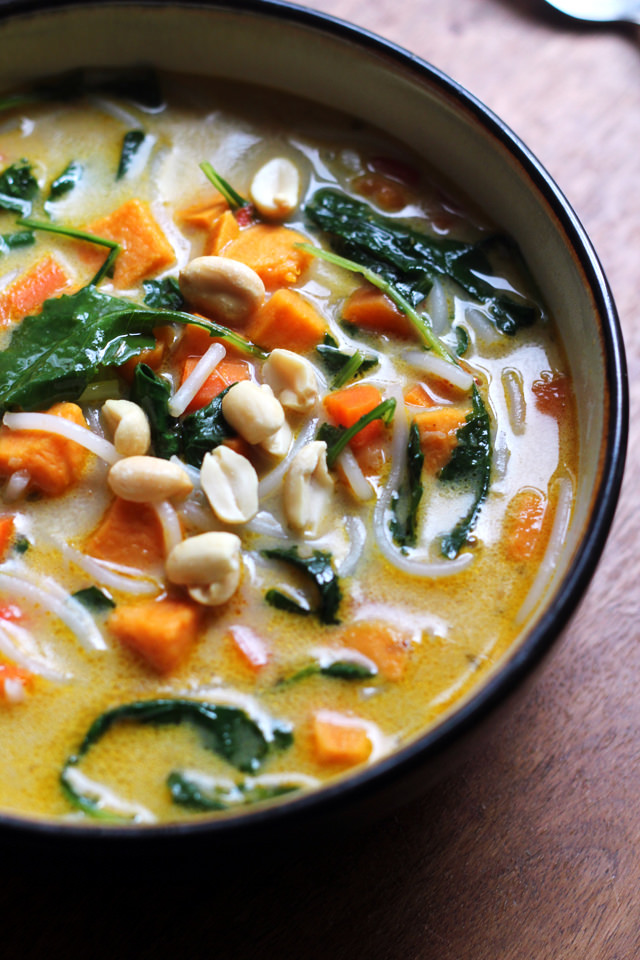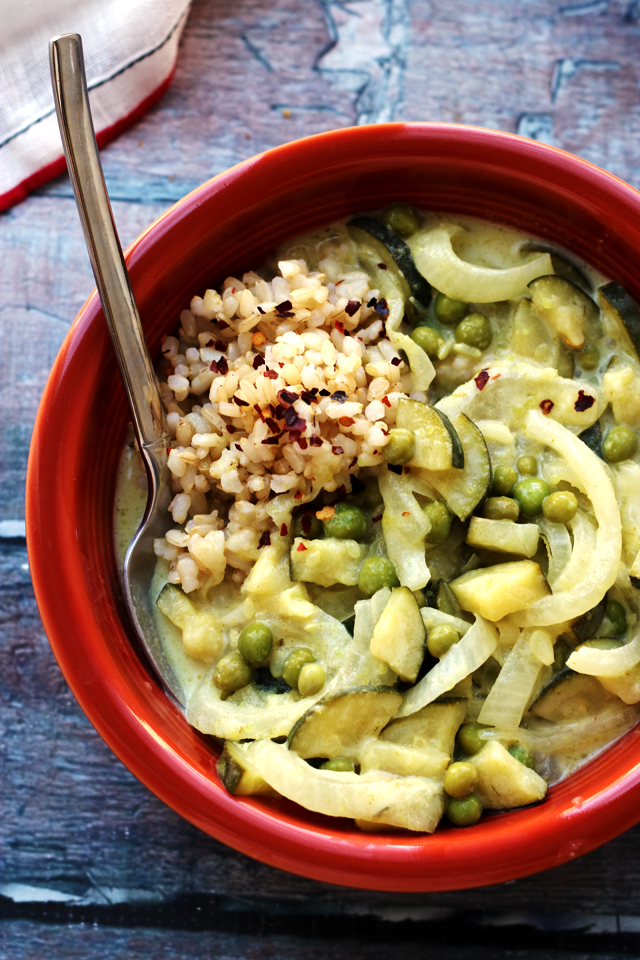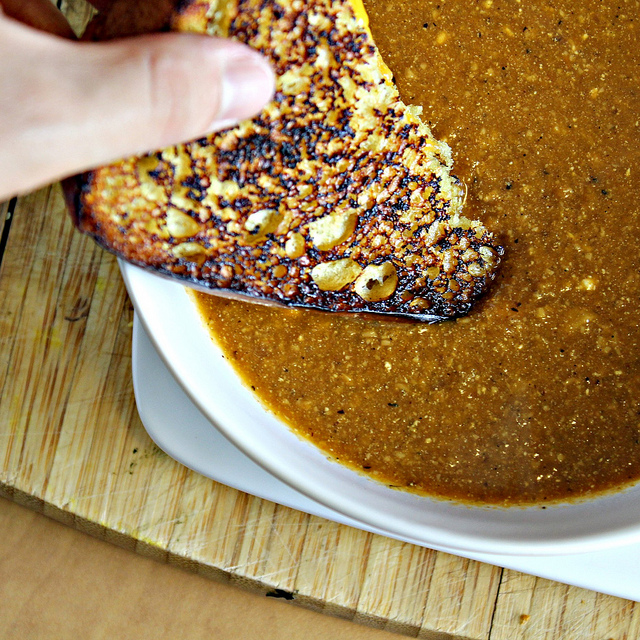 Spicy Curry Cashew Tomato Soup