A one-pot meal of curry-spiced rice, sweet peas, and smoked salmon with a dollop of refreshing cucumber raita on top.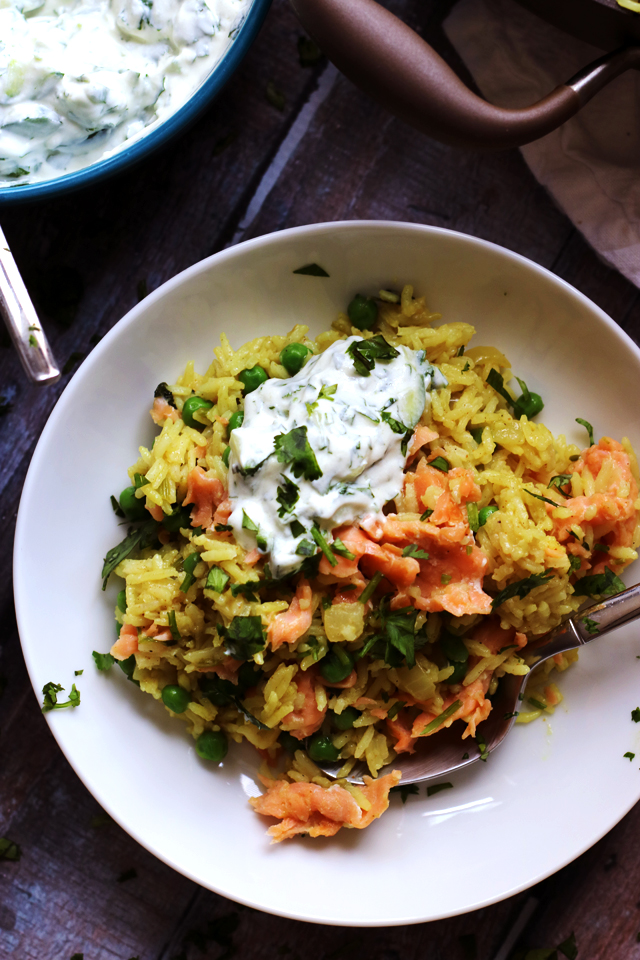 The flu in June, you guys.
One of the innumerable gifts that come with having children.
5:30 AM kisses, the sweetest "I love you mommy!!" voices as they head out the door to daycare, and THE FLU.
Ohhhhhhhhh Remy. Love that girl.
Knock on wood, I think I'm finally out of the worst of it, but I was not prepared for how hard it was going to knock me down.
I'm usually so GO GO GO, but the past few days I've been reduced to lying on the couch in a half awake/half asleep fever stupor.
It was weird. I'm glad it's over.
And on the bright side, I'm now caught up on all of my favorite reality tv.
SO. Let's talk about the food.
This meal is a one-dish wonder! But it's seemingly out there in terms of flavor.
Like, do you often think to pair smoked salmon with curry? Probably not.
Even my husband said, "huh, this is interesting" when he saw it, and he's eaten quite a few unusual meals since we've been together (to say the least).
But he loved it! WE loved it!
Probably part of it is that my taste buds really aren't functioning, so if something doesn't have a big BOLD flavor right now, I basically can't taste it at all.
Like, we ordered pizza from a new place for dinner over the weekend and I really could not tell if it was good or bad. Going to have to have a redo on that one.
BUT, these curry rice bowls apparently taste good even when everything else tastes like cardboard. And that's basically the ringing-est endorsement I can give right now.
Smoked Salmon and Curried Rice Bowls with Raita
A one-pot meal of curry-spiced rice, sweet peas, and smoked salmon with a dollop of refreshing cucumber raita on top.
Ingredients
1 onion, chopped
4 garlic cloves, minced
1 bunch of cilantro, stems and leaves separated and minced
1.5 cups basmati rice
1 tbsp butter
2 tbsp extra virgin olive oil, divided
1.5 tsp madras curry powder
8 oz smoked salmon
10 oz frozen peas
2 baby cucumbers, finely chopped
1 cup plain yogurt
Instructions
Rinse the rice and set aside.
In a medium pot, heat the butter and 1 tbsp olive oil over medium-high heat. Once the butter has melted add in the onion and cook for 4-5 minutes. Add in ¾ of the minced garlic and the curry powder. Saute for 1 minute, or until fragrant.
Stir in the rice, minced cilantro stems, and salt, to taste. Saute for 1 minute, stirring constantly. Add 3 cups of water and turn heat to high. Once the water is boiling, cover the rice mixture and reduce heat to low. Allow to simmer for 15-20 minutes, or until water has evaporated. Remove from the heat still covered and let sit for 5 minutes before fluffing with a fork. Stir in the peas, allowing them to thaw from the heat of the rice.
While the rice is cooking, flake the smoked salmon. Stir into the rice once it is done cooking.
In a separate medium bowl, stir together the cucumber, yogurt, minced cilantro leaves, remaining garlic, and 1 tbsp olive oil.
Serve smoked salmon rice with dollops of raita on top.
Notes
An Eats Well With Others Original