Summer farro bowls topped with spiced beans, fresh corn, and a sweetly spicy peach jalapeno salsa.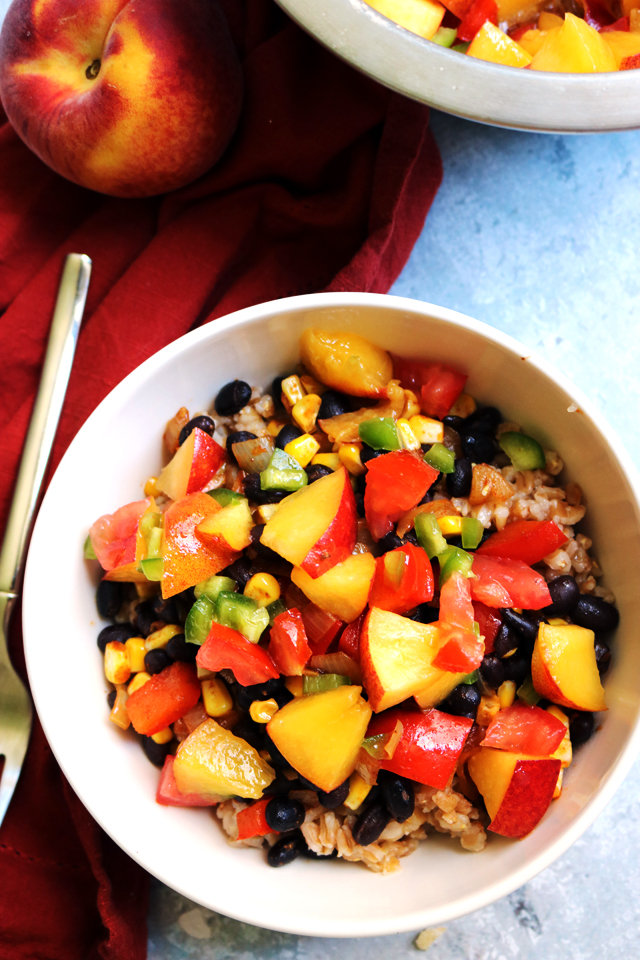 We got the funniest message from Remy's daycare teacher yesterday.
The gist of it was basically "Sometimes Remy only eats the fruit and avocado you send for lunch and just picks at the main course. We are concerned and have been giving her extra fruit/food from the school lunch."
I had to laugh because, uh, yeah. Sometimes Remy refuses to eat meals and just wants to snack all day.
Momma aware.
My response was basically, "Remy is a toddler. She likes something one day and refuses to eat it the next. I can't possibly predict what she will or won't eat on a daily basis. Please don't stress it."
And now that it's summer my game plan is to incorporate fruit into our meals to try to trick her into eating them.
I can't say she really ate too much of these bowls (she basically picked out the peaches and the corn and solely ate those), but it's better than nothing!
And we really enjoyed them, which is what really counts.
They're fresh and summery and so easy to prepare! If you make the farro and salsa ahead of time, you basically have ten minutes of cooking on the stovetop before you've got yourself a meal. And they are perfect to eat for lunches as well.
So long as you're not a food-refusing toddler, that is.
Summer Bliss Farro Bowls with Peach Jalapeno Salsa
Summer farro bowls topped with spiced beans, fresh corn, and a sweetly spicy peach jalapeno salsa.
Ingredients
For the farro bowls
1 cup farro
½ tsp chili powder
½ tsp coriander
½ tsp cumin
½ tsp smoked paprika
1 onion, diced
1 red bell pepper, seeded and diced
1 cup fresh corn kernels
1 (14 oz) can black beans, drained and rinsed
1 tbsp grapeseed oil
For the nectarine salsa
1 jalapeno, seeded and minced
2 peaches, pitted and chopped
1 tomato, seeded and chopped
1 tbsp olive oil
½ tsp honey
salt and black pepper, to taste
Instructions
First, prepare the farro. Bring 2 cups of water to a boil in a medium saucepan. Season with salt and stir in the farro. Lower heat and simmer for 20-25 minutes, or until water is evaporated and farro is tender. Remove from the heat and let it sit covered for 5 minutes, then fluff with a fork.
Meanwhile, whisk together the chili powder, coriander, cumin, and smoked paprika in a small bowl. Set aside.
Heat a medium skillet over medium-high heat. Add the grapeseed oil and then stir in the onions and bell peppers. Saute until the onions have softened, about 4-5 minutes. Add in the spice mix and saute until fragrant, about 1 minute. Stir in the beans and corn and cook until heated through, about 1-2 minutes. Season to taste with salt and black pepper and set aside.
To make the salsa, stir together the jalapeno, nectarines, tomatoes olive oil, and honey. Season to taste with salt and black pepper. Set aside.
When ready to serve, divide the farro among four bowls. Top with the bean mixture and the salsa.