Roasted cherry tomatoes served on a bed of bucatini dressed in a summer-fresh basil vinaigrette and topped with creamy burrata.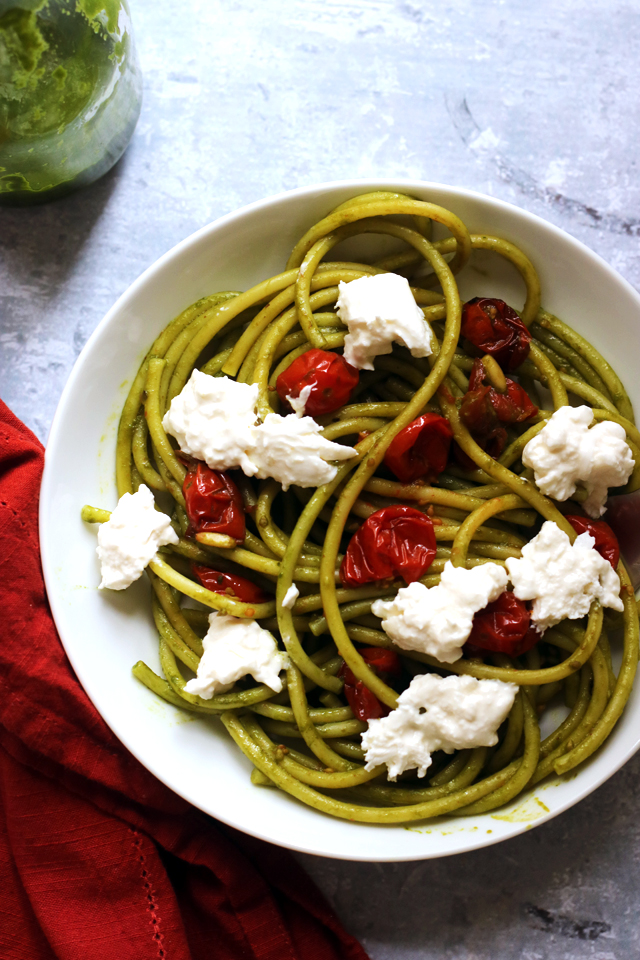 It's September 3rd, the PSL has been out for daaaayyyyzzz now, I saw Halloween candy in the CVS across the street (<– major side eye to THAT), and it's officially official:
I'm mourning the end of summer.
In years past I've totally been that girl stocking up on butternuts and buttercups and delicatas and all the squashes as soon as it was even mildly socially appropriate, but I've shifted over the past few years to more of a laidback, "HEY TIME, SLOW DOWN!" mentality.
Maybe it's that having a kid has softened me, but now I'm basically that girl who cries in the supermarket aisle next to the peaches now that they don't taste so good anymore. I'm sure I'll feel similarly about the squashes come February/March when their deliciousness is starting to wane, but for now I'm holding onto summer stone fruit and tomatoes for dear life.
All that to say, even though this may be my last formal summer recipe of the year, rest assured we're still inhaling heirloom tomatoes, pesto, and plums over here. Just yesterday we had heirloom tomato grilled cheese for lunch and I would have shared the recipe except that I'm pretty sure you can put sliced tomatoes and provolone slices between two pieces of bread without any instruction from me.
This pasta on the other hand, simple as it may be, warrants an explicit and intentional post because it is just.that.good. I really should have shared it with you earlier in the summer so you could make it every week on repeat, but here we are. I suspect cherry tomatoes and basil will be around for a while yet, so there's still time.
This is like your average caprese pasta but times 10000000000. The basil vinaigrette is good enough to drink and soaks into the noodles so that it dyes them a gorgeous vibrant green. The cherry tomatoes are roasted until they're sweet and caramelized. And the burrata on top is, well, BURRATA. No further explanation needed. The recipe is from What's Gaby Cooking and if I knew Gaby in real life, it would be enough to make us BFF, it's that good.
Roasted Tomato Bucatini with Burrata and Basil Vinaigrette
Roasted cherry tomatoes served on a bed of bucatini dressed in a summer-fresh basil vinaigrette and topped with creamy burrata.
Ingredients
1 lb bucatini
2 pints cherry tomatoes
2 tbsp olive oil
kosher salt and black pepper, to taste
8 oz burrata
For the basil vinaigrette
1 shallot, minced
4 oz fresh basil leaves, stems removed
1 garlic clove
½ tsp red pepper flakes
½ cup olive oil
2 tbsp red wine vinegar
1 tsp salt
Instructions
Heat oven to 400F. Toss the tomatoes with the olive oil and spread on a parchment-lined baking sheet. Season with salt and black pepper, then roast for 20-30 minutes or until tomatoes are caramelized and starting to burst.
Bring a large pot of salted water to a boil and cook the bucatini to desired consistency. Strain and set aside.
Meanwhile, to make the basil vinaigrette, combine all of the ingredients in a blender and blend until pureed.
Toss the cooked pasta with the basil vinaigrette. Divide among serving bowls. Top with the roasted cherry tomatoes and the burrata. Serve warm.