A rich and cheesy onion tart topped with a refreshing arugula, pecorino, and walnut salad.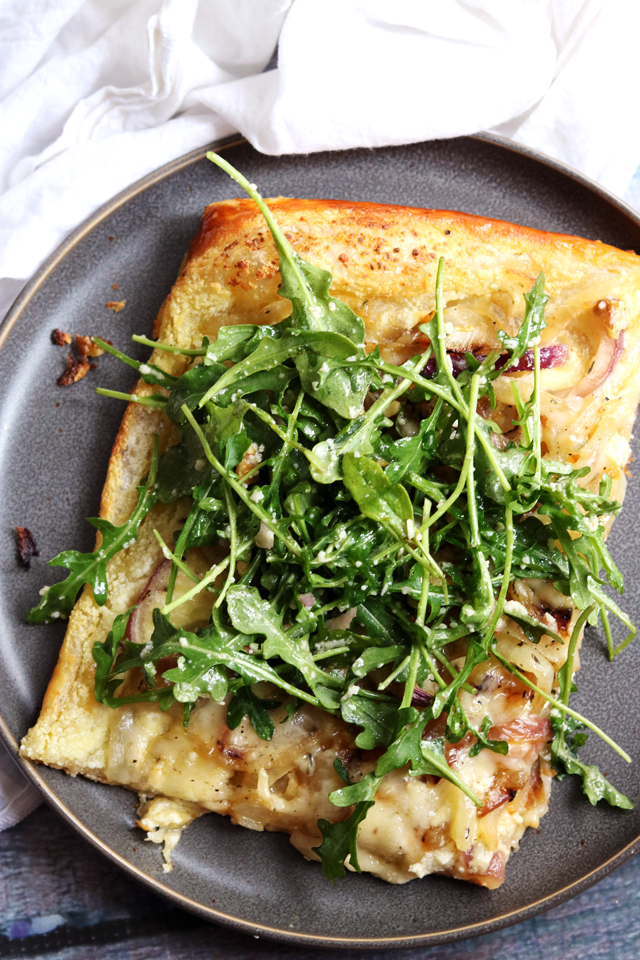 You know I'm still trying to eat healthy (ten pounds down since January, what whattt!!), but every once in a while you need some cheesy puff pastry tart indulgence in your life.
Also, making a meal when you've got a thawed sheet of puff pastry in your fridge is THE EASIEST and a total lifesaver especially on weeks when I've had to work 7 days in a row and on my one day that I'm home Remy insists on attaching herself to my hip/helping in the kitchen. Turns out piling stuff on puff pastry is her calling in life. WHO KNEW!!

I also like to think that this particular puff pastry tart, which holds layers of gruyere cheese and skillet charred onions BUT is then topped with the brightest greenest simplest salad is basically the epitome of where we are in the year right now.
A little winter, a little spring. A little hot, a little cold.
Plus the richness of the tart toppings against the bitter arugula is everything.
Whenever I buy puff pastry, I always reach for the all-butter kinds if they're available. Dufours is my numero uno. Yes, it's more expensive, but it tastes so much better and I love that it has a really simple ingredient list.
I use a mix of red and yellow onions here, which was nice both aesthestically and flavor-wise, but use what you have on hand! I don't know about you, but I always seem to have extra onions that are about to grow mold and turn on me (I suspect my kitchen is a suboptimally warm temperature for their storage) – this is the perfect way to use them up.
Cheesy Onion Tart with Arugula, Pecorino, and Walnut Salad
A rich and cheesy onion tart topped with a refreshing arugula, pecorino, and walnut salad.
Ingredients
For the onion tart
1 sheet frozen all-butter puff pastry, defrosted
2 large egg yolks
2 tablespoons extra virgin olive oil
1 red onion, thinly sliced
1 yellow onion, thinly sliced
1 tsp dried thyme
½ cup whole milk ricotta, drained if wet
¼ cup creme fraiche
⅓ pound gruyere cheese, grated
Kosher salt and freshly ground black pepper
For the Arugula Salad
1½ tbsp white wine vinegar
2 shallots, minced
1 tsp dijon mustard
¼ cup olive oil
2 tbsp hazelnut oil
salt and black pepper, to taste
5 oz baby arugula
½ cup grated pecorino romato
½ cup toasted walnuts, chopped
Instructions
For the onion tart
Heat oven to 400F.
Unroll the puff pastry onto a parchment-lined baking sheet. Using a paring knife, score a ¼-inch border around the edges. Whisk together one of the egg yolks with ½ tsp water and brush along the border you've just made. Place into the freezer while you prepare the remaining ingredients.
Heat a large pan over high heat. Add 1 tbsp olive oil and add in the onions, thyme, and ½ tsp salt. Cook for 4-5 minutes, or until the onions are starting to char along the edges. Remove to a plate to cool slightly.
Combine the ricotta, remaining egg yolk, creme friache, and remaining tbsp olive oil in the bowl of a food processor. Puree until smooth. Season to taste with salt and black pepper.
Spread the ricotta mixture onto the puff pastry, keeping it within the scored border. Top with the onions and the grated gruyere.
Bake for 20-25 minutes, rotating the baking sheet halfway through or until the cheese is bubbling and the crust is golden.
Cut into squares and serve warm.
For the arugula salad
In a small mason jar, combine the vinegar, shallots, mustard, olive oil, hazelnut oil, and a generous pinch of salt and black pepper. Cover and shake until well combined. Add more salt and black pepper to taste.
When ready to eat, toss the arugula with the dressing, pecorino, and walnuts. Serve immediately.