Savory sweet potato, black bean, and feta hand pies made with a flaky all-butter crust.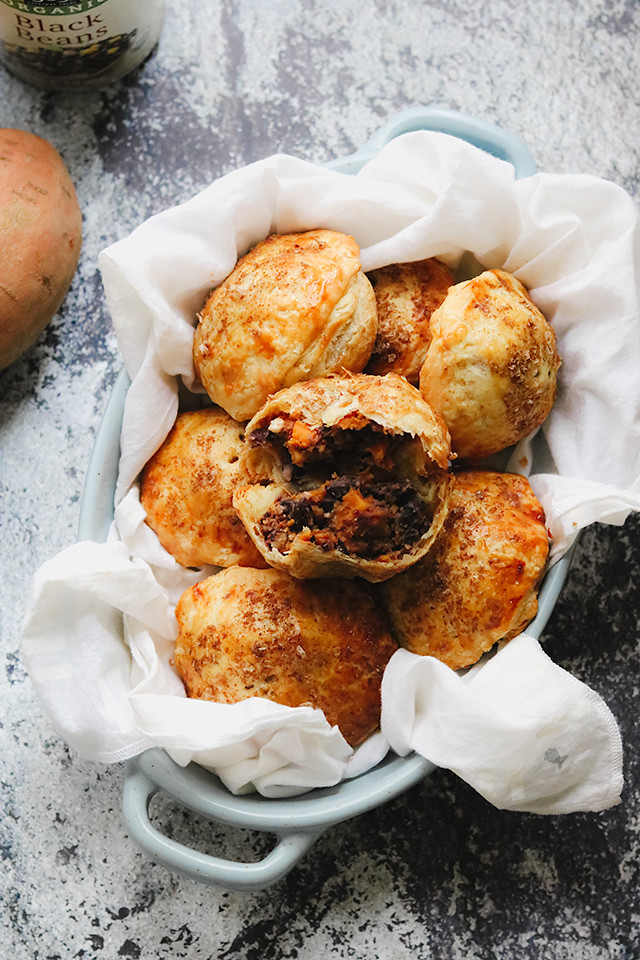 These hand pies are like little savory pie presents!!!
All ready to unwrap and devour at a moment's notice. I love them.
Maybe even more than my child who, after not seeing me for three and a half days, informed me that she would prefer it if her Uncle Daniel (my brother) would have picked her up from school.
It's like she doesn't even remember that I spent FORTY-ONE hours in labor with her. Impossible since I remind her on an almost daily basis.
I was basically like, well fine then, you two can go out for pizza and I'll keep all the hand pies to myself HUZZAH. You know me, always finding the silver lining.
There is so so much to adore about these savory hand pies.
As a pie crust lovahhhhh, I really feel like they capture the perfect ratio of crust:filling. It's like a 50/50 split and when you're using the flakiest, all butter pie crust that is NEVER a bad thing. The even more magical thing about this recipe is that it makes double the pie crust that you need so you can store half of the dough in the freezer for any random hand pie (or regular pie!) cravings that pop up.
Also, THIS FILLING.
It's a mash-up of roasted sweet potatoes, black beans, and feta cheese, all topped off with some smoky cumin goodness. So basically all my favorite taco flavors smashed into one adorable portable pie package.
So great for toting around in your lunch bag or tucking away into your pocketbook for stress eating purposes, AKA when your child tells you she loves your brother more than you. DO IT.
Sweet Potato, Black Bean, and Feta Hand Pies
Savory sweet potato, black bean, and feta hand pies made with a flaky all-butter crust.
Ingredients
For the pie crust
3¾ cups all purpose flour
1½ tsp sugar
1½ tsp kosher salt
1½ cups unsalted European-style butter, cold and cut into ½-inch cubes
½ cup ice
1 cup ice water
2 tbsp apple cider vinegar
For the filling
1 lb sweet potatoes, peeled and cut into ½-inch cubes
1 tbsp olive oil
½ tsp kosher salt, plus more to taste
¾ tsp cumin
1 (15 oz) can black beans, drained
4 oz feta cheese, crumbled
3 scallions, thinly sliced
freshly ground black pepper
To assemble
1 large egg, beaten
¼ tsp ground cumin
½ tsp flaky sea salt
Instructions
For the pie crust
In a large bowl, whisk together the flour, sugar, and salt. Add in the butter cubes and toss to coat. Cut into flour mixture using a pastry blender, turning the bowl a quarter turn every few strokes, until the butter pieces are the size of peas.
In a small bowl or measuring cup, mix together the ice, ice water, and apple cider vinegar. Add to the butter-flour mixture a few tablespoons at a time, tossing the dough with your hands to combine after each addition. Add just enough so that the dough comes together, about ¾ cup total.
Remove the dough from the bowl and place it on a lightly floured work surface. Divide it into two equal pieces and pat each piece into a 1-inch thick square. Wrap in plastic wrap and place in the refrigerate. Chill for at least 2 hours or overnight.
To roll out the dough, remove one of the pie dough squares from the fridge and bang it with a rolling pin from left to right so that it forms a flat square. Roll the dough out into a 16-inch square. Cut out hand pie rounds (about 20) using a 4-inch round cookie cutter. Gather up any dough scraps and re-roll them until you have the number of rounds that you need. Refrigerate until ready to assemble.
For the filling
Heat oven to 400F. Toss the sweet potatoes in a large bowl with the olive oil, salt, and cumin. Spread on a parchment-lined baking sheet and roast until tender, about 30-40 minutes. Allow to cool completely.
Once the sweet potatoes are cool, mix in a large bowl with the black beans, feta, and scallions. It is best to use your hands and squish the potatoes a bit to bind everything together. Season to taste with salt and black pepper. Refrigerate until cool.
To assemble
Heat oven to 450F. Line two baking sheets with parchment paper.
Remove the pie crust rounds from the refrigerator and spread half on a lightly floured work surface. Brush these rounds with the beaten egg. Top with 2-3 tbsp of the sweet potato filling. Place the remaining pie crust rounds on top of the filling. Curl the edges of the bottom round onto the top round and pinch them together to seal them. Flip the hand pie over and use the tines of a fork to seal the edges again and make a decorative edge. Repeat with the remaining hand pies.
Place the hand pies on the prepared sheet pans, spacing them evenly apart. Cut tiny slits into the top of each pie. Brush the tops and edges of the pies with the remaining beaten egg. Sprinkle with the cumin and sea salt.
Bake for 25-35 minutes, or until deeply golden. Allow to cool at least 10 minutes prior to eating.