Easy everything bagel drop biscuits that are light and fluffy and covered with everyone's favorite bagel topping!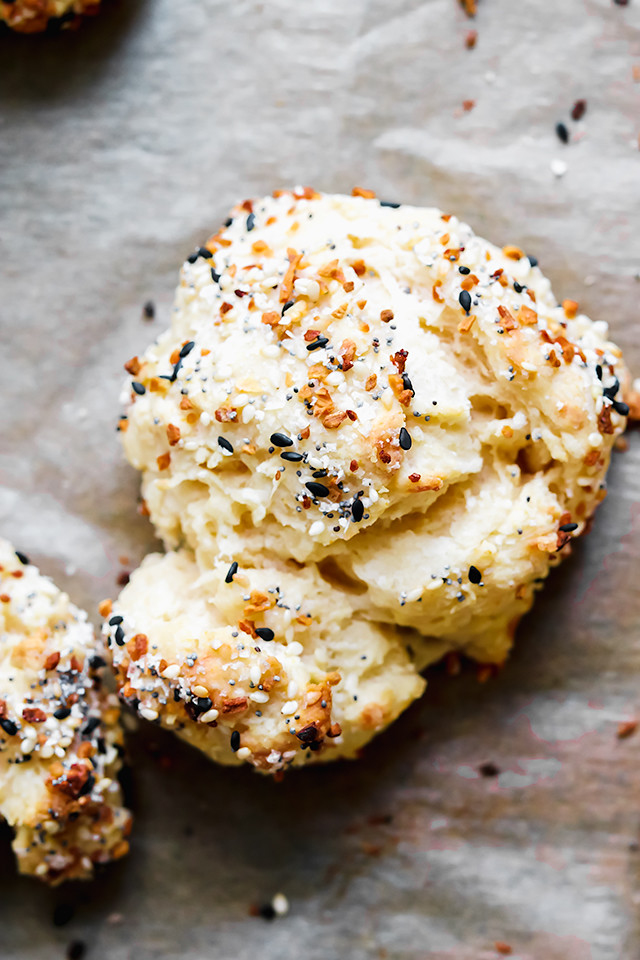 I've made two great biscuit discoveries in the past year, one of which are the biscuits from Alison Roman's first cookbook that I'll someday share with you if we can ever muster enough willpower to not eat them long enough for me to snap a picture, and the second are these everything bagel drop biscuits from the most recent Smitten Kitchen cookbook.
Don't ask me to choose a favorite, THEY ARE MY BABIES. Different and unique and beautiful in their own way.
While the former are more your typical flaky southern biscuit, these are more buttery, tangy fluff balls crusted in the glory that is everything bagel seasoning.
Don't get me wrong, they're still flaky and buttery but also cream cheesy and buttermilky. If you know what I mean.
I adore having everything bagel seasoning on hand for seasoning, well, everything (it's quite eponymously and appropriately named). Usually I go the lazy man's route which is to buy it premixed from Trader Joe's or Whole Foods but in reality I pretty much always have everything on hand to make it myself and so I should. It takes approximately one minute and when you DIY it, you can mix up the ratios of things to accommodate your own taste.
These biscuits come together in one mixing bowl and there is absolutely no mixer required, just a little bit of arm strength.
Make sure your butter and cream cheese are well chilled before you start in order to maximize the flakiness. I find this to be especially important for the cream cheese, which is a little hard to manipulate if it's not cool enough.
Enjoy these for a weekend brunch or as a dinnertime accompaniment to a big bowl of soup. They are so versatile and honestly could be paired with just about anything your heart desires.
Everything Bagel Drop Biscuits
Easy everything bagel drop biscuits that are light and fluffy and covered with everyone's favorite bagel topping!
Ingredients
For the everything bagel mix
2 tbsp sesame seeds
2 tbsp poppy seeds
1 tbsp dried minced onion
2 tsp dried minced garlic
1 tsp coarse salt
For the biscuits
2½ cups (325 g) all purpose flour
2½ tsp baking powder
1 tsp coarse salt
4 tbsp (55 g) cold unsalted butter, cut into ½-inch cubes
4 oz (115 g) cream cheese, cold, cut into ½-inch cubes
1 cup (235 mL) buttermilk
Instructions
Heat oven to 450F. Line a baking sheet with parchment paper and set aside.
To make the everything bagel seed mix, mix together all of the ingredients in a small bowl. Set aside.
To make the biscuits, whisk together the flour, baking powder, and 1 tsp salt in a large bowl. Add the butter and cream cheese to the dry ingredients and toss together with your hands. Cut the butter and cream cheese into the dry ingredients with either your fingers or a pastry blender, mixing until it becomes the texture of wet sand. Add in the buttermilk and stir until just combined.
Drop the dough into the bowl with the everything bagel mixture in twelve equal rounds. Toss in the bowl to ensure each round gets covered with it. Move to the prepared baking sheet, spacing all of the rounds out evenly. Repeat until all the dough is used up.
Bake until golden, about 12 minutes.