Tortelloni tossed with a fresh corn crema and charred scallion sauce.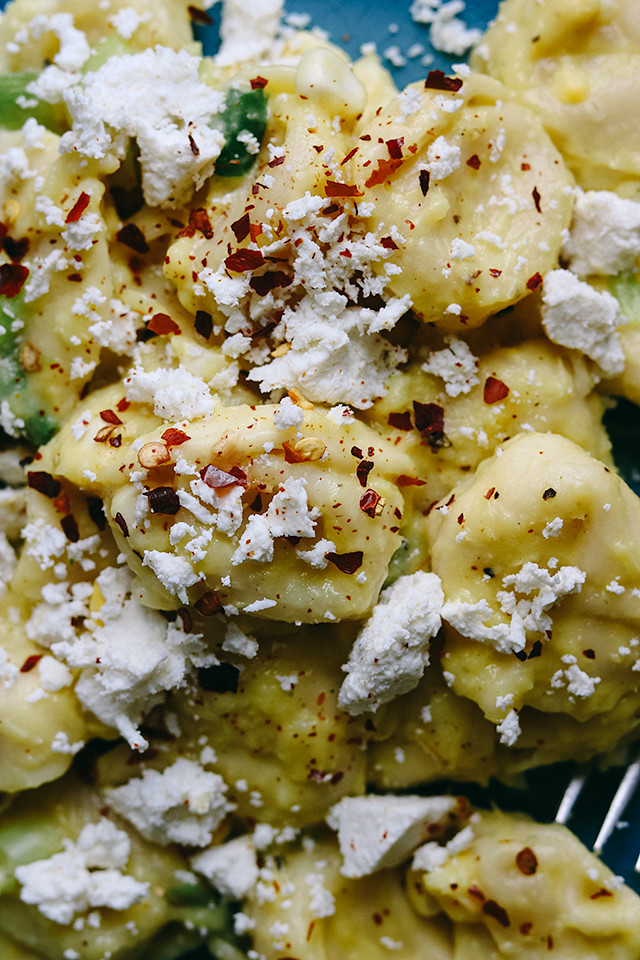 Tortelloni with corn crema aka the simplest best summer pasta recipe you never knew you needed!!
Especially if you love corn in the psychotic, unshakeable, unstoppable, can't eat, can't sleep, reach for the stars, over the fence, World Series kind of way that I do. (<– name that movie)
It's this simple: simmer corn in water with a touch of sauteed onion. Puree. And there you have it – the creamiest, velvetiest sauce known to man. The perfect mix of sweet and savory. You'll want to bathe in it. Really.
To balance out the sweetness, the sauce is paired with smoky charred scallions and salty ricotta salata crumbles. I also added some red pepper flakes on top because I live for spice. But you do you! If you're not into tortelloni, a stringy pasta like fettuccine or bucatini would also be great here.
Tortelloni with Corn Crema and Charred Scallions
Tortelloni tossed with a fresh corn crema and charred scallion sauce.
Ingredients
2 lb fresh tortelloni
2 tbsp olive oil
1 small onion, finely chopped
4 ears corn, shucked and kernels cut from cobs
½ cup water
kosher salt and freshly ground black pepper
6 small scallions, trimmed
1 chunk ricotta salata cheese, for grating
Instructions
Bring a large pot of salted water to a boil.
While the water is boiling, heat 2 tbsp of the olive oil in a small saucepan over medium heat. Add in the onion and saute it until soft but not browned, 2-3 minutes. Set aside ½ cup of the corn kernels, then add the remaining corn into the pan along with ½ cup water. Bring to a simmer and cook for 3-4 minutes, or until the corn is tender. Pour into a blender and puree until smooth. Season to taste with salt and black pepper. Set aside.
Heat a medium cast-iron skillet over high heat until very hot. Add the scallions and cook until charred on both sides, about 1 minute per side. Remove from the heat and finely chop the scallions.
Cook the tortelloni according to package directions, reserving ½ cup of the pasta water. Drain the pasta and toss with the corn crema, scallions, and reserved corn. Add pasta water as necessary until sauce is desired consistency. Season again to taste with salt and black pepper.
Divide among serving bowls and sprinkle ricotta salata on top right before serving.