Warm fall spices make this sweet potato and peanut soup extra cozy and perfect to cuddle up with on chilly nights.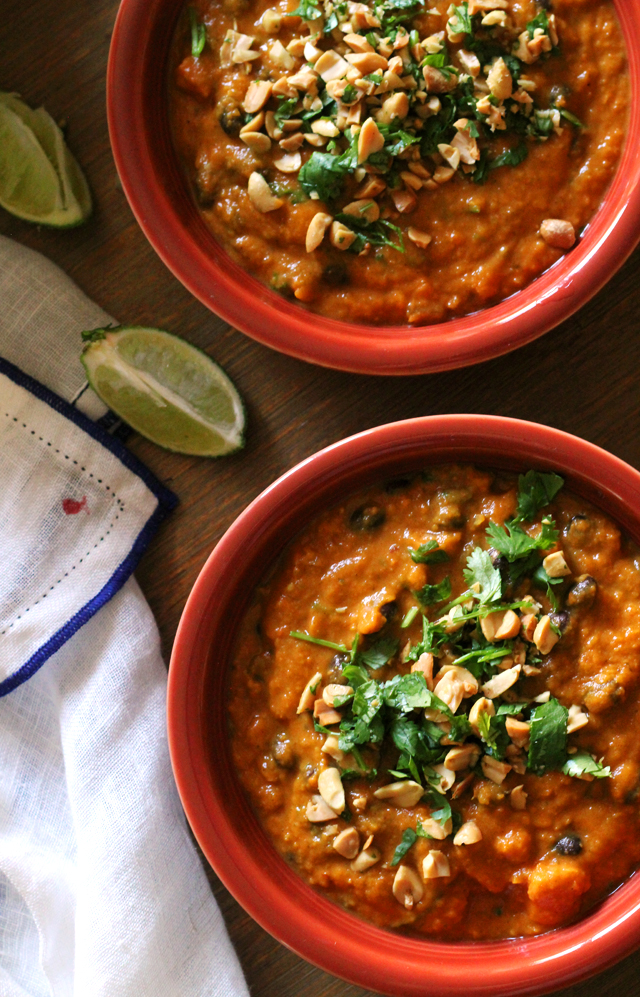 This is the soup.
The soup you bring to your new mom friends, your sick relatives, your new neighbors, your anyone you love people.
The soup you stockpile in your freezer JUST BECAUSE.
The soup you kick yourself for not making a double batch of when you get home at 9PM on a Thursday night and have to order pizza.
(*cough last night cough*)
Trust me, next week I'll be better prepared.
Soup-wise, at least.
I always have to tread lightly when making soup for dinner because I never know how The.Boy is going to react to it! He's really not into brothy soups. Really, really.
However, I needn't have worried with this soup because it's thick and chunky and full of some of life's best things! Like sweet potatoes and peanut butter and all the best fall spices and a crunchy peanut lime topping. Oh, and I served it with cheesy beer bread.
Dinner. Of. Champions.
I suspect you'll agree.
Sweet Potato and Peanut Soup
Warm fall spices make this sweet potato and peanut soup extra cozy and perfect to cuddle up with on chilly nights.
Ingredients
1 small bunch cilantro
2 tbsp sesame oil
1 large onion, diced
4 cloves garlic, minced
1 tbsp minced ginger
1½ tsp cumin
1 tsp coriander
½ tsp cinnamon
½ tsp turmeric
½ tsp red pepper flakes
1 cup crushed canned tomatoes
1½ lb sweet potatoes, peeled and cut into 1-inch cubes
½ cup peanut butter
1 (15 oz) can black beans, drained and rinsed
½ cup salted roasted peanuts
juice of ½ lime
red pepper flakes, to taste
Instructions
Rinse the cilantro and shake to dry. Separate the stems from the leaves. Mince the stems and set the leaves aside.
Heat the sesame oil in a large soup pot over medium-high heat. Add the onion and cilantro stems and cook until the onions start to soften, 5-10 minutes, stirring occasionally. Stir in the garlic, ginger, cumin, coriander, cinnamon, turmeric, and red pepper flakes. Add in the tomatoes, sweet potatoes, 1¼ tsp salt, and 4½ cups water. Bring to a boil and then lower the heat to a simmer. Cook, partially covered, until the sweet potatoes are tender, about 30 minutes. Stir in the peanut butter. Season to taste with salt.
Using an immersion blender, puree the soup to desired consistency. Stir in the black beans and half of the cilantro leaves.
Chop the rest of the cilantro with the peanuts and lime juice. Ladle the soup into bowls and top with the peanut-cilantro mixture.
Notes
Adapted slightly from
Vegetable Literacy: Cooking and Gardening with Twelve Families from the Edible Plant Kingdom, with over 300 Deliciously Simple Recipes