A creamy spinach gnocchi bake that is rich mascarpone and parmesan cheese with a nutty crunch from a toasted pine nut topping.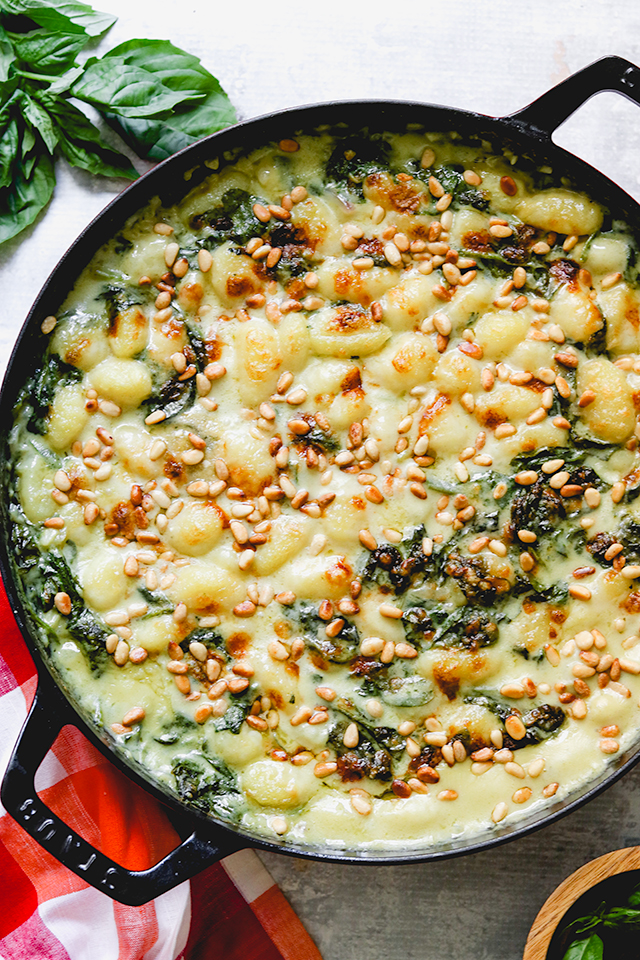 Super tender gnocchi pillows blanketed in a mascarpone-parmesan cream sauce (<– talk about the DREAM TEAM), packed with fresh spinach, and then topped with a crisp golden cheese lid and buttery pine nut crumble! 
I mean, SO MUCH YES to this.
I have to warn you that I have been a little bit obsessed with gnocchi lately. There are a LOT of gnocchi recipes coming your way.
It's just so fluffy and pillowy when it's done right, with the perfect mouthfeel. 
Basically I can't get enough.
This recipe starts with my favorite mascarpone cream sauce. The mascarpone cheese makes it instantly luxurious and craveworthy – it's just the best.
The sauce is infused with garlic and shallots and thickened with just a little bit of flour.
Once it's made we'll stir in an entire huge package of baby spinach. You know which one I mean – it takes up basically the entire bottom row of a refrigerator shelf.
The spinach will wilt as it cooks and gives this a real creamed spinach kind of feel.
Finally we'll stir in some cooked gnocchi, top it off with a sprinkling of parmesan cheese, and pop it in the oven so that the cheese gets all browned and crispy.
If you too feel that nothing sounds better than a crispy parm cheese lid on your pasta, then you are in good company.
After cooking, the dish will be topped with buttery toasted pine nuts just before serving. They add the perfect crunch and texture contrast to all of this creaminess.
Grab a bowl, get cozy, and get into this.
Creamed Spinach Gnocchi Bake with Toasted Pine Nuts
A creamy spinach gnocchi bake that is rich mascarpone and parmesan cheese with a nutty crunch from a toasted pine nut topping.
Ingredients
2 tbsp olive oil
2 tbsp butter
4 garlic cloves, minced
2 shallots, minced
2 tbsp flour
1.5 cups water
8 oz mascarpone cheese
¾ cup grated parmesan cheese, divided
salt and black pepper, to taste
10 oz baby spinach
2 lb dried gnocchi
2 oz pine nuts, toasted
Instructions
Heat oven to 350F. Bring a large pot of salted water to a boil.
Meanwhile, heat the olive oil and a butter in an ovenproof skillet over medium heat until the butter is melted. Add the minced garlic and shallots and saute for 4 minutes, or until tender and fragrant.
Add the flour the pan and saute for another 2 minutes, stirring constantly. Slowly pour in the water to make a roux, stirring constantly to avoid any clumping of the flour. Whisk the mascarpone cheese and ½ cup parmesan cheese into the roux until melted and completely combined. Season to taste with salt and black pepper.
Stir the spinach into the cream sauce a handful at a time until wilted.
Meanwhile, cook the gnocchi according to package directions. Drain and pour the gnocchi into the cream sauce, stirring to combine.
Sprinkle the remaining ¼ cup of parmesan cheese over the top in an even layer, then place the skillet in the oven and bake for 10-15 minutes or until the cheese has started to brown and the sauce has thickened. Top with pine nuts and serve immediately.
Notes
An Eats Well With Others Original