A hearty and spicy harissa bean stew with broccoli rabe makes for an easy and delicious one pot vegetarian dinner.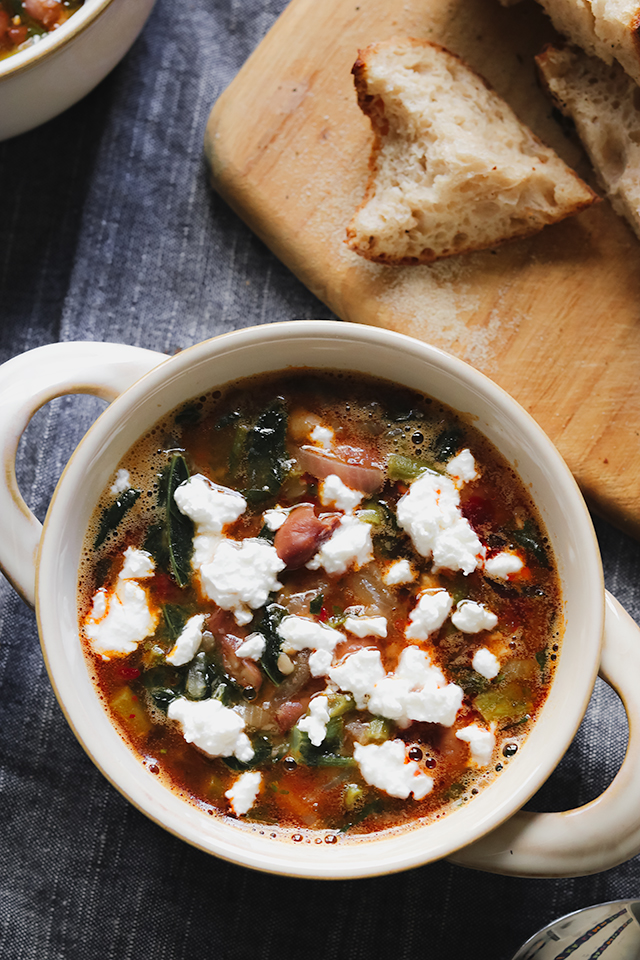 Welcome, from the trenches of early pandemic 2020 cooking!
If you're curled up in fetal position at just the mention of those horrific months – I get it, we all have a little bit of residual PTSD from that time in our lives.
However, there were a few good things to come out of all that staying at home (mostly recipes, if we're being honest) and this soup is one of them! It's healthy and hearty – the kind of feel good food I want to be eating all winter long.
The first time I made this was now well over a year ago and it was honestly love at first bite (err, slurp). A spicy broth filled with toothsome beans and bitter greens, topped with a salty feta finish – it's kind of the perfect soup package, in my opinion.
The original recipe is one from Alison Roman via the New York Times and I've made it a few times since then. The only thing that has kept me from sharing it with you sooner was that I HATED the photos I took…until now!
They're still not perfect but I just couldn't wait any longer, so here we are.
This stew uses just a few stand-out ingredients to create layers of flavor with the end result being truly greater than the sum of its parts. It starts out with a simple saute of aromatics (garlic and onion) in olive oil that are cooked just until starting to char around the edges. 
Next, harissa is added to the soup, which adds spice, color, and extra warmth to the dish. If you've never had it, harissa is a north African condiment made from a mix of hot and sweet peppers, spices, herbs, garlic, and olive oil. It can vary dramatically in terms of both flavor and heat intensity across regions and depending on which brand you are using, if not making it yourself.
If you are not a spicy food lover, then I would be judicious with how much you add until you get a feel for how hot your harissa truly is. As an example, the first time I made this I used the harissa from Trader Joe's, which is very hot, compared with the Belazu rose harissa that I've been using more recently. Be sure to taste as you go – you can always add more at the end if it is not hot enough for your taste.
Beans, broth, and the broccoli rabe stems are added to the stew pot and allowed to simmer for 15-20 minutes in order for the greens to soften and the flavors to meld together. While the original recipe calls for white beans, I used borlotti beans in this most recent rendition and they were spectacular. Since I was cooking them from scratch, I replaced the vegetable broth with an equal volume of the bean cooking liquid for extra flavor. 
Finally, the broccoli rabe leaves are added in the last few minutes of cooking. The stew is seasoned to taste (both with salt and spice), and then served with a sprinkle of salty feta crumbles on top. It is hearty enough to stand on its own as a lunch or dinner, but I served it with homemade sourdough bread because we always seem to have some on hand. If you're looking to keep this vegan, then feel free to omit the feta at the end – it is delicious enough without it.
Spicy Harissa Bean Stew with Broccoli Rabe
A hearty and spicy harissa bean stew with broccoli rabe makes for an easy and delicious one pot vegetarian dinner.
Ingredients
1 large bunch broccoli rabe
¼ cup olive oil
4 garlic cloves, thinly sliced
1 red onion, thinly sliced
salt and black pepper, to taste
2 tbsp harissa, plus more to taste
4½ cups cooked borlotti or white beans
4 cups vegetable broth
4 oz feta cheese, crumbled
Instructions
Separate the broccoli rabe leaves from the stems. Finely chop the stems into ¼-inch pieces and set aside. Chop the leaves into bite-sized pieces and set aside.
Heat the olive oil in a Dutch oven or other heavy-bottomed pot over medium heat. Once shimmering, add the garlic and red onion along with a pinch of salt and black pepper. Saute until the onion is starting to brown at the edges, about 5 minutes.
Add the harissa to the pot and stir to combine. Cook for another 2 minutes, stirring constantly.
Stir in the beans, broth, and broccoli rabe stems. Season to taste with salt and black pepper. Mash about ¼ cup of the beans on the side of the pot to help thicken the stew a bit. Bring to a simmer and cook for 15-20 minutes, or until the stew reaches the desired consistency.
Stir in the broccoli rabe greens and cook for another 1-2 minutes, or until wilted. Season to taste with salt, black pepper, and more harissa for spice.
Serve topped with crumbled feta.