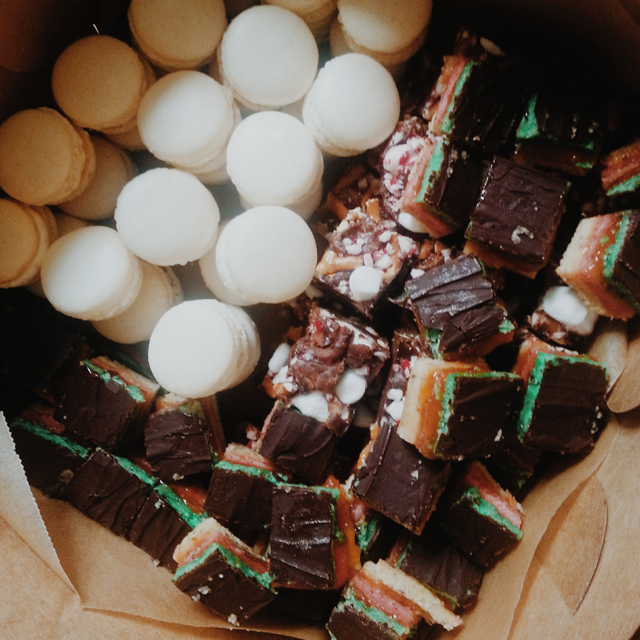 1. I'm really going to miss these guys.
2. Seriously, though, I've been trying to not have dessert every night and it is HARD STUFF. I just want something sweet constantly! Someone needs to come and lock my refrigerator shut.
3. Or I just need to stop baking. Ha. JUST KIDDING. #cantstopwontstop.
4. The.Boy and I are way behind in life, but we have finally started watching Scandal! We are exactly one episode in, but I think it's going to be a new favorite.
5. Are you guys making resolutions? I tend not to, but I do kind of like the idea of using January 1st as an opportunity to reset. Really commit to going to the gym more, being the person who I want to be, getting organized. The usual kind of stuff. Maybe.
6. The one thing I know is that my food resolution for the year is to learn to cook Indian food! The real stuff. So many of the most important people in my life are Indian and I am totally enamored with the rich flavors in the food they make. Sometimes I think I was born on the wrong continent. I've bought a few cookbooks to help me, but if you have any recommendations, I am all ears!
7. You guys may have already noticed this, but the blog has gotten a lot more original recipe heavy these past few months. Every once in a while, I will still feature recipes from cookbooks or adaptations of things (mostly baking recipes, because for those you really always do need to start from somewhere), but I've really been making an effort to plan out an editorial calendar every month of original recipes and stick to it. Hopefully you're into it, because it is definitely something I want to continue in 2015.
8. Speaking of which, if there are any changes you guys would like to see in the new year, speak now or forever hold your peace! You are a HUGE part of what makes Eats Well With Others so much fun, so if there are any types of recipes or posts that you want to see more/less of, I am officially taking requests.
9. Also, I love you.
10. Have a safe and happy new year!