Roasted tomatoes and zucchini team up with peaches and cherries to make a summer salad you won't forget in this stone fruit panzanella.
Disclosure: Disclosure: This post was sponsored by Pompeian. As always, my thoughts and opinions are my own. Thank you for supporting the brands that keep me inspired in the kitchen.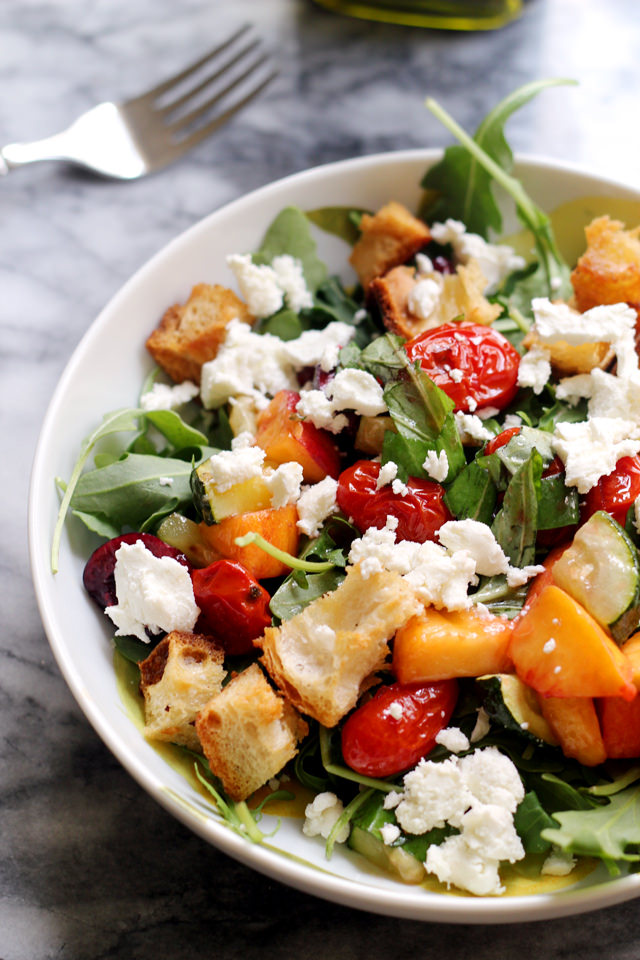 Salad Monday!!
This feels like a cause for celebration.
Okay, not the Monday part. That's just…BLECH.
But. This. Salad.
It's worthy of, like, a million Taylor Swift Pandora Station dance parties. And you know I only reserve those for my favorite salads.
Can I tell you the secret to a stellar summer salad?
It's THE INGREDIENTS!
They have to be the best. Or else.
Luckily, pretty much all produce tastes like the best version of itself at this time of year. For instance, I bit into a perfect nectarine on Saturday and I still haven't stopped talking about it to everyone I know (or don't know – i.e. random people I accosted on the street yesterday). So good.
And don't even get me started on the peaches and cherries. There are no words.
Then, of course, there are the other salad essentials…namely OLIVE OIL. AKA my life force.
You really don't realize how important it is to buy "The Good Stuff", until you don't…and then disaster and inedible salads ensue.
I get it – it's hard to navigate the grocery store oil aisle! There are twenty thousand different varieties that all claim to be the best, when really very few are worth the money. I know I've bought and regretted quite a few mediocre bottles in my day.
Thankfully, olive oil purchasing doesn't have to be a blind art! Here are some tips for helping us to distinguish The Good Stuff from the blah stuff:
(1) Read the label! There is usually some kind of quality indicator on it, for example – the USDA Quality Monitored Seal, which ensures rigorous testing for sensory, quality, purity, and origin.
(2) Don't judge an oil by its color! I have often assumed that a darker color means better oil, but this isn't true! The color comes from the type of olives that are used and has nothing to do with quality.
(3) Go extra virgin. This is the highest grade of oil, meaning that it has no more than 0.8% acidity. It's great for sauces, marinating, soups, and salads. though for high heat applications you want to go with an olive oil/canola blend or grapeseed oil.
(4) Look for a dark bottle…because this will mean that the oil inside the bottle has been protected from light-induced oxidation, keeping it fresher for longer.
For this salad in particular, I used Pompeian Robust Extra Virgin Olive Oil. Made from a mix of Koroneiki, Picual, Chemlali and Arbequina olives, it is simultaneously fruity, spicy, and just the right amount of bitter. I love that it adds it's own flavor to the salad while still letting the roasted vegetables and fresh fruits shine.
Salad in one hand and jazz hands in the other. Just getting this Monday done right.

Stone Fruit Panzanella
Roasted tomatoes and zucchini team up with peaches and cherries to make a summer salad you won't forget in this stone fruit panzanella.
Ingredients
1 pint cherry tomatoes
2 medium zucchini, quartered lengthwise and diced
¼ cup extra virgin olive oil, divided
3 cups of ½-inch ciabatta bread cubes
2 garlic cloves, minced
1 peach, diced
1 lb cherries, pitted and halved
1 tbsp red wine vinegar
1 cup chopped basil
5 oz baby arugula
4 oz goat cheese, crumbled
balsamic syrup, for drizzling
Instructions
Heat oven to 350F.
Arrange the tomatoes and the zucchini on a baking sheet lined with parchment paper. Toss with 1 tbsp olive oil and salt, to taste. Roast for 40 minutes, stirring halfway through. Set aside.
Meanwhile, toss the bread cubes with 2 tbsp olive oil, a pinch of salt, and the garlic. Bake for 20 minutes or until crispy and starting to brown, stirring halfway through. Let cool to room temperature.
In a large bowl, toss the roasted vegetables with the croutons, fruit, red wine vinegar, remaining olive oil, basil, arugula, and goat cheese. Let sit for at least 10 minutes before serving. Serve drizzled with balsamic syrup.
Notes
Adapted from
Date Night In: More than 120 Recipes to Nourish Your Relationship
Nutrition Information
Serving size:
¼ of recipe
More fruity salads: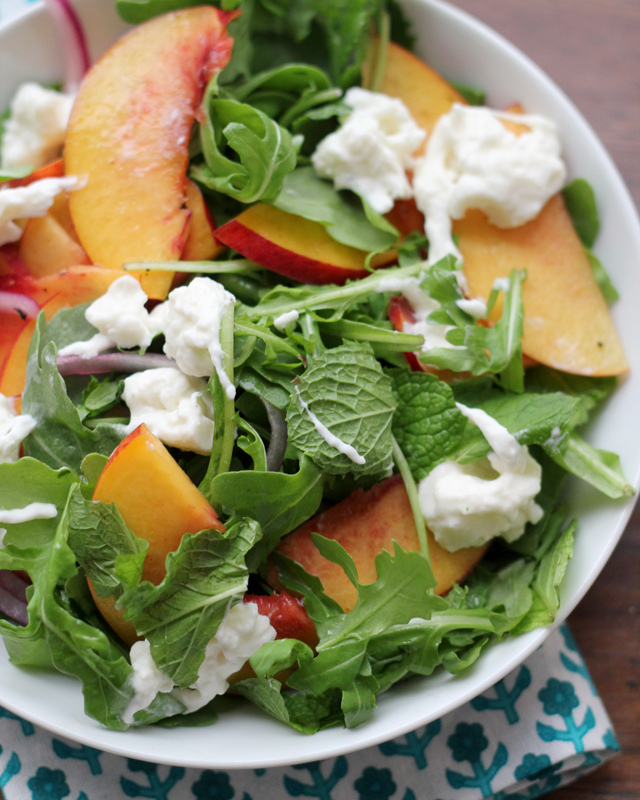 Pickled Nectarine Salad with Burrata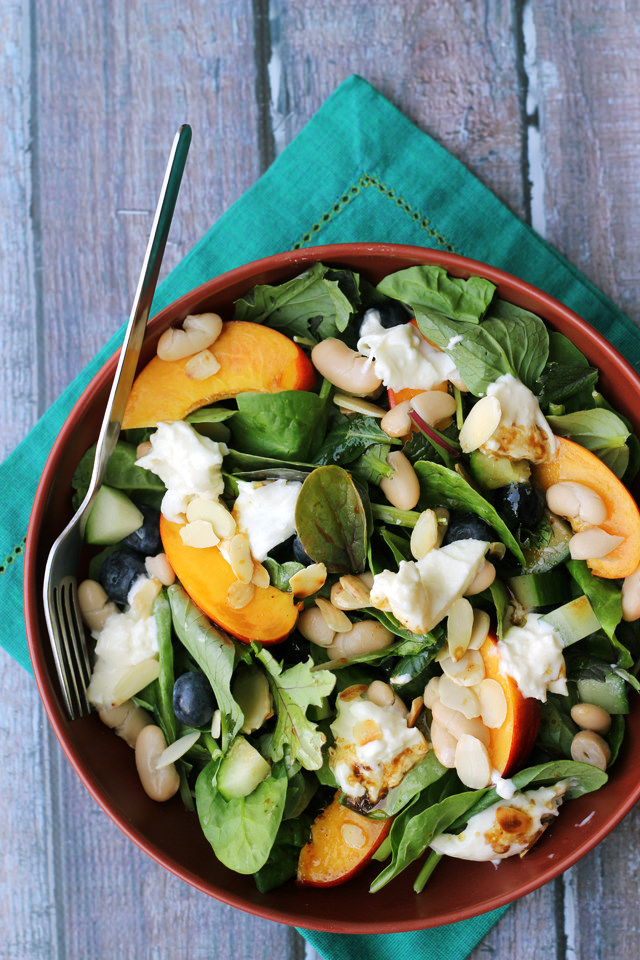 Blueberry, Nectarine, and Burrata Salad with Maple Balsamic Vinaigrette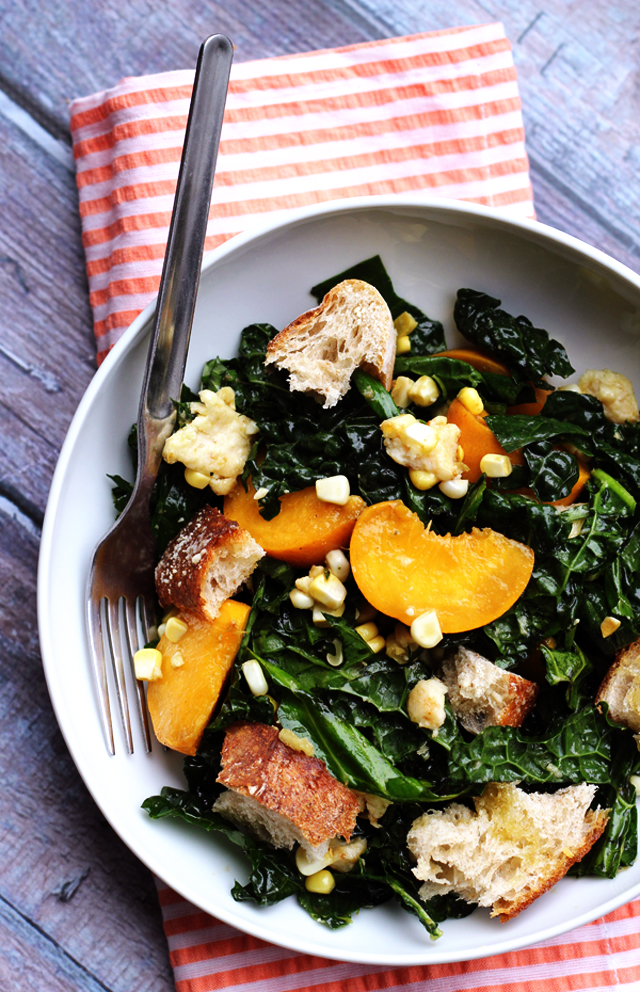 Kale Salad with Peaches, Corn, and Honey-Basil Vinaigrette
From Around the Web:
Arugula Salad with Grapes and Black Pepper Vinaigrette from Pinch of Yum
Avocado Strawberry Spinach Salad from Gimme Some Oven
Grilled Plumcot Salad with Toasted Walnut Vinaigrette from The View From Great Island
Cherry and Herb Bulgur Salad with Halloumi from Nourishing Matters
Peach, Heirloom Tomato, and Burrata Salad from A Couple Cooks