This star spangled red, white, and blue velvet cake is perfect for Fourth of July celebrations!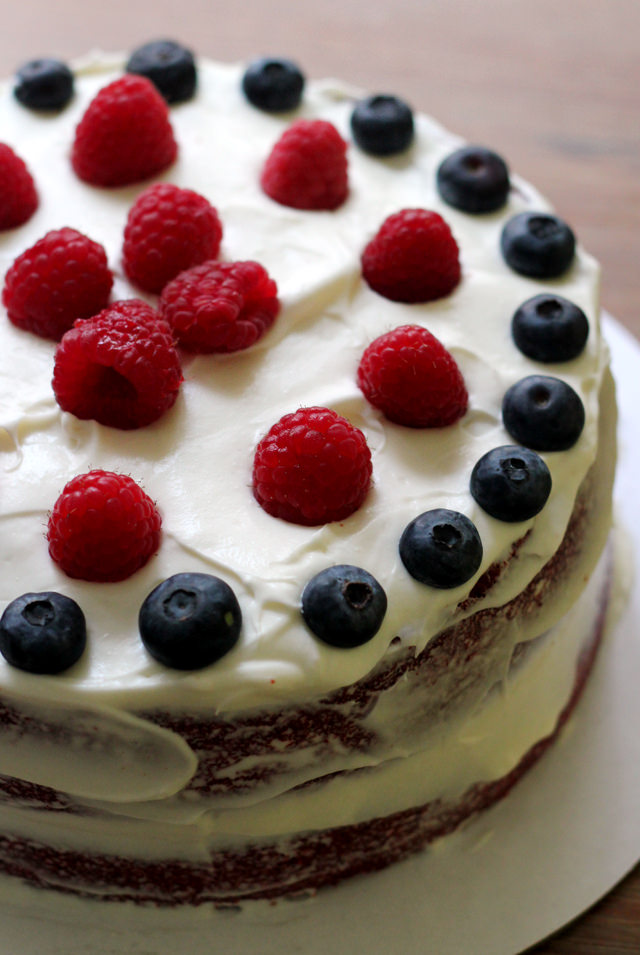 I'MMMM BAAACCCKKK!!!
Did you miss me?
Definitely not as much as I missed you.
First things first: Italy was AMAZING. I pinky swear I will give you a legit (picture overloaded) update on next week's Wednesday Coffee Talk, but you can check me out on Instagram if you want some photo sneak peaks of what we got up to.
Second: NO I did not write a single blog post while we were there. In what can only be described as a minor miracle, I got everything for the past 12 days done ahead of time. I did check in at least once a day to make sure everything was still up and running, but other than that, it was a totally hands off two weeks. It felt weird. But I am definitely glad I did it.
In the spirit of brevity (and jet lag!), let's get down to business. CAKE.
The.Boy and I ate enough in the past 12 days that we should probably not eat ANYTHING for at least 6 months, but you guys still deserve some treats! And since tomorrow IS the 4th of July, I just couldn't resist throwing some last minute red, white and blue at you. This is your basic red velvet cake with a fabulous cream cheese frosting filling and topping. I love this frosting especially because it is lightened up with whipped cream making it easier to spread and eat by the spoonful.  I topped it with fresh berries because SUMMER and kept it naked in terms of side frosting because BATHING SUITS. But you can feel free to go as crazy with the frosting as you want.
Happy holiday weekend!

Striped Red, White, and Blue Velvet Cake
This star spangled red, white, and blue velvet cake is perfect for Fourth of July celebrations!
Yield:
1 8-inch layer cake
Ingredients
For the cake
2¼ cups cake flour
2 tbsp unsweetened cocoa powder
¼ tsp kosher salt
½ cup unsalted butter, softened
¼ cup canola oil
1½ cups sugar
2 large eggs
2 tbsp red velvet emulsion OR 2 oz red food coloring
1 cup buttermilk
1 tsp vanilla
1 tsp baking soda
1 tbsp white vinegar
For the frosting
1 cup heavy cream, cold
16 oz cream cheese, softened
1½ cups powdered sugar
1 tsp vanilla
fresh berries
Instructions
Heat oven to 350F. Line two 8-inch cake pans with parchment paper and grease. Set aside.
In a medium bowl, whisk together the cake flour, cocoa powder, and salt. Set aside.
In the bowl of a stand mixer fitted with the paddle attachment, cream together the butter, oil, and sugar on medium-high speed until light and fluffy, about 3-4 minutes. Add in the eggs, one at a time, beating well after each addition. Mix in the food coloring.
Add half of the flour mixture, then the buttermilk, followed by the remaining flour. Beat on low after each until just combined. Mix in the vanilla on low.
In a small cup, whisk together the baking soda and vinegar. Add to the batter and beat on low until just combined.
Divide the batter among the prepared pans. Bake for 35-40 minutes or until a toothpick inserted in the center comes out clean. Cool in the pan for 10 minutes, then turn onto a wire rack. Let cool completely.
To make the frosting, beat the cream in a medium bowl until nearly stiff peaks form. Set aside.
In a separate large bowl, beat together the cream cheese, powdered sugar, and vanilla until smooth and fluffy. Add the whipped cream to the cream cheese mixture and beat quickly to combine.
When the cakes are fully cooled, place on cake on a serving platter. Frost the top of this with 1 - 1½ cups of frosting. Top with the second cake and top with a similar amount of frosting. Using an offset spatula, spread a very light layer of frosting around the sides. Arrange fresh berries around the cake. Refrigerate until ready to serve.