Perfect for a day in the sun, this roasted zucchini and quinoa bowl is tossed with tangy feta and a bright and tangy cilantro pepita pesto to make a great light meal.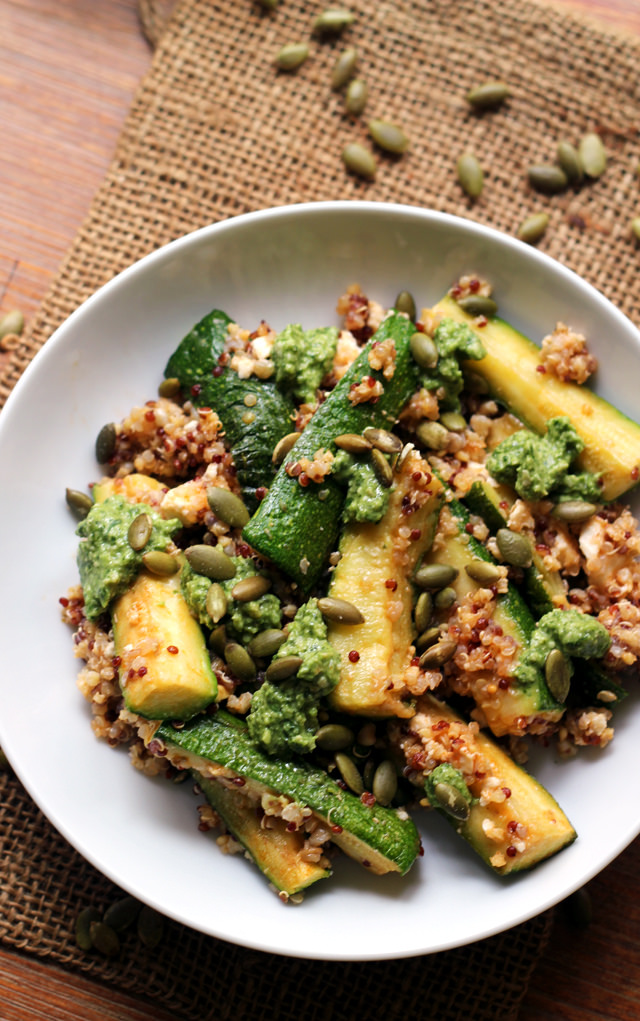 Did I mention that the.boy and I had gelato every day in Italy?
No, really.
EVERY. DAY.
Sometimes twice.
And this was in addition to:
breakfast, the Italian version of a "light lunch" (<– spoiler alert: not light), dinner, dessert, at least three cappuccinos, and a bottle and a half of wine.
I know they say that the Mediterranean diet is supposed to cure what ails you, but somehow I don't think that holds true when you're an American tourist shoving food into your mouth like there's no tomorrow.
Fact: I regret nothing.
Also fact: the second we got home, I instituted a salad every day rule, at least until we can comfortably zip into our jeans again.
That's my coy way of saying: GET READY TO SEE LOTS OF SALADS.
Also, who's with me?
Butttttt this is not a salad.
It's a BOWL.
Some of you are thinking "tomato tomahto", and YES. That is true, at least in the case of this particular bowl. But there's something about the phrase "bowl food" that makes me want to dive right in and something about the word "salad" that makes me want to eat a brownie.
Weird.
The recipe comes from the book Bowl and Spoon
, the latest cookbook from the dynamic duo, Sarah and Hugh Forte of The Sprouted Kitchen (one of my favorite food blogs ever ever ever). Their first cookbook was so captivating that I couldn't wait to get my hands on this one and it did not disappoint. Though not exclusively vegetarian, it is full of recipes that make me think about produce in new and exciting ways. And they're approachable too. Short ingredient lists, short instruction lists – just simple, really good food.
I've made a few recipes from it so far (the Hippie Bowl is life changing), but this zucchini and quinoa bowl just seemed too seasonally perfect to pass up. The original recipe called for the zucchini to be grilled, but since I don't have ready access to outdoor cooking paraphernalia, I broiled it, which brings out its natural sweetness along with a touch of charred smokiness. The salad is dressed in a spicy cilantro pepita pesto that is a nice change from the traditional basil and pine nut combo and gives the bowl a bit of a kick.
Roasted Zucchini and Quinoa Bowls with Cilantro Pepita Pesto
Perfect for a day in the sun, this roasted zucchini and quinoa bowl is tossed with tangy feta and a bright and tangy cilantro pepita pesto to make a great light meal.
Ingredients
1 cup quinoa
2 cups vegetable broth
1½ lb zucchini
1½ tbsp olive oil
1 tsp sweet paprika
½ tsp salt
½ cup crumbled feta
For the pesto
2 cloves garlic
2 scallions, white and light green parts
½ cup toasted pepitas, plus more for garnish
½ tsp sea salt
1 jalapeno, seeded
1 bunch of cilantro
zest and juice of 2 large limes
⅓ cup extra virgin olive oil
Instructions
Rinse the quinoa to remove any bitter resin, draining well. In a medium saucepan, combine the quinoa and the broth. Bring to a boil and then lower to a simmer. Cover and cook for 15 minutes. Fluff the quinoa and turn off the heat, leaving the lid slightly ajar. Allow to cool completely.
Meanwhile, heat broiler to high. Quarter the zucchini into spears that are about 2-3 inches in length. Drizzle with olive oil and sprinkle with paprika and salt. Toss to coat. Broil for 15-20 minutes, flipping halfway through, or until al dente. Remove to cool completely.
To make the pesto, pulse the garlic, scallions, pepitas, and sea salt in a food processor. Add the jalapeno, cilantro, and lime juice and pulse until combined. With the motor running, drizzle in the olive oil. Add a splash of water, if necessary. Taste and adjust, adding more citrus or salt.
In a large bowl, toss together the quinoa with the zucchini, feta, and pesto. Serve at room temperature or keep covered and chilled until ready to eat.
Notes
Adapted very slightly from
The Sprouted Kitchen Bowl and Spoon: Simple and Inspired Whole Foods Recipes to Savor and Share
Nutrition Information
Serving size:
⅙th of recipe
It's Zucchini Season! Let's Party.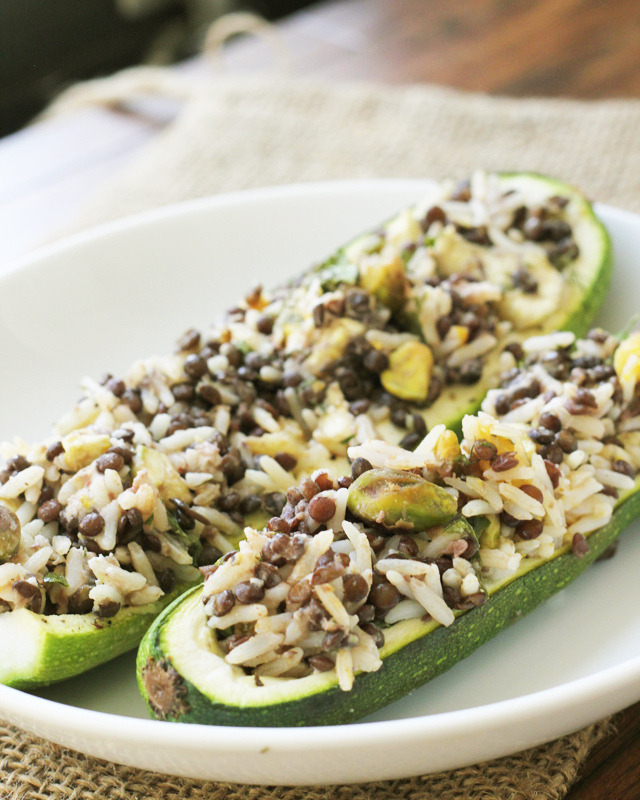 Stuffed Zucchini with Pistachios and Dill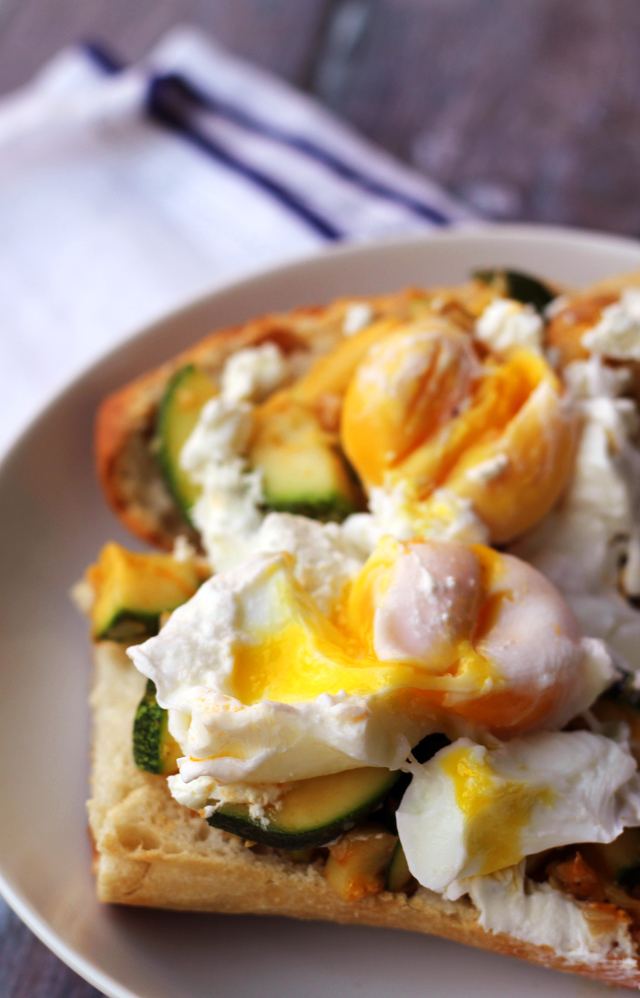 Zucchini and Goat Cheese Breakfast Crostini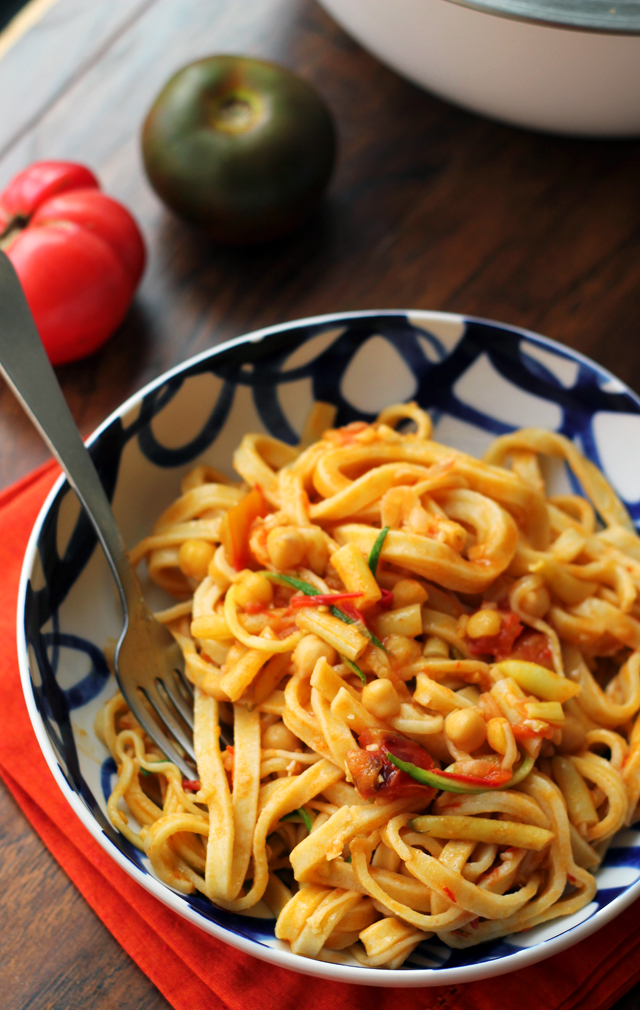 Fettuccine with Zucchini, Yellow Wax Beans, and Harissa Heirloom Tomato Sauce
From Around The Web:
Thai Pizza with Zucchini and Pickled Onions from I Heart Nap Time
Bruschetta Hummus Stuffed Zucchini from Running To The Kitchen
Pesto Zucchini Fritters with Caprese from Closet Cooking
Sweet Corn and Zucchini Pie from Pinch of Yum
Zucchini Parmesan from Taste and Tell